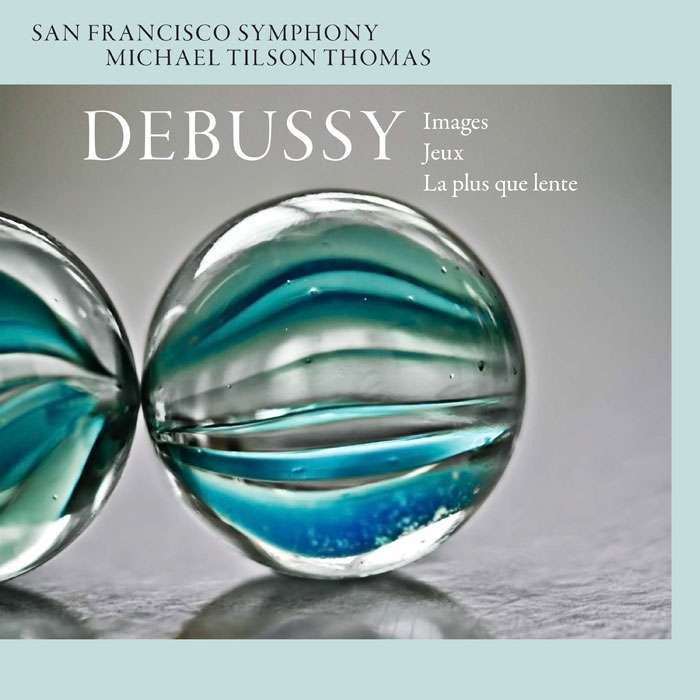 Photo courtesy San Francisco Symphony
"Debussy's work cannot be judged on the musical level alone", writes Edward Lockspeiser – Author of Debussy: His Life and Mind – in an online article for Encyclopaedia Britannica.  "There is not only poetry in his music;" he observes, "there is often an inspiration from painting".  Debussy  did indeed possess a rare gift for creating visual images through his music, a quality which  Michael Tilson Thomas and the San Francisco Symphony have so beautifully captured on their newly released all-Debussy album.  MTT – who admits to having been "captivated" by Debussy early in his musical life – points out that Debussy "had a genius for sensing the essential quality of a particular instrument's voice and creating for it evocative solos that have become emblematic".
The album, which goes on sale today, features three works by the French composer – his Images pour orchestre, Jeux, and La plus que lente – each piece reflecting the the elegance and delicacy of his style, and the artistry of his orchestration. Tilson Thomas describes Debussy's "sense of unusual blends of different instruments" as "original and highly demanding", adding that "his orchestral music, especially the later orchestral works like those on this album, presents some of the greatest challenges in the whole repertory for both conductor and instrumentalists".
Debussy drew much of his inspiration from art, literature and theater, but he could equally be said to have been influenced by his surroundings, by landscapes, and the folk songs of other countries. His Images pour orchestre (written in 1912) are a good example.  They fall into three sections – Gigues, Ibéria and Rondes de printemps.
Gigues calls to mind the cool, misty Scottish countryside, the piece opening with a somewhat melancholy air, followed by the sound of the lightly tapping feet of Scottish dancers – what Michael Steinberg (former San Francisco Symphony program annotator) describes as "the simultaneous existence of two rhythmic worlds".
Ibéria is actually a triptych within a triptych – comprising three separate pieces. Par les rues et par les chemins (Along the Highways and Byways) is characterized by the distinctive rhythms associated with a journey; Les parfums de la nuit is a slow and dreamlike piece, redolent of the fragrance of blossoms hanging in the evening air; and Le matin d'un jour de fête is colorful and chaotic, filled with the sounds of marching bands and dancers, flutes and fiddles, and the jollity of a country fair.
The final set of Images, Rondes des printemps heralds the first day of spring. Based on the French version of an old Italian song, and probably taking its name from the folk dance in which the dancers move in a large circle, it's a lively and cheerful little piece.
Debussy's Jeux – his last completed orchestral work – was commissioned by impresario Sergei Diaghilev for his Ballets Russes. The ballet, choreographed by Vaslav Nijinsky, is set in the pale light of a garden at dusk, and follows the interaction between a boy and two girls, dressed for a game of tennis, as they search for a missing ball.  It premiered in Paris in May 1913, which was unfortunate in terms of timing, for a matter of weeks later, Le sacre du printemps – with its extraordinary score by Stravinsky – turned the world of ballet upside down.  Nevertheless, Jeux is a delightful little score, described by Michael Tilson Thomas as "an intricate and luscious bandying back and forth of tiny gestures of tambourines, viola, xylophone, and more.  The music seems to be in streams of sound coalescing, dissolving, transforming".
The final work of this collection is Debussy's gorgeous La plus que lente (roughly translated as "slower than slow"), written in 1910 for solo piano, and orchestrated by Debussy in 1912.  Possibly inspired the gypsy-style musicians whom Debussy had heard in the cafés of Budapest, or by those he had also heard in Paris, La plus que lente is languid, moody and romantic, conjuring up sensations of the heady atmosphere in the salons of Paris as they must have been in his time.
If you love Debussy, you'll adore these elegant and sumptuous performances of his music by Michael Tilson Thomas and the San Francisco Symphony, recorded live at the city's Davies Symphony Hall.
Debussy: Images, Jeux, La plus que lente has been released on the Symphony's in-house label, SFS Media. It's available as a hybrid SACD compatible with conventional CD players, and as a digital download on all major streaming services, and from the SF Symphony's e-store.
Sources:
San Francisco Symphony program notes:
Michael Steinberg
James M Keller