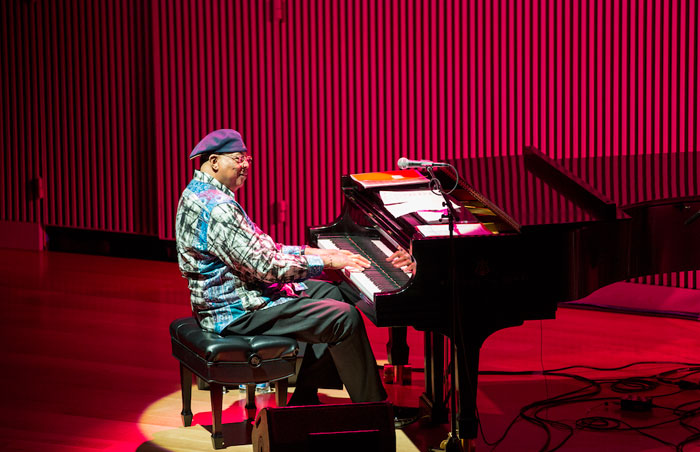 SFJAZZ is in celebratory mood this week – and that means a barnstorming party is on the way – because on January 31st, the Jazz Center throws open its doors for its annual Gala Concert!
To mark this occasion, SJAZZ will be honoring the fabulous Cuban pianist, composer and arranger Chucho Valdés with the SFJAZZ Lifetime Achievement Award, and hosting a Gala Concert with an incredible line-up of some of the best names in jazz today.
Known as the greatest living Cuban pianist, Valdés – winner of six GRAMMY®, three Latin GRAMMY® Awards, and the 2018 Latin GRAMMY® Lifetime Achievement Award – has, over the 50 years of his career, come to be regarded as the most influential figure in modern Afro-Cuban jazz. Last year he was inducted into the Latin Songwriters Hall of Fame, and he gets this year off to a flying start with the SFJAZZ Award.
The Gala features the great man himself, performing with Irakere 45 – the band which he established in 1973, and was discovered and launched on the international stage by no less a figure than jazz legend Dizzy Gillespie.
Paying tribute to Valdés on this memorable occasion will be a truly star-studded array of artists, including Omara Portuondo – known as the first lady of Cuban jazz – the 2018 NEA Jazz Master and five-time GRAMMY®-Award winner Dianne Reeves, and British singer and songwriter Corinne Baily Rae – another GRAMMY® winner.
Also on stage will be the all-star ensemble SFJAZZ Collective who perform new arrangements of works by a modern master each year, as well as their own commissioned works, virtuoso vibraphonist Stefon Harris – a former member of the Collective and winner of the 2018 Doris Duke Artist Award – Cuban saxophonist, percussionist and composer Yosvany Terry, also a Doris Duke Award-winner, and the recipient of a Rockefeller Grant, and Havana-born jazz pianist and composer Harold Lopez-Nussa – who triumphed at the 2005 Montreux Jazz Festival.
Flying the flag for the Valdés family will be Chucho's daughter, classically-trained pianist Leyanis – who has made her mark in many international competitions – and his son, Jessie – an exciting young drummer who combines drumming with electronics, ensuring that Cuban music will continue to form part of the future.
The SFJAZZ High School All-stars will entertain guests at the pre-performance party, and the late-night after-party features a performance by the Valdés Family Band, as well as the Preservation Hall Jazz Band, with Corinne Bailey Rae and Jesús Diaz y su QBA.
This is an event that jazz enthusiasts won't want to miss!
The SFJAZZ annual Gala Concert takes place the the JAZZ Center on Thursday, January 31st. More information on this amazing event is available on the SFJAZZ website where there's also information on buying tickets.