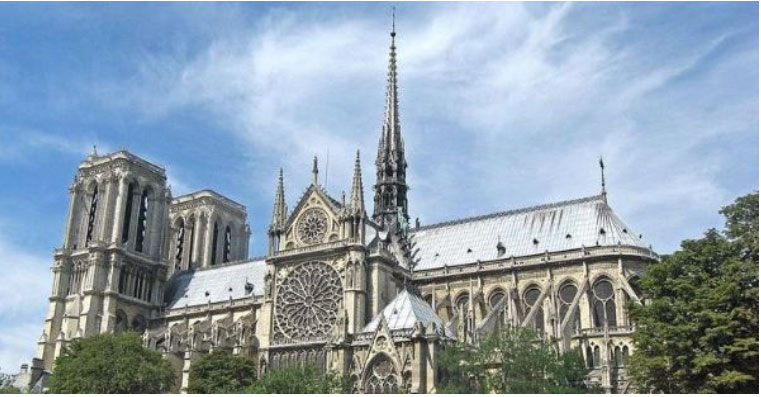 Those who know and love Paris will surely have been heartbroken at the sight of the beautiful and timelessly elegant Notre-Dame Cathedral succumbing to a devastating fire only a couple of weeks ago. Emmanuel Lebrun-Damiens, Consul General of France, describes Notre-Dame de Paris as "Beyond a monument and an architectural masterpiece …. a part of the world history of art and our common identity", so the city of San Francisco will stand in solidarity with Paris in a special concert to be held at Grace Cathedral on Monday, April 29th.
Joining the French Consulate and Grace Cathedral for this performance will be musicians of the San Francisco Symphony, mezzo-soprano Frederica von Stade, countertenor Aryeh Nussbaum Cohen and pianist Kseniia Polstiankina Barrad – both San Francisco Opera Adler Fellows – Notre-Dame de Paris organist Johann Vexo, the American Bach Soloists & Choir – under the direction of Jeffrey Thomas – and the Grace Cathedral Choir of Men and Boys, led by Benjamin Bachmann, Diana Dollar Knowles Canon Director of Music.
It is particularly appropriate that Frederica von Stade should be appearing in this concert. Her long-time association with San Francisco Opera goes back to 1971, and she is regularly invited by Michael Tilson Thomas to appear with the San Francisco Symphony. Ms von Stade is also well known as one of the world's finest exponents of the French repertoire, and on this occasion will perform music by Francis Poulenc – including Les Anges musiciens from La Courte Paille. The program also features works by Gregorio Allegri, Louis Vierne, Claude Debussy, Henri Duparc, Michael Kamen, Louis-Nicolas Clérambault and Jean-Joseph Cassanéa de Mondonville.
"This concert," says M. Lebrun-Damiens, "will allow all of us to find comfort in the beauty of music, and the strength to move on to the phase of reconstruction of our beloved cathedral."
The Concert for Notre-Dame de Paris takes place at Grace Cathedral, 1100 California Street, San Francisco, at 6.00 pm on Monday, April 29th. Those who wish to attend this free concert will need to register in advance via this link or on the Facebook event page.