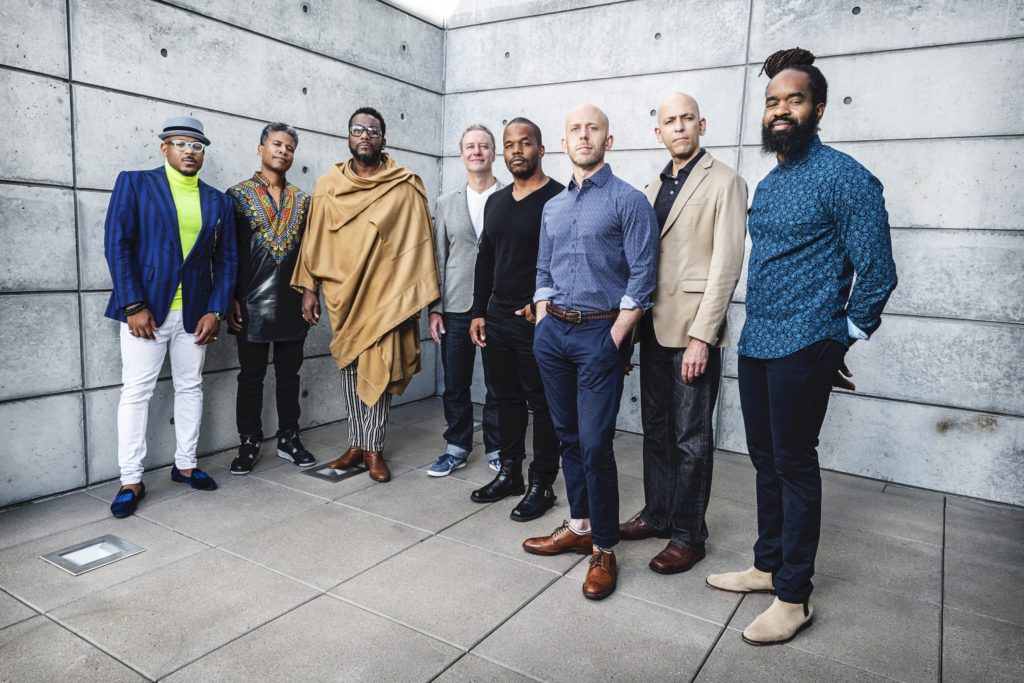 The SFJAZZ Collective is in residence at San Francisco's Jazz Center this week, during which they'll celebrate the 50th anniversary of two hugely significant albums recorded in 1969 – Stand! by Sly & the Family Stone, and Miles Davis' In A Silent Way. Not only did these albums represent what SFJAZZ terms "a beacon of hope during a turbulent time in American history", but they were instrumental in pointing jazz, funk and soul music in new directions.
The eight-strong Collective was founded by SFJAZZ in 2004, and – as it does each year – uses the SFJAZZ residency to showcase new arrangements of works by a modern master in these categories, and to feature a recently-commissioned piece by each member of the group. In so doing, not only are they paying tribute to some of the great names of music, but also maintaining the relevance of this music – right in keeping with the commitments of SFJAZZ itself.
In its 15-year existence, the Collective has paid tribute to the music of masters such as John Coltrane, Ornette Coleman, Herbie Hancock, Thelonious Monk, Wayne Shorter, McCoy Tyner, Horace Silver, Stevie Wonder, Chick Corea, Joe Henderson, Michael Jackson, Miles Davis, and Antonio Carlos Jobim, creating over 100 new arrangements and original compositions.
This year, as they celebrate the 50th anniversary of Stand! and In A Silent Way, the Collective will, for the first time in its residency history, feature two guest artists – vocalist Martin Luther McCoy, and guitarist Adam Rogers. So the line-up this week has David Sánchez on tenor saxophone, trumpeter Etienne Charles, Warren Wolf on vibraphone, pianist Edward Simon, Matt Brewer on bass and Obed Calvaire on drums, together with Rogers and McCoy.
Martin Luther McCoy – guitarist, singer, songwriter and producer – was born and raised in San Francisco. A former member of the Roots touring ensemble, he was the star of Julie Taymor's 2007 film, Across The Universe – inspired by The Beatles. He has also performed with artists such as Dave Matthews, Jill Scott and the Red Hot Chili Peppers.
Andy Rogers – jazz guitarist and bandleader – has toured extensively in the Americas, Europe, Asia and Russia, and – having appeared and recorded with a wide range of artists – he's probably best known for his work with Chris Potter, David Binney and Randy Brecker. Also a trained classical guitarist, he was the featured soloist with the Dresden Philharmonic Orchestra in the summer of 1999.
The album Stand! by Sly and the Family Stone, released in May 1969, has been described by Ultimate Classic Rock as "ideal-based music, with pieces such as Everyday People, I Want to Take You Higher and Sing a Simple Song, deftly blending thoughts on peace and love with of-the-moment calls to purpose such as You Can Make It If You Try".
This album is regarded as having defined the group which had been gaining in popularity for the previous two years. It was seen as their taking a stand for what they believed in, and representing what bassist Larry Graham described as "a rainbow", having, for example, an African-American rock guitarist, a female front-line horn player, a white funk drummer and a group of singers performing a combination of all types of music, including R&B, jazz, rock and even country.

Miles Davis' In a Silent Way – released a month later – is representative of Davis' involvement in what's known as his 'Electric Period'. Gathering together a host of talented individuals – names such as Tony Williams, Wayne Shorter, Herbie Hancock, Chick Corea, Dave Holland, Josef Zawinul and John McLaughlin – and influenced by pop, R&B and funk, Davis produced an album which represents his exploration of the underlying tensions inherent in the future of jazz and how they related to new technology. Controversial at first, it ultimately became regarded as possibly the best that Davis had made in some time.

The SFJAZZ Collective performs in the Miner Auditorium at the JAZZ Center in San Francisco on October 30th and 31st, and November 1st, 2nd and 3rd. For more information and tickets, visit the SFJAZZ website.
Information sourced from:
SFJAZZ program notes
SFJAZZ Collective
Martin Luther McCoy
Adam Rogers
Ultimate Classic Rock
Classical Album Sundays