Following tradition, the Czech Philharmonic brings the current season to a close with two performances at the Smetana National Festival held each year in Litomyšl, the birthplace of Bedřich Smetana.
Both performances will be led by the orchestra's Principal Guest Conductor, Tomáš Netopil – the first featuring concertmaster Jiří Vodička as soloist in Dvořák's Violin Concerto in A minor, with the second devoted to a performance of Smetana's Má vlast.
This festival – dating from 1949 – is the second oldest music festival in the Czech Republic, and is held each year in honour of Bedřich Smetana – known as the founder of Czech national music. The festival features operas, gala concerts, oratorios, cantatas and songbook evenings, as well as ballet productions, church and promenade concerts. It is held at the magnificent Litomyšl Castle – a classic example of Italian Renaissance architecture. Built between 1568 and 1581, the Castle has been a UNESCO World Heritage site since 1999. Performances take place either in the second Castle courtyard – which has excellent acoustics and a unique retractable roof – or in the 18th century theatre.
Tomáš Netopil is currently celebrating his eighth season as General Music Director of the Aalto Musik Theater and Philharmonie Essen. Recent highlights include performances of Gluck's Orfeo ed Euridice, Salome, Così fan tutte, Rusalka, Lohengrin, Die Walküre, Die Entführung aus dem Serail, Pique Dame, and Der Rosenkavalier. He has a regular relationship with Orchestre Philharmonique de Monte Carlo, and additional guest conducting performances this season include appearances with Dresdner Philharmonie, Vienna Symphony Orchestra, Prague Radio Symphony Orchestra, Mozarteumorchester Salzburg and the Janáček Philharmonic Orchestra.
Maestro Netopil – who, according to Res Musica "…. impresses every moment […], with a remarkably beautiful and subtle intelligence…" – is also the Founder and Artistic Director of the International Summer Academy in Kroměříž in the Czech Republic, and this summer – in association with the Dvořák Prague Festival – the Academy establishes the Dvořákova Praha Youth Philharmonic, with musicians from conservatories and music academies coached by principal players of the Czech Philharmonic Orchestra.
The programme opens with Smetana's Festive Overture in D Major, Op 4, written in 1848-49. The inspiration for this work was purely patriotic and political, conveying as it does a mood of national democratic revolution – a movement in which the composer himself participated.
This overture is followed by Antonín Dvořák's Violin Concerto in A minor, Op 53. Commissioned by the composer's publisher, Simrock, this concerto was due to have its world premiere performed by Joseph Joachim, but Joachim prevaricated for almost four years, requesting various amendments to the score, and it's thought that he ultimately lost enthusiasm for the work. Dvořák engaged the young Czech violin virtuoso Frantisek Ondricek to perform the world premiere in Prague's Rudofinum on 14th October, 1883, with the National Theatre Orchestra, conducted by Moric Anger.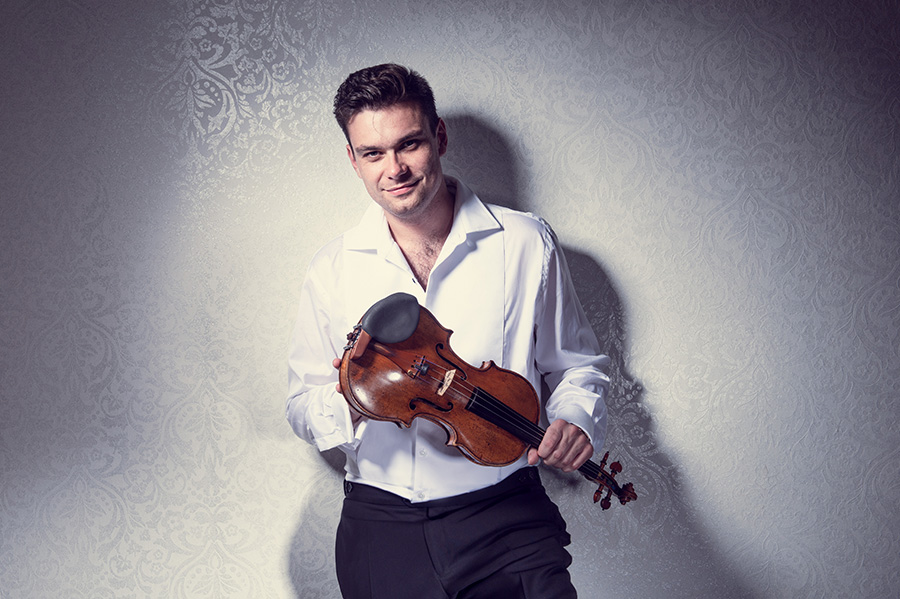 The soloist in this performance of the concerto is Jiří Vodička, concertmaster of the Czech Philharmonic since 2015. Winner of many international competitions, Vodička is considered to be among the best of the current generation of young Czech violinists, and is one of the soloists of Vivaldiano RELOADED – the internationally acclaimed audiovisual project by Michal Dvořák, telling the story of the life of Antonio Vivaldi, using modern arrangements of his music.
Widely regarded as one of the greatest symphonies of the Austro-German tradition, Brahms' Symphony No 1 in C Minor, Op 68 took the composer nearly 20 years to write, the work ultimately receiving its premiere performance on 4th November, 1876, in the Germany city of Karlsruhe. Although Brahms spent years under the shadow of Beethoven, and although this symphony was compared to Beethoven's Ninth, Brahms no doubt gained much fulfilment from the high praise with which it was received by reviewers.
This concert by the Czech Philharmonic takes place at Litomyšl Castle on Thursday, 1st July, at 8.15 pm (CEST).
The performance on the following evening is devoted to Smetana's Má vlast (My Homeland) – a cycle of symphonic poems to which Smetana referred as "musical pictures of Czech glories and defeats", inspired by the legends and landscapes of the composer's homeland. Each movement of this work is a self-standing symphonic poem with its own story, and Smetana spent the most part of the 1870s writing it. Má vlast was premiered in its entirety in Prague on 5th November, 1882.
Tomáš Netopil leads the Czech Philharmonic in Smetana's Má vlast at Litomyšl Castle on Friday, 2nd July at 8.00 pm (CEST).
For more information, visit the Czech Philharmonic website.
Information sourced from:
Czech Philharmonic programme notes