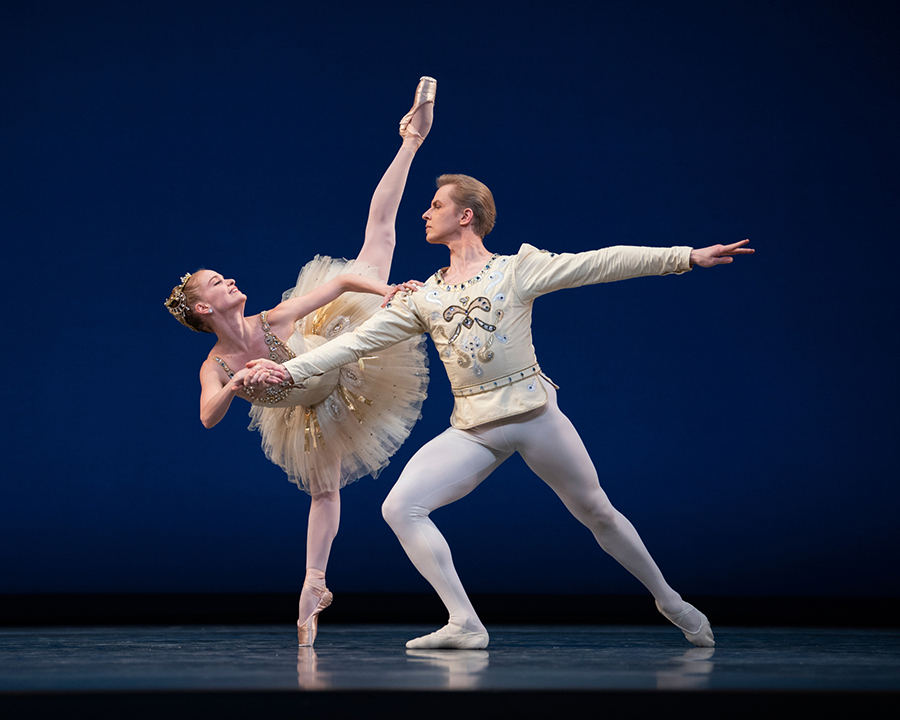 George Balanchine's brilliant creation, Jewels, is the next production in San Francisco Ballet's 2021 digital season. First staged by the Company in March 2002, Jewels is an abstract work of three one-act ballets, each completely different in style – admirably suited to the versatility of San Francisco Ballet.
Choreographed by Balanchine for New York City Ballet – which premiered the work in 1967 – Jewels is simply yet elegantly titled, calling to mind exactly what Balanchine loved about jewelry – "… the color of gems, the beauty of stones". He greatly admired the artistry of Claude Arpels – of French luxury jewellers Van Cleef and Arpels fame – and it was this artistry which inspired him to interpret in dance the characteristics of the gems he portrays in these ballets, each representing one of the three cities which most closely defined his style.
Emeralds recalled for Balanchine the elegance of Paris, the city in which he was engaged by Sergei Diaghilev to choreograph works for the impresario's Ballets Russes. Selecting for this ballet extracts from Gabriel Fauré's Pelléas et Mélisande, and his Shylock Suite, Balanchine evoked in Emeralds memories of the 19th century style of the French Romantics.
Rubies represents the city of New York, where Balanchine made his home in the United States, and where he co-founded New York City Ballet. He set this jazzy piece to Stravinsky's Capriccio for Piano and Orchestra – Stravinsky having been a great favourite of his, and with whom Balanchine shared a deep mutual artistic respect.
Diamonds represents Balanchine's home city of St Petersburg, where he grew up surrounded by the grandeur and majesty of Imperial Russia. There could be no more appropriate music for this ballet than that of Tchaikovsky, who studied and taught at the Conservatory in St Petersburg, which the young Balanchine also later attended. For Diamonds, Balanchine selected Tchaikovsky's Symphony No 3, known for its balletic character – a richly melodic finale to a sparkling program.
Costumes for all three of the ballets were designed by New York City Ballet's Barbara Karinska, one of the most influential designers of the 20th century. Karinska was known for the highly successful creative partnership she formed with George Balanchine, which dated back to their time with the Ballets Russes de Monte Carlo in the early 1930s, and which continued through his years at New York City Ballet.
This production of Jewels is dedicated to Elyse Borne, a leading Balanchine répétiteur who staged many works for San Francisco Ballet, and who passed away in December 2019, shortly after rehearsing Jewels with SF Ballet in preparation for the Company's 2020 Season.
San Francisco Ballet presents George Balanchine's Jewels, with archival recordings of the Rubies and Diamonds ballets, and a newly-captured Emeralds, filmed onstage at the War Memorial Opera House in January of this year. Music Director Martin West leads the San Francisco Ballet Orchestra in this production which is available to view online from April 1st to 21st. Tickets are available from the San Francisco Ballet website, and casting is available on this link.
Information sourced from:
San Francisco Ballet program notes
The George Balanchine Trust
Royal Opera House program notes