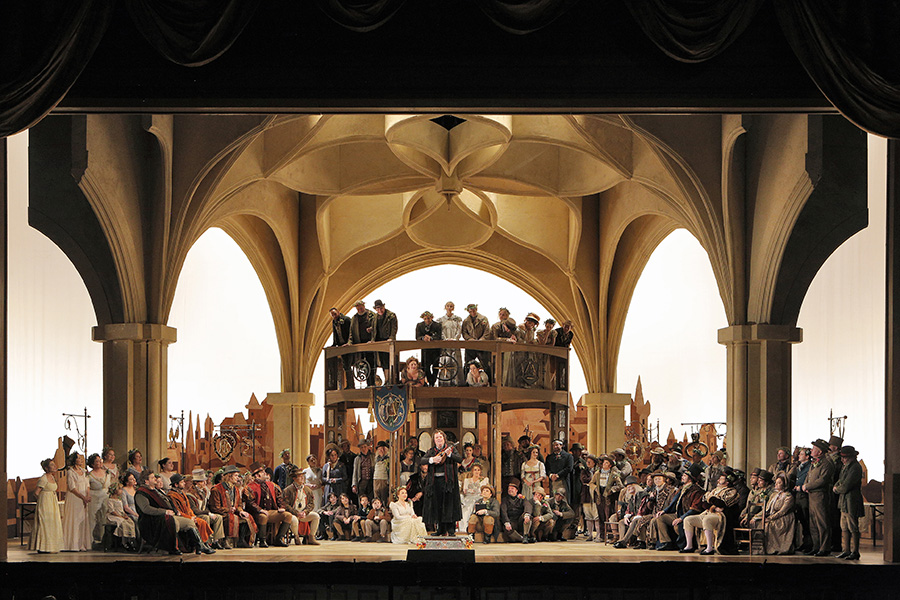 Prior to the opening of San Francisco Opera's 2021-22 season on August 21st, the Company has added two more productions to its Opera is ON season of free opera streams – Wagner's Die Meistersinger von Nürnberg and Donizetti's Roberto Devereux.
The first of these is a production by Sir David McVicar – regarded as one of the world's foremost opera directors – of Wagner's comedy opera, Die Meistersinger von Nürnberg, recorded at the War Memorial Opera House in 2015. It stars baritone James Rutherford as Hans Sachs, tenor Brandon Jovanovich as Walther von Stolzing and soprano Rachel Willis-Sørensen as Eva.
The only comedy amongst Wagner's mature operas, Die Meistersinger von Nürnberg is also the only one which was based on an original story – Wagner wrote the libretto himself – and the only one which he set in an actual historical time and place (as opposed to a mythical or legendary setting). The premiere – conducted by Hans von Bülow – took place on June 21, 1868, at the Königliches Hof- und National-Theater in Munich, now the home of the Bavarian State Opera.
The opera revolves around a guild of Master Singers – an actual association of amateur poets and musicians in Nuremberg who were often master craftsmen as well – and whose music-making was dictated by a complicated system of rules for composing and performing their songs. One of the main characters in the opera, Hans Sachs, is based on a person of the same name, a cobbler who lived between 1494 and 1576, and was the most famous of the historical Mastersingers.
Wagner's opera was originally set in 16th century Nuremberg, but David McVicar has brought his production forward to the early 19th century. It tells of a young knight, Walther, who is smitten with Eva, the daughter of a goldsmith and Meistersinger who has agreed to give his daughter's hand in marriage to the winner of the next Meistersingers' contest. Walther's main rival is another singer, Beckmesser, who also hopes to win Eva's hand, but through the efforts of Eva's maid, Magdalena, Hans Sachs agrees to help Walther, despite the fact that he, too, is in love with Eva, although he accepts that he's too old for her. The intricacies of the plot are many and varied, but eventually they unravel, leading to the happy ending – although tinged with sadness – that (almost) everyone wants.
James Rutherford has won wide acclaim for his interpretation of German romantic opera, and of leading Wagnerian roles in particular. He has performed on some of the world's greatest opera stages, and made his debut with San Francisco Opera as Wolfram von Eschenbach in Tannhäuser in 2007. He has sung the role of Hans Sachs for the Bayreuth Festival, Vienna State Opera, Hamburg Opera, Cologne Opera, Budapest Wagner Festival, and in David McVicar's production for Glyndebourne.
Brandon Jovanovich returns to San Francisco Opera for this performance of Die Meistersinger, making his role debut as Walther von Stolzing. Also known for his passionate stage portrayals of leading roles in French, Italian and Slavic, as well as German opera, Mr Jovanovich has previously appeared for San Francisco in Wagner's Ring cycle in 2011, in Lohengrin in 2014, and in Carlisle Floyd's Susannah in 2014.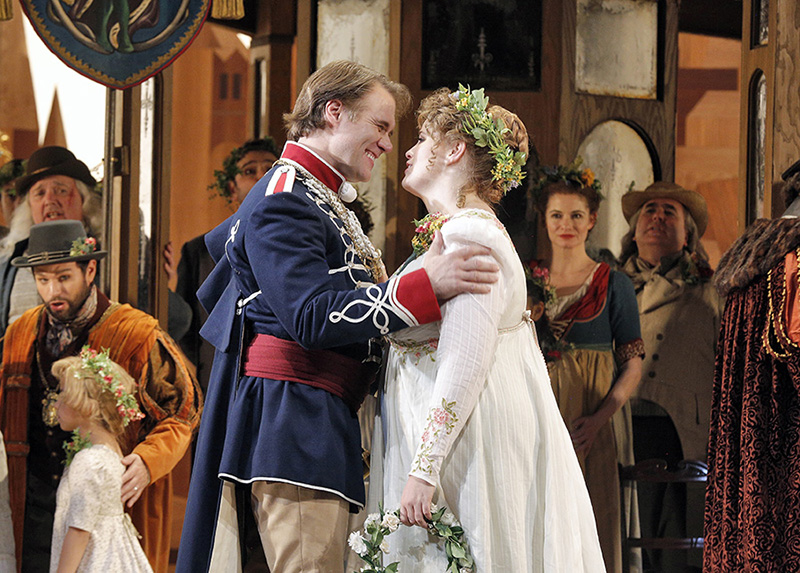 This performance marks a double-debut for American soprano Rachel Willis-Sørensen – her first performance with San Francisco Opera, and her first appearance as Eva. Ms Willis-Sørensen is known for the diversity of her repertoire which ranges from Mozart to Wagner, and she has appeared in leading opera houses of the world, including the Metropolitan Opera, the Royal Opera House, Covent Garden, Deutsche Oper Berlin, and the Vienna State Opera.
Also in the cast are bass Ain Anger as Eva's father, Veit Pogner, baritone Martin Gantner is Walther's rival, Sixtus Beckmesser, and tenor Alek Shrader is Hans Sach's apprentice, David. Eva's nurse, Magdalene, is performed by mezzo-soprano Sasha Cooke, and bass-baritone Philip Horst is fellow mastersinger Fritz Kothner.
Marie Lambert and Ian Rutherford co-revive McVicar's staging in this 2015 San Francisco Opera co-production with Lyric Opera of Chicago and Glyndebourne Festival Opera. The San Francisco Opera Orchestra and Chorus (Director Ian Robertson) are led by Sir Mark Elder in his first appearance with the Company. Music Director of the Hallé Orchestra in Manchester, Sir Mark is a principal artist of the British period instrument Orchestra of the Age of Enlightenment, and Opera Rara.
San Franciso Opera's production of Die Meistersinger von Nürnberg, sung in German with English supertitles, can be seen from 10.00 am (PT) on Saturday, August 7th, through 11.59 pm (PT) on August 8th.
In another piece of news, this fall, San Francisco Opera will present a new live streaming option for select performances of Music Director Eun Sun Kim's inaugural season. For the first time in Company history, livestreams of San Francisco Opera's new productions of Beethoven's Fidelio on October 14, 17 and 20 and Così fan tutte on November 21, 23 and 27 will enable audiences from anywhere in the world to view these live performances. Virtual tickets will be available for $25. For more information, visit sfopera.com/online.

Information sourced from:
San Francisco Opera program notes
Artists' websites