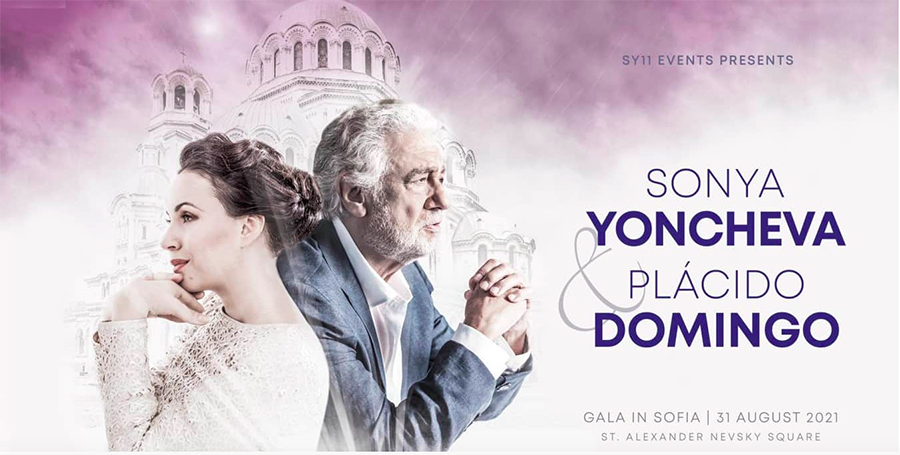 The Saint Alexander Nevsky Square in Sofia is the setting for a highly-anticipated Gala Concert on August 31st, when soprano Sonya Yoncheva and baritone Plácido Domingo appear with the Sofia Philharmonic Orchestra conducted by Nayden Todorov.
Against the backdrop of the magnificent Saint Alexander Nevsky Cathedral, these illustrious stars will present a selection of arias and duets in a performance which is to be streamed live from Bulgaria, with an on-demand concert available to watch immediately afterwards.
Regarded as one of opera's most versatile artists, Bulgarian soprano Sonya Yoncheva has appeared – in highly acclaimed performances – in some of the world's finest opera houses. Ms Yoncheva's expansive repertoire ranges from Baroque composers such as Purcell, to Mozart, Verdi, Rossini, Tchaikovsky, Puccini, Dvořák and Bizet – as comfortable on the concert and recital stage as she is in opera.
Ms Yoncheva's most recent appearances include a performance earlier this month at the Arena di Verona as Violetta Valéry in Verdi's La Traviata – which she has also sung at the Metropolitan Opera, Opéra de Paris, Royal Opera Covent Garden, Zurich Opera, Bayerische Staatsoper and in a new production at Staatsoper Unter den Linden, prompting Die Welt to hail her as "the finest Violetta since Maria Callas" and "possibly the best Traviata in the world at present". This was followed by an all-Italian programme with the Donizetti Opera Ensemble at the Salzburg Festival.
Sonya Yoncheva has just been named an honorary citizen of her hometown Plovdiv in Bulgaria, followed by the announcement that her Rebirth concert has won her the title of Singer of the Year in the 2021 Opus Klassik Awards.
Singer, conductor, cultural impresario and entrepreneur, Plácido Domingo has been appearing on stages across the globe for over half a century, with engagements in leading opera houses, and in concerts marking some of the greatest international events. He has an impressive repertoire of over 150 roles which span more than 4000 performances, and – having recorded over 100 complete operas, compilations of arias and duets, and crossover discs – Mr Domingo has 12 Grammy Awards to his name – three of which are Latin Grammys. He has also recorded more than 50 music videos, and is the recipient of two Emmy Awards.
He is Chairman of the International Federation of the Phonographic Industry, President of Europa Nostra and the Founder of Operalia, the World Opera Competition.
Plácido Domingo was most recently honoured with the Bellini d'oro Award, following his appearance as conductor of the Teatro Massimo Bellini Orchestra in the first of two extraordinary performances of Verdi's Rigoletto at the gorgeous Teatro Greco Antico di Taormina, in Sicily. Leo Nucci (also a Bellini d'oro) sang the title role, with Federica Guida as Gilda.
Sonya Yoncheva and Plácido Domingo will be accompanied by the Sofia Philharmonic Orchestra conducted by Nayden Todorov. Also a native of the city of Plovdiv, Maestro Todorov has had a special bond with the Sofia Philharmonic Orchestra, since his debut performance with them in 2001 at the UNESCO Hall in Paris. In 2004 he was named permanent guest conductor of the Orchestra, following which he became principal guest-conductor, and from the beginning of 2017 was elected director of the Sofia Philharmonic. His repertoire covers a wide range of genres – opera, ballet, symphonic and film music – and he has guested on the stages of many major cultural centres across Europe, as well as in Asia, Africa and the United States.
The gold-domed Neo-Byzantine Saint Alexander Nevsky Cathedral was built in the early 20th century in memory of the 200,000 Russian, Ukrainian, Belorussian and Bulgarian soldiers, who died in the Russo-Turkish War of 1877–1878, which resulted in Bulgaria's liberation from Ottoman rule. One of the largest Eastern Orthodox cathedrals in the world, it is the cathedral church of the Patriarch of Bulgaria and is one of the symbols of Sofia, as well as one of the city's primary tourist attractions. It was named in honour of 13th century Russian prince, Alexander Nevsky, who was canonised in 1547.
The open-air Gala Concert on August 31st will be video streamed live at 5:30pm UTC (6.30 pm UK, 7:30pm Central European Time, 1:30pm Eastern Time). An on demand video will be available immediately after the concert. To vew the concert, follow this link.
Information sourced from:
Artists' websites
Saint Alexander Nevsky Cathedral