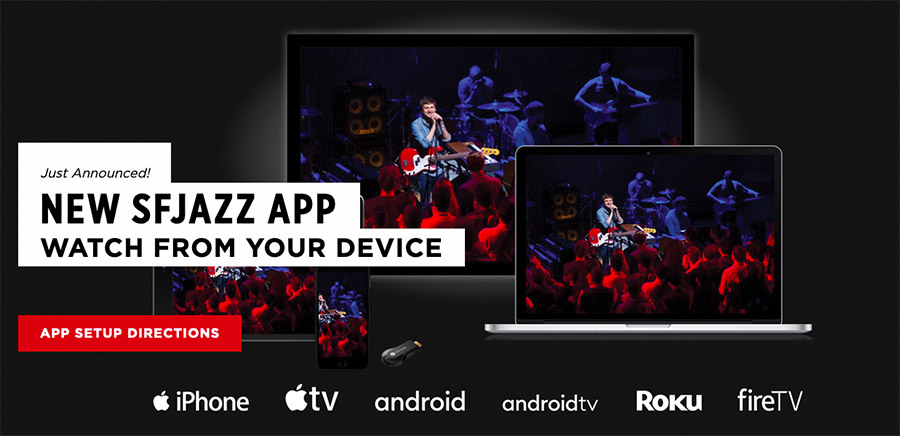 SFJAZZ has a new app, which means that members can watch fabulous performances from the SFJAZZ Center from home, or from anywhere in the world.
Available on AppleiOS, Apple TV, Amazon Fire TV, Android, Android TV and Roku, and open to members of SFJAZZ, these fully immersive digital concerts are filmed on SFJAZZ's signature multi-cam HD video and state-of-the-art audio – they're the nearest thing to actually being there.
The app will give you access to the weekly online concert series Fridays Live at 7.30 am (Pacific Time), or the Saturday Encore which is transmitted the following Saturday morning at 11.00 am (Pacific Time). As Herbie Hancock says: "It's the place to be"! You'll also have access to SFJAZZ Singles each Wednesday – which features a 'single' standout song from a recent Fridays Live concert. It's hoped that these will pique your interest sufficiently to persuade you to join up and watch.
Membership of SFJAZZ ($5 monthly or $50 annually) will also entitle you to watch On-Demand concerts at a time which suits you – at a 50% reduction of the normal cost – as well as select pay-per-view concerts broadcast live from the SFJAZZ Center. All subscriptions provide direct support for the artists and for SFJAZZ.
Upcoming Fridays Live concerts include Dorado Schmitt & Django Festival All-Stars, Adam Shulman with A Charlie Brown Christmas, and Merry Christmas From José James.
Performances that are currently available On-Demand include Chester Thompson's Gravy Train, the Preservation Hall Jazz Band's 60th Anniversary Tour, New Works Reflecting the Moment from the SFJAZZ Collective, Martin Luther McCoy's 50th Anniversary Celebration, and The Sound of Cuba with Jésus Díaz. There's also Gerald Clayton, Edward Simon, Tammy L Hall and Justin Kauflin with Monk's Birthday Celebration, Rhythmic Connections with Zakir Hussain, Eric Harland, Abbas Kosimov and Mark de Clive-Lowe, and Omar Sosa's Motherland Journey.
Visit the SFJAZZ website to see which performances are available.
To enjoy these online performances, all you need to do is search for SFJAZZ on whichever of the devices listed above that you have, download the app, sign up to membership, and enjoy! Should you experience any technical difficulties, you can email digitalsupport@sfjazz.org for help.
Information sourced from SFJAZZ program notes