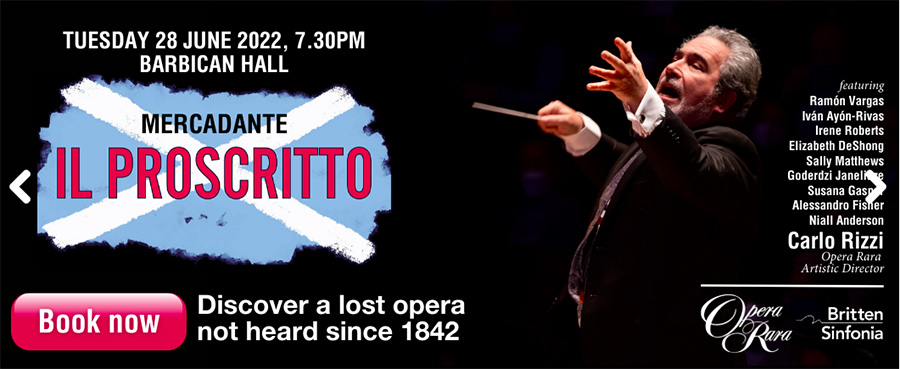 Opera Rara and the Britten Sinfonia present the first performance of Saverio Mercadante's Il proscritto since the opera's première in Naples in 1842. Carlo Rizzi, Artistic Director of Opera Rara, leads the Britten Sinfonia, soloists and the Opera Rara Chorus in a concert performance of Il proscritto (The Outlawed) at the London Barbican on Tuesday, 28th June.
For more than 50 years, Opera Rara – in a mission to widen the operatic repertoire – has specialised in the rediscovery and restoration of neglected works, having already restored, performed and recorded three of Mercadante's operas – Orazi e Curiazi, Emma d'Antiochia and Virginia. Il proscritto is the Company's 46th restoration project since its founding in 1970.
At the beginning of the pandemic in March 2020 – the year which marked Opera Rara's 50th anniversary – Carlo Rizzi discovered Mercadante's original autograph score online at the Naples Conservatory Library, and during the lockdown which followed, Maestro Rizzi led the complete restoration of this work. He was assisted by Opera Rara's Artistic Dramaturg Roger Parker, in collaboration with Ian Schofield, via Casa Ricordi, the distributor of Opera Rara's editorial catalogue – a catalogue which now includes more than 30 complete operas. This week, a studio recording of Il proscritto is being made – for the first time ever.
Mercadante (1795-1870) was the leading Italian composer between Donizetti and Verdi, who was responsible for composing a series of "reform operas" during the 1830s – to distinguish his work from that of Bellini and Donizetti. In Il proscritto – which represents one of his most daring and innovative scores – he restored aspects of bel canto lyricism, while still retaining facets of his "reform operas". This combination proved difficult for the audience of Naples, however, and following the première at the San Carlo Theatre on January 4, 1842, the opera was never performed again after its initial run.
"What makes Il proscritto so interesting for me," says Maestro Rizzi, "is its melodic inventiveness, fascinating orchestral textures and unique sound world …. there is so much musical variety for audiences to enjoy and look forward to, in a fascinating and dramatically involving evening of music."
Set in Edinburgh against the backdrop of Oliver Cromwell's rule, this story of lost love and political treachery has a libretto by Salvatore Cammarano, based on the 1839 play Le proscrit by Frédéric Soulié. Some time before the action begins, Malvina Douglas was married to Giorgio Argyll (a supporter of the Royalist cause), but following a shipwreck he was presumed dead. Malvina is urged by her mother and half-brother (a supporter of Cromwell) to marry Arturo Murray (also a Cromwellian). Despite wishing initially to kill herself, Malvina gradually finds that love has blossomed between her and Arturo, although she is riven with guilt at the thought of her former husband.
Matters become complicated when, on the day of her marriage to Arturo, Malvina's first husband, Giorgio, arrives on the scene incognito, having obviously survived the shipwreck. Despite his love for Malvina he urges her to marry Arturo who, when he discovers Giorgio's identity, challenges him to a duel. Malvina decides that the only way out of this debacle will be by her death, and the opera inevitably ends in tragedy.
Heading Opera Rara's cast is Mexican tenor Ramón Vargas who takes the role of Giorgio Argyll. Peruvian tenor Iván Ayón-Rivas, winner of the 2021 Operalia competition, is Giorgio's rival Arturo Murray. The role of Malvina Douglas is sung by American mezzo-soprano Irene Roberts, and her brother Odoardo is sung by American mezzo-soprano Elizabeth DeShong. The cast is completed by Sally Matthews, Goderdzi Janelidze, Susana Gaspar, Niall Anderson and Alessandro Fisher – the first singer to appear in Opera Rara's new Salon Series for emerging artists which launched in May.
Carlo Rizzi conducts the Britten Sinfonia, soloists and the Chorus of Opera Rara in a concert performance of Mercadante's Il proscritto on Tuesday, 28th June, at 7.30 pm at The Barbican in London. Tickets can be reserved online via this link.
Information sourced from:
Opera Rara programme notes
More information on the artists available on the following websites: