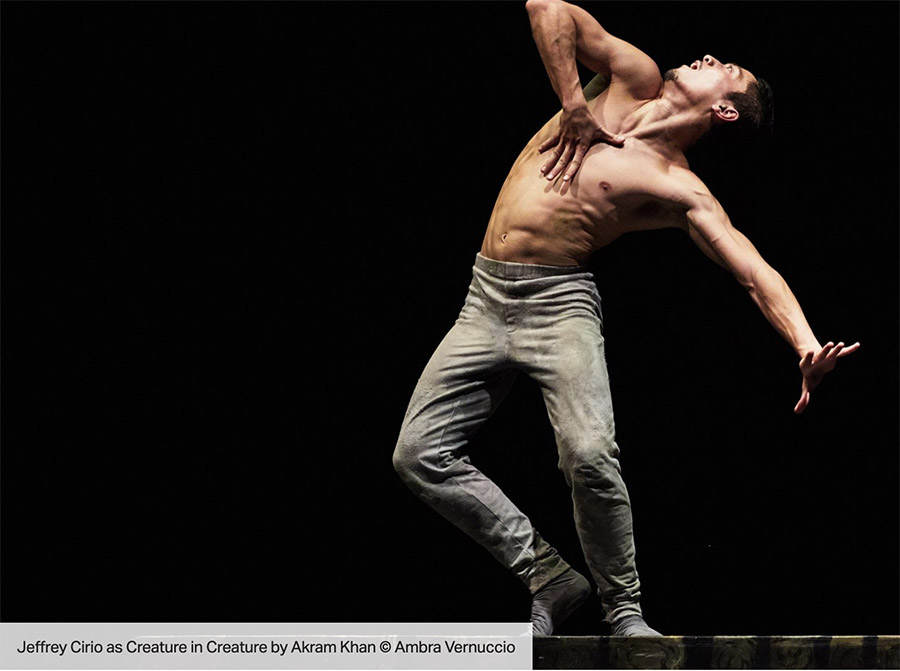 Akram Khan's Creature is set for release in UK cinemas this weekend. Choreographed by Khan, and based on the English National Ballet production of 2021, the film is directed by Academy Award-winning director Asif Kapadia, and set to the score composed for the ballet Creature by Vincenzo Lamagna.
The original ballet Creature was inspired by a stage play, Woyzeck, written by 19th century German dramatist Georg Büchner, which was also the basis for Alban Berg's 1925 opera, Wozzeck. Set in a dilapidated former Arctic research station, the film tells of Creature – danced by ENB guest artist Jeffrey Cirio – who is enlisted into an experimental programme by a military brigade without his knowledge. He falls in love with a cleaner, Marie – danced by Erina Takahashi – who is kind and compassionate towards him, and they dream of an escape together. English National Ballet describes this work as "a beautiful, tragic tale of an outsider's search for belonging, the insatiable desires of the powerful, and the enduring hope found in human connection and compassion".
Creature – referred to by Empire magazine as "A propulsive drama" and the Independent as "Superb… A tight-wound drama that never lets up" – is Akram Khan's third collaboration with English National Ballet, and follows the success of Dust (performed as part of Lest We Forget in 2014), and his first ever full-length ballet, Giselle. Kahn is regarded as one of the most respected dance artists of today, his works having been performed both in the UK and abroad. He is the recipient of numerous awards, including an MBE for services to dance in 2005, a Laurence Olivier Award, a Bessie Award (New York Dance and Performance Award) and an award from ISPA (International Society for the Performing Arts). Among his recent dance creations is Jungle Book reimagined, based on the original by Rudyard Kipling, in which he looks at the story from the perspective of children of today. The work was premiered at Curve in Leicester on 7th April 2022.
Asif Kapadia is an Academy Award, Grammy and four time BAFTA winning producer, director and writer. Working in both film and television, he is best known for his trilogy of documentaries exploring the price of fame – Amy, Senna, and Diego Maradona, as well as his debut feature The Warrior. Included in his other successes are two episodes of the Netflix series Mindhunter – which he directed – and the critically acclaimed music series 1971: The Year Music Changed Everything.
Responsible for the score of Creature – which blends electronic sounds, speech and a live orchestra – is London-based Italian composer and sound designer Vincenzo Lamagna, who collaborated with Khan on Giselle for English National Ballet. Orchestration is by James Kean and Costume Design by Tim Yip.
The film Creature – a co-production between English National Ballet and Opera Ballet Vlaanderen (OBV), with co-producers Sadlers Wells, London – will be screened in cinemas across the UK from 24th February to 31st March, 2023. Further information and booking details can be found on the English National Ballet website.
The original production of Creature the ballet returns to the stage this spring. It can be seen at Sadler's Wells in London from Thursday 23rd March to Saturday 1st April, 2023.
Information sourced from:
English National Ballet programme notes