San Francisco Opera opens its 2023 Summer Season with one of the world's best loved operas, Puccini's Madame Butterfly, in a co-production with The Tokyo Nikikai Opera Foundation, Semperoper Dresden and the Royal Danish Opera.
This new staging by Japanese Director Amon Miyamoto stars Korean soprano Karah Son in her Company debut as Cio-Cio-San – the young Japanese girl who falls in love with an American naval officer, with devastating consequences. Tenor Michael Fabiano is Lt Pinkerton, the US Naval officer, mezzo-soprano Hyona Kim is Suzuki, Cio-Cio-San's servant and confidant, and baritone Lucas Meachem is Sharpless the US Consul. Leading the production is San Francisco Opera's Music Director Eun Sun Kim.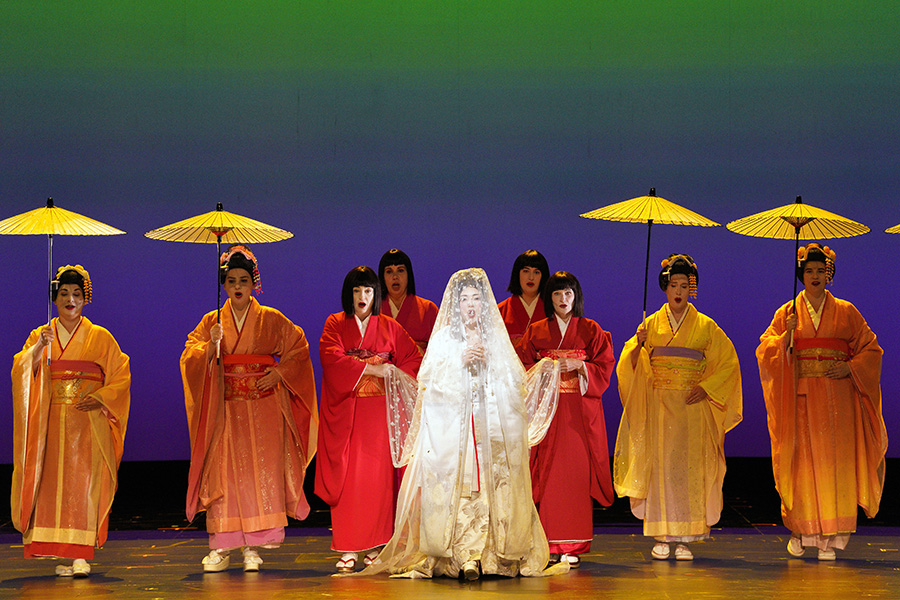 This production of Madame Butterfly, staged with associate director Miroku Shimada, presents the story from the perspective of Cio-Cio-San's child with Pinkerton. Known as Dolore – or Trouble – he is now a grown man, having been raised as a biracial person in 1920s America, experiencing discrimination, and finding out what events led to his being there. The role of Trouble is taken John Charles Quimpo, born and raised in the Philippines, but now a Bay Area-based award-winning performer.
The original version of Giacomo Puccini's tragic opera, Madame Butterfly, has a somewhat complicated, but fascinating, history. The Italian libretto, by Luigi Illica and Guiseppe Giacosa, was partly based on the short story, Madame Butterfly, written by John Luther Long in 1898. Long's story evolved partly from some stories told to him by his sister, and partly from a French novel, Madame Chrysanthème, written by Pierre Loti in 1887. This novel was then dramatized as a one-act play – Madame Butterfly: A Tragedy of Japan – by American theatrical producer and playwright David Belasco in 1900, the year in which Puccini (1858-1924) attended a performance in London.
Madama Butterfly (as it's known in Italian) premiered at La Scala in Milan on 17th February 1904, where it was most unenthusiastically received. Having undergone substantial revisions, the opera was performed in Brescia in May of the same year, on that occasion to great acclaim. Puccini, however, made further revisions to his work – there were five in total – the last version of which was performed in 1907. This became known as the 'standard version' and is the one most frequently performed today. It was premiered by Monte-Carlo Opera on 23rd March 1912.
Karah Son has performed on stages across Europe, North America, Australia and in Korea. Following a recent appearance as Cio-Cio San in the Sydney Opera House, The Sydney Morning Herald wrote: "Her voice spans innocent playfulness, intimate intensity and unflinchingly thrilling moments, singing Un bel dì, vedremo with tonal purity and grace of line and without undue portent". Ms Son recently appeared in Zandonai's Francesca da Rimini at the Monte-Carlo Opera, in Madama Butterfly in Korea, Tampere, Leipzig, Warsaw, Berlin, Goteborg and Turin, and in Aida in Korea.  Future engagements include performances in Madama Butterfly in Leipzig, with Glyndebourne Festival Opera, in Warsaw, Stuttgart and Helsinki.
Michael Fabiano makes a welcome return to San Francisco Opera as Lieutenant B F Pinkerton. The "intensively expressive" (New York Times) tenor has performed many leading roles with the Company, including Rodolfo in Puccini's La Bohème, Cavaradossi in his Tosca and the title role in Verdi's Don Carlo. Following a performance of Tchaikovsky's Eugene Onegin, the Independent wrote that "Michael Fabiano's heartrending Lensky is out of this world", his portrayal of Rodolfo in La bohème at Canadian Opera Company was described by La Scena Musicale as "simply sensational", and Musical Toronto referred to him as "Fabulous …… A tenor that operatic dreams are made of". Mr Fabiano will also sing at San Francisco Opera's 100th Anniversary Concert on 16th June. San Francisco Opera Adler Fellow Moisés Salazar performs the role of Pinkerton in the July 1 performance.
Hyona Kim, who sings Suzuki in this production, has been described by the New York Times as a "vibrant mezzo soprano". In 2018 she joined Dortmund Opera in Germany as a member of the ensemble, and made her much acclaimed house and role debut singing Amneris in Verdi's Aïda. Other roles that she performed at the Dortmund Opera are Suzuki in Madama Butterfly and Tzippie in Oliver Knussen's Wo die wilden Kerle wohnen (Where the wild things are). Future engagements include the title role in the German premiere production of Ernest Guiraud, Paul Dukas and Camille Saint-Saëns' Frédégonde, the role of Ortrud in Wagner's Lohengrin and Fidès in Meyerbeer's Le prophète.
Grammy-winning Lucas Meachem is, Sharpless. Opera News writes that "His baritone is an instrument of striking finish, smooth and solid throughout its range. He is a masterful musician", while Opera Pulse refers to him as the "rock star of opera". During the current 2022/23 season he has sung the title role in Mozart's Don Giovanni at Ravinia Festival, has appeared as Escamillo in Carmen with Canadian Opera Company, as Marcello in La bohème with Opéra national de Paris, and Count Almaviva in Mozart's Le Nozze di Figaro with Los Angeles Opera.
Tenor Julius Ahn is the marriage broker Goro, baritone Kidon Choi makes his Company debut as the wealthy Prince Yamadori and actor Evan Miles O'Hare is the elderly Pinkerton. The cast also includes current San Francisco Opera Adler Fellows Jongwon Han as the Bonze and Mikayla Sager as Kate Pinkerton, along with Andrew Pardini, Jere Torkelsen, Kevin Gino, Crystal Kim, Silvie Jensen and Whitney Steele.
This new staging of Madame Butterfly features the work of set designer Boris Kudlička, lighting designer Fabio Antoci and projection designer Bartek Macias. The costumes are designed by the late fashion icon Kenzō Takada, founder of the global brand and fashion house KENZO, and developed by associate costume designer Sonoko Takeda.
Eun Sun Kim leads the San Francisco Opera Orchestra, San Francisco Opera Chorus (Chorus Director John Keene) and the San Francisco Opera Dance Corps in eight performances of Madame Butterfly until July 1st at the War Memorial Opera House. Further details and booking guidance can be found on the San Francisco Opera website. The production is sung in Italian with English supertitles.
Audiences around the world will be delighted to hear that the performance on Friday, June 9, will be streamed live at 7.30 pm PT, and will be available to watch on demand for 48 hours beginning on Saturday, June 10 at 10.00 am PT.  For more information, visit sfopera.com/digital/livestream.

Information sourced from:
San Francisco Opera program notes
Encyclopaedia Britannica
Karah Son
Michael Fabiano
Hyona Kim
Lucas Meacham