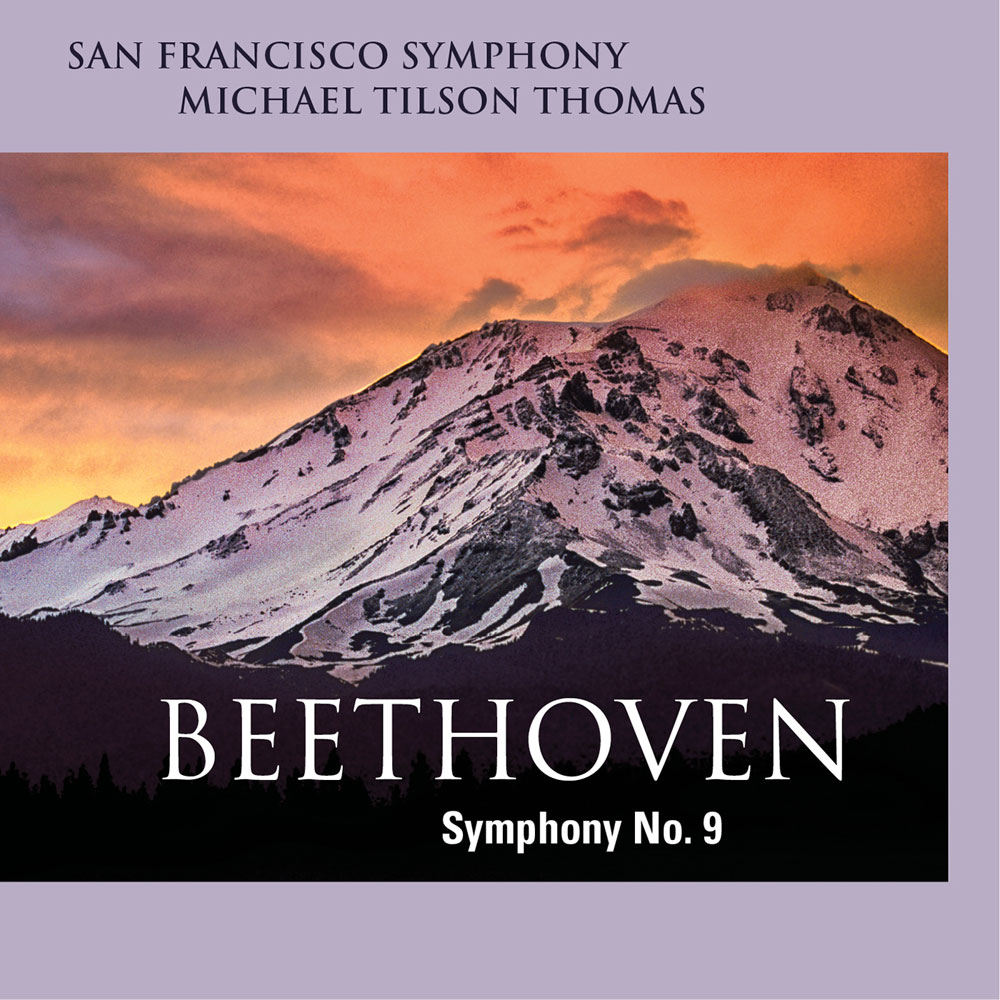 A new recording of Beethoven's Symphony No 9 has been released by Michael Tilson Thomas, the San Francisco Symphony and the San Francisco Symphony Chorus.   Recorded live at Davies Symphony Hall in June 2012, at the conclusion of the Orchestra's centennial season, this hybrid SACD album is available on SFS Media, the Orchestra's in-house label.
As part of the multi-season, multi-year focus on the music of Beethoven by MTT and the SF Symphony, the album also features soprano Erin Wall, mezzo-soprano Kendall Gladen, tenor William Burden and Nathan Berg, bass.
The launch of this album precedes the forthcoming two-week Beethoven Festival – to be held between May 2 and 11 – during which Michael Tilson Thomas will lead the Symphony in exploring Beethoven's early inspirations, and their influence on his later music.
An interesting recording which will be made by SFS Media during this Festival, will be a work by Bay Area composer, John Adams – his Absolute Jest – which was inspired by, and based on, fragments of Beethoven's scherzos for string quartets.  This work was co-commissioned by the San Francisco Symphony, and premiered as part of last season's American Mavericks Festival – a presentation of music by less conventional composers, which is in keeping with the Symphony's commitment to including in its repertoire not only core classical masterworks, but those which are more contemporary and less well known.
It was, incidentally, a recording of two other John Adams works – Harmoneliehre and Short Ride in a Fast Machine – which won Michael Tilson Thomas and the San Francisco Symphony their 15th  Grammy Award for Best Orchestral Recording in February this year.
A 5-minute video clip about the recording of the Beethoven Ninth can be viewed at http://youtu.be/krCiR04u8Ig. It features concert footage, as well as interviews with Michael Tilson Thomas, Chorus Director Ragnar Bohlin, soprano Erin Wall and SFS musician Cathy Payne.
Beethoven's Symphony No. 9 can be pre-ordered from iTunes and on SACD from the San Francisco Symphony Store . The album is also available for purchase at the Symphony Store in Davies Symphony Hall, and other music retailers.