On Classical KDFC they refer to Sunday evening as "the night that sings" – and this coming Sunday voices will soar, as the Bay Area's classical music radio station broadcasts San Francisco Opera's gala concert in honor of the Company's retiring General Director, David Gockley.  Marking the culmination of Gockley's 10 years at the helm of one of the country's greatest opera companies, Celebrating David was a star-studded event which took place at the  War Memorial Opera House in mid-June, and on August 7, listeners to Classical KDFC can hear a broadcast of this historic event.
The esteem in which David Gockley is held in the world of opera can be judged by the illustrious array of international performers who participated in this concert, and who paid tribute to him in song from some of the world's most magnificent operas, and in video messages from around the world.
Hosted by Frederica von Stade and Thomas Hampson, the performance featured sopranos Renée Fleming – who was awarded the San Francisco Opera Medal to commemorate her 25th anniversary with the Company – Ana María Martínez, Karita Mattila, Patricia Racette, Nadine Sierra and Heidi Stober;  mezzo-sopranos Catherine Cook, Susan Graham, Daniela Mack and Dolora Zajick;  tenors Michael Fabiano, Brian Jagde and Simon O'Neill;  bass-baritone Eric Owens, bass René Pape, current San Francisco Opera Adler Fellows, and members of the San Francisco Opera Chorus.
The San Francisco Opera Orchestra was led by the Company's Music Director Nicola Luisotti, by Principal Guest Conductor Patrick Summers and guest conductors Jiří Bělohlávek and John DeMain. The program comprised a wonderful selection of arias and ensembles taken from significant works which have been staged during Gockley's time at San Francisco Opera – operas such as Porgy and Bess, Nixon in China, Rusalka, Giulio Cesare, Susannah, Luisa Miller, La donna del lago, Die Walküre, Der Rosekavalier, Turandot, Mefistofele, Show Boat, La nozze di Figaro, Cavalleria rusticana, Two Women, Manon, A Streetcar Named Desire and Les Troyens. It ended with a heartfelt performance of Make Our Garden Grow from Leonard Bernstein's Candide.
To coincide with David Gockley's retirement, San Francisco Opera has produced a book entitled American Impresario, David Gockley's Life in Opera – a handsome tribute to a remarkable man – written by Damian Fowler. This impressive coffee-table book has a foreword by mezzo-soprano Joyce DiDonato, and features tributes and reminiscences from a range of artists such as composers Carlisle Floyd, John Adams, Philip Glass and Jake Heggie, designer Francesca Zambello, conductor John DeMain, Eric Owens, Renée Fleming and author Amy Tan.
It's packed with photographs and anecdotes covering Gockley's 45-year career in opera, during which he has contributed to the burgeoning of the art form in America through the engagement of top flight artists, directors, designers and conductors, and overseen the world premieres of 45 commissions, including those from some of America's most eminent composers – John Adams, Leonard Bernstein and Philip Glass.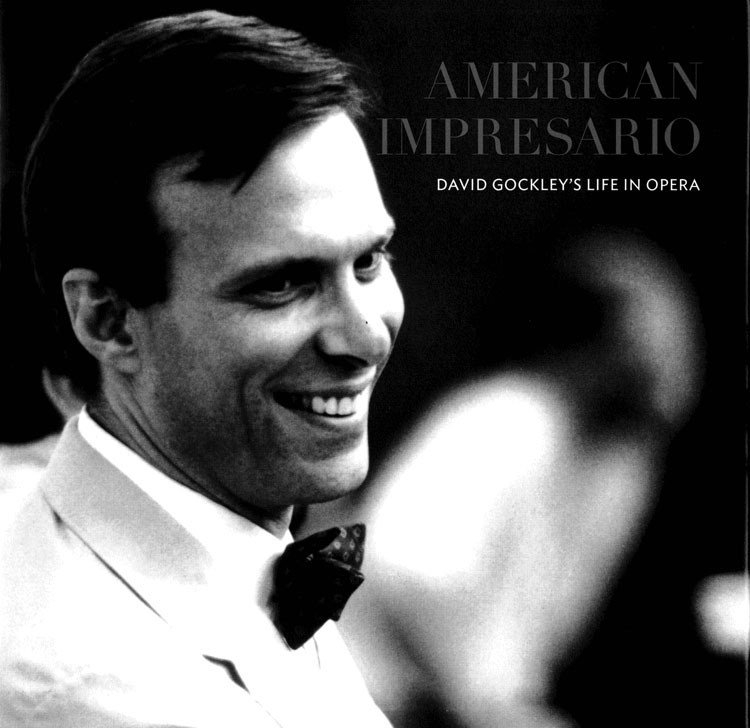 American Impresario chronicles Gockley's life from the time that he left New York, and headed off to Houston Grand Opera to take up the position of business manager – at the age of only 27 – and where, two years later, he had risen to the lofty heights of General Director. His career at Houston Grand Opera spanned more than three decades, during which time HGO presented 35 world premieres and six American premieres, and within 10 years of Gockley's appointment, Houston became the fifth largest opera company in the USA, behind San Francisco Opera, Lyric Opera of Chicago, the Metropolitan Opera and New York City Opera.  Gockley also oversaw the creation of HGO's home, the Wortham Theater Center, and co-founded – with composer Carlisle Floyd – the Houston Grand Opera Studio, dedicated to developing the talents of young singers.
During David Gockley's tenure as General Director of San Francisco Opera – from 2006 to 2016 – the Company has staged eight commissioned world premieres, two West Coast premieres, and a new production of Wagner's four-opera cycle Der Ring des Nibelungen. It was he who took the decision to re-establish the Italian repertoire at San Francisco Opera, and appointed Nicola Luisotti as Music Director, and not only was he responsible for bringing some of the world's most magnificent operas and performers to the stage of the War Memorial Opera House, but he pioneered programs to nurture rising young artists, and actively sought to develop new ways of introducing opera to the wider world.
One of his early initiatives was to take opera to the community in the form of free outdoor simulcasts – events which now take place annually, and have collectively attracted an audience of over 250,000 to date. These simulcasts would not have been possible had Gockley's innovative spirit not led the Company to create the Koret/Taube Media Suite in 2007 – the first permanent high-definition broadcast-standard video production facility installed in any American opera house.
Other achievements included the establishment of the Grand Opera Cinema Series at regional cinema chains, the distribution of DVDs in the United States and Europe, radio broadcasts, and national TV broadcasts in the United States as part of the PBS Great Performances series. Most recently, he was at the forefront of the creation of the Diane B Wilsey Center for Opera, which houses the opera archives, an education center and the Dianne and Ted Taube Atrium Theater for more intimate presentations by SF Opera Lab.
There are two more Gockley-commissioned world premieres waiting in the wings at the War Memorial Opera House for the season which opens this fall – Bright Sheng and David Henry Hwang's Dream of the Red Chamber – a co-production with the Hong Kong Arts Festival – and a new John Adams opera, Girls of the Golden West, with a libretto by Peter Sellars – a San Francisco Opera co-commission with The Dallas Opera, Dutch National Opera and Teatro La Fenice. The 2018-19 season will see yet another David Gockley co-commission for San Francisco Opera – from composer Jake Heggie.
The good news now is that David Gockley will not be leaving San Francisco Opera completely, for it was announced – to rapturous applause at the end of his celebratory concert – that he has been appointed General Director Emeritus of the Company. He is succeeded as General Director by Matthew Shilvock with whom he has worked closely for over 13 years, so not only does Shilvock have a wealth of experience on which to draw, but also the unbridled support of his predecessor. It's a formidable team.
Celebrating David can be heard on KDFC on Sunday, August 7, at 8.00 pm. For tuning frequencies, or to listen online, visit www.kdfc.com
American Impresario, David Gockley's Life in Opera, by Damien Fowler, is published by Chronicle Books, and is available from the San Francisco Opera Shop.