New York City Ballet launches its Spring Season with a Festival of American Music, featuring a sensational line-up of 25 ballets to music by 17 American composers.  NYCB Founding Choreographers, George Balanchine and Jerome Robbins, shared a deep passion for American music, a tradition which has been continued by Ballet Master in Chief, Peter Martins.  Each has a program dedicated to his works in this three-week tribute to some of the best-loved works by American composers, and for good measure, there's another which is devoted to the music of Richard Rodgers as well.
The curtain-raiser, on April 30, is an All Balanchine program, which opens with his light-hearted caper, Who Cares?, featuring 16 songs by George Gershwin in an orchestration by Hershy Kay.  The score includes favorites such as Strike Up the Band, Somebody Loves Me, 'S Wonderful, Stairway to Paradise, Fascinating Rhythm, I Got Rhythm and, of course, Who Cares?
Balanchine – who collaborated with Gershwin on the film Goldwyn Follies in 1937 – incorporated these songs, written between 1924 and 1931, into a display which portrays the exhilaration and energy of the city of New York.
Ivesiana was choreographed in 1954 to a series of orchestral pieces by Charles Ives.  Described as "dramatic" with an "intense theatricality" to it, the ballet has been likened to a tone poem, presenting a combination of contrasts in terms of mood, movement and lighting. (The George Balanchine Trust)
Gottschalk's Tarantella – reconstructed and orchestrated by Hershy Kay – provides the music for Balanchine's ballet of the same name – a pas de deux which provides a stunning showcase for the virtuosity of the dancers.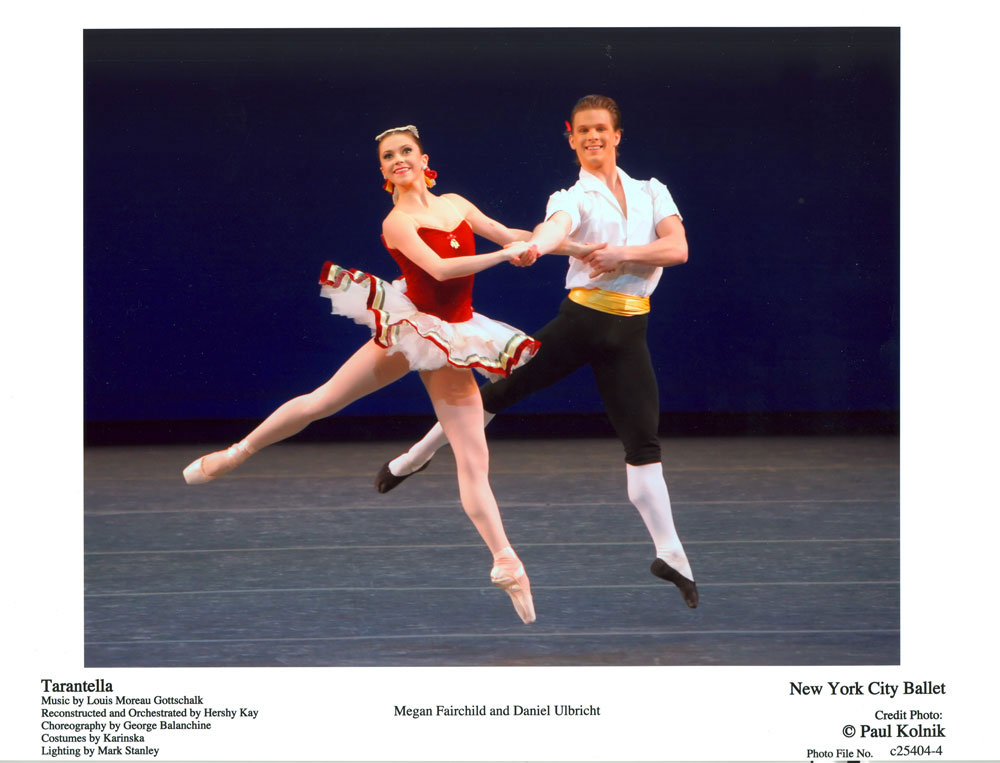 Although the music might have something of the Italian about it, pianist and composer Louis Moreau Gottschalk came from New Orleans.  Balanchine referred to this particular work as "a dazzling display piece, full of speed and high spirits" – and he perpetuated the Italian theme, describing the choreography as "Neopolitan", with costumes inspired by Italy – and, he added, "there are tambourines". (The George Balanchine Trust)
The program ends with Balanchine's Stars and Stripes, set to five of John Philip Sousa's rousing themes, orchestrated, once more, by Hershy Kay.  Vibrant and colorful, with all-American Karinska costumes to match, Stars and Stripes is a wonderfully patriotic, Fourth of July-style tribute by George Balanchine to his adoptive home.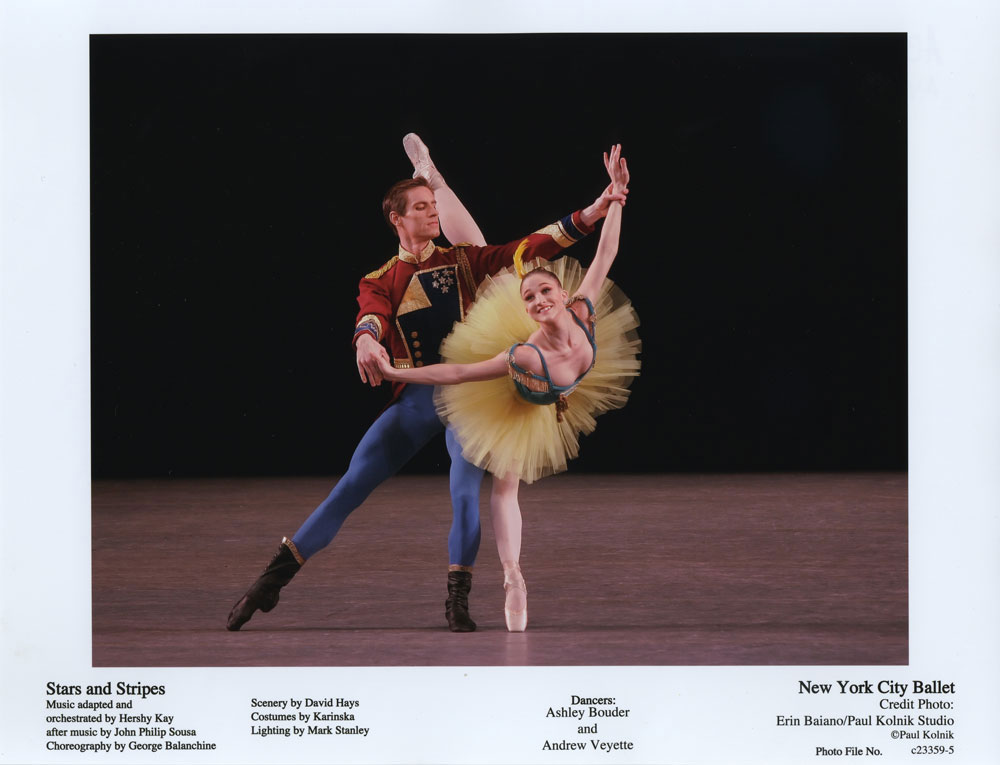 New York City Ballet's All Balanchine program takes place on April 30, May 1, 4 and 11 at the David H Koch Theater, Lincoln Center Plaza at Columbus Avenue and West 63rd Street. Tickets are available at the box office, online at nycballet.com, or by calling 212-496-0600.
See a video clip of Tarantella on the NYCB website
www.balanchine.org
www.jeromerobbins.org
www.gershwin.com
www.charlesives.org
www.louismoreaugottschalk.com
http://www.dws.org/sousa/