Downbeat calls him "One of the premier musicians of his generation … ", he's regarded as one of the world's most versatile bassists, is a four-time GRAMMY winner, has appeared on over 300 recordings, is the host of NPR's Jazz Night in America, and is Resident Artistic Director of SFJAZZ – this is Christian McBride, whose 5-day residency at the JAZZ Center begins this evening.
This virtuoso jazz musician opens his residence with a Listening Party in the SFJAZZ 'living room', where he and Executive Artistic Director Randall Kline invite the audience to sit in on their discussion, as McBride explores the part played by the bass in the history of jazz, presenting his "unique and priceless perspective on this most misunderstood part of the rhythm section" (SFJAZZ).  According to The New York Times, "The deep, dark-maple tone that Christian McBride elicits from an upright bass is one of jazz's forthright pleasures".
McBride illustrates this conversation with a selection of recorded and live excerpts, and members of the audience will get an opportunity to ask questions, before attending a reception with the man whom Variety describes as "The musician with the technical, compositional and emotional skills to take jazz to another plane".
Listening Party with Christian McBride takes place in the Miner Auditorium at SFJAZZ on Tuesday, September 20, at 7.30 pm. For more information and tickets, visit the SFJAZZ website.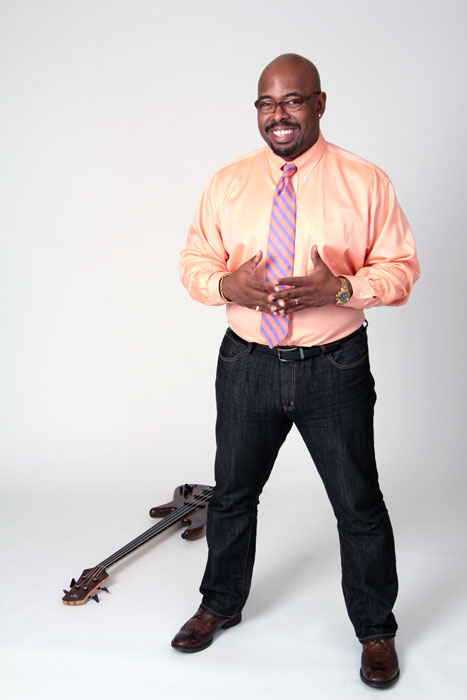 The following evening, SFJAZZ presents A Christian McBride Situation – part of his electro-funk Situation project, which features a group of individual musicians whose initial meeting at the 2005 Monterey Jazz Festival was coincidental, but who were clearly destined to perform together. When two of McBride's band members were unable to attend the festival, he called on some of the other performers present to complete his group – including keyboardist Patrice Rushen, saxophonist Ron Blake, and DJ Logic on turntables – resulting in an evening of hugely successful improvisation. In time, McBride added more artists to the group, including a second DJ, Jahi Sundance, who appears at SFJAZZ this week with McBride, Patrice Rushen, DJ Logic, Ron Blake on tenor saxophone and vocalist Alyson Williams.
A Christian McBride Situation takes over the Miner Auditorium on Thursday, September 22 at 7.30 pm. Tickets and more information can be found on the SFJAZZ website.
Always receptive to new musical environments, and constantly seeking new collaborators, Christian McBride presents the West Coast debut of his recently formed New Jawn Quartet on Friday evening. The group features four musicians who are regarded as some of the most forward-thinking jazz artists around today. Trumpeter Josh Evans, a protégé of Jackie McLean, is a former bandleader who has worked with drummers Rashied Ali, T S Monk, and Winard Harper. Saxophonist Marcus Strickland topped both the DownBeat Critics and Readers Polls for Rising Star Saxophonist, and has appeared with Roy Haynes, Dave Douglas, and Jeff 'Tain' Watts. Drummer Nasheet Waits is a founding member of pianist Jason Moran's Bandwagon trio and has performed with some of the jazz world's finest, including Andrew Hill, Fred Hersch and Antonio Hart.
Christian McBride's New Jawn Quartet perform in the Miner Auditorium on Friday, September 23, at 7.30 pm. More information and tickets are available on the SFJAZZ website.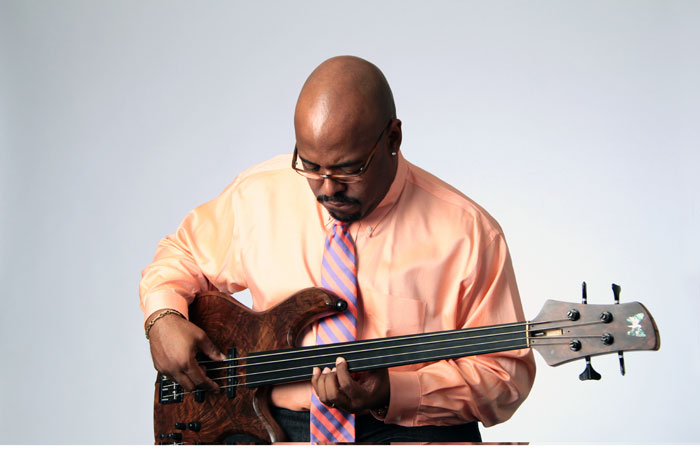 There's a Family Matinee on Saturday morning – at 11.00 am – in the Miner Auditorium, in which Christian McBride demonstrates just why improvisation and fearlessness are such important elements in jazz. Following the concert, there's an interactive workshop in Orff percussion – free to concertgoers – in the Joe Henderson Lab, with music educator Doug Goodkin and Friends.
Saturday evening is given over to the Christian McBride Big Band. McBride has an extraordinary number of achievements to his name – from sessions with illustrious jazz musicians such as Sonny Rollins, McCoy Tyner, Freddie Hubbard, Joe Henderson and Pat Metheny, to collaborating with the likes of Kathleen Battle and Sting, and playing a vital role in many all-star projects – such as the Five Peace Band with John McLaughlin, Chick Corea, Kenny Garrett and Vinnie Colaiuta (and Brian Blade).  He has also overseen jazz programming at Disney Hall and the Hollywood Bowl, but until the release of The Good Feeling in 2011, he'd never recorded an album with his own big band – and this one was awarded a  GRAMMY for Best Large Ensemble Jazz Album the following year. The artists appearing with McBride on Saturday evening haven't yet been announced, but we can be sure of a fabulous line-up.
The Christian McBride Big Band appears in the Miner Auditorium on Saturday, September 24, at 7.30 pm. More information and ticketing details can be found on the SFJAZZ website.
In the final performance of his residency, Christian McBride shares the stage with triple GRAMMY-winning vocalist Dee Dee Bridgewater. Known to be as adventurous in her musical exploration as is McBride, Dee Dee Bridgewater has enjoyed success wherever she's found herself in the years since her New York debut with the Thad Jones and Mel Lewis Orchestra in the early 70s. Among her achievements are a TONY® Award – as Best Featured Actress in Lady Wiz – an Olivier Award – for her portrayal of Billie Holiday in Stephen Stahl's Lady Day – and France's top honor, Victoire de la Musique for Best Jazz Vocal Album. She's recorded a series of superb albums, is a UN Goodwill Ambassador, a producer, head of a record label, and a jazz legend.
Christian McBride and Dee Dee Bridgewater are in the Miner Auditorium on Sunday afternoon, September 25, at 4.00 pm. For tickets and further information, visit the SFJAZZ website.
Sources:
SFJAZZ program notes
Artists' websites
Photographs of Christian McBride courtesy of the artist's website