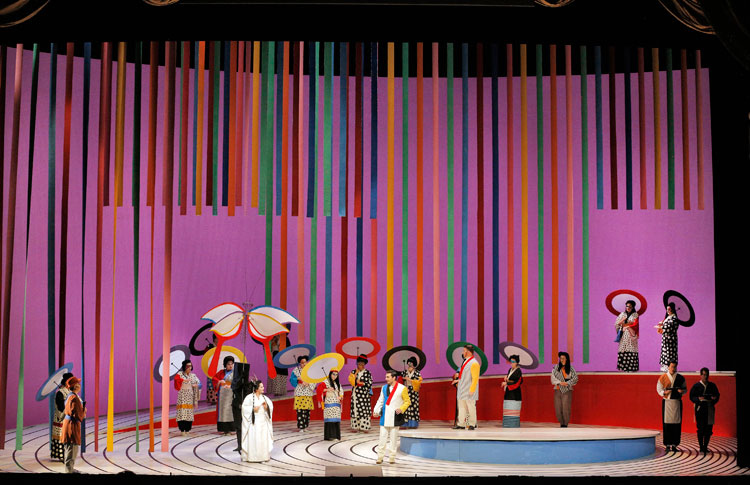 Scene from Act I of Puccini's 'Madama Butterfly' © Cory Weaver/San Francisco Opera
Puccini's heartbreaking yet utterly beautiful Madama Butterfly is the final production of San Francisco Opera's Fall Season, which opened its run at the War Memorial Opera House on Sunday. Starring Armenian soprano Lianna Haroutounian as Cio-Cio San and Italian tenor Vincenzo Costanzo – in his US debut – as Lt Pinkerton, the production features the colorful and creative design of Jun Kaneko which thrilled San Francisco audiences in the 2014 staging of this hugely popular work. Leslie Swackhamer, who directed that 2014 production, returns to direct this staging as well. Canadian conductor Yves Abel leads the San Francisco Opera Orchestra and Chorus (Chorus Director Ian Robertson).
Madama Butterfly has a somewhat complicated, but fascinating, history. The Italian libretto, by Luigi Illica and Guiseppe Giacosa, was partly based on the short story, Madame Butterfly, written by John Luther Long in 1898. Long's story evolved partly from some stories told to him by his sister, and partly from a French novel, Madame Chrysanthème, written by Pierre Loti in 1887. This novel was then dramatized as a one-act play – Madame Butterfly: A Tragedy of Japan – by San Francisco-born theatrical producer and playwright, David Belasco, in 1900, the year in which Puccini attended a performance in London.
Puccini's opera premiered at La Scala in Milan in February 1904, where it was most unenthusiastically received. Having undergone substantial revisions, Madama Butterfly was performed in Brescia in May of the same year, on that occasion to great acclaim. Puccini, however, made further revisions to his work – there were five in total – the last version of which was performed in 1907. This became known as the 'standard version' and is the one most frequently performed today.
Lianna Haroutounian made her debut with San Francisco Opera in the title role of the Company's 2014 production of Tosca – described by the San Francisco Chronicle as "phenomenal".  Following Sunday's opening, the Chronicle referred to "the splendor of  Haroutounian's artistry", and The Mercury News wrote of her "impassioned, stunningly beautiful vocal performance".  Early this year, Ms Haroutounian triumphed in a production of Madama Butterfly at the Concertgebouw in Amsterdam, following which Opera Today wrote: "As many Puccini fans as possible need to hear her in it. In fact, opera fans of all types need to hear Ms Haroutounian in any of her roles…. hers is one of the major voices of our time".  Other recent triumphs include Ms Haroutounian's performance as Leonora in Il Trovatore at the Royal Opera House, Covent Garden, and Amelia in Simon Boccanegra at the Metropolitan Opera.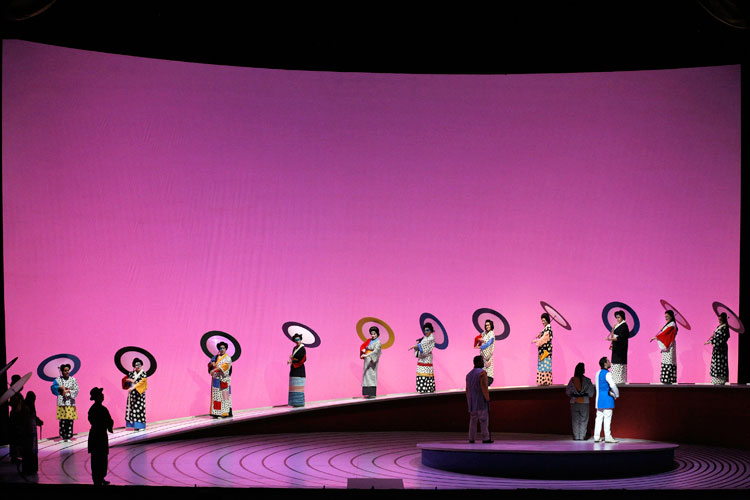 Tenor Vincenzo Costanzo, who makes his US debut in this performance, has been acclaimed for his interpretation of Pinkerton, with his "beautiful tenor voice, soft of timbre and richly nuanced", wrote OperaClick.  Following Sunday's opening in San Francisco, The Mercury News wrote that his "vocal assurance and smooth Italianate phrasing made an appealing Pinkerton".  He has performed the role in a number of opera houses, including Teatro La Fenice in Venice, Teatro di San Carlo in Naples, and Maggio Musicale Fiorentino. Despite being one of the youngest Italian singers in the world of opera today, he has also appeared in Macbeth at Teatro Carlo Felice in Genoa, and during the Verdi Bicentennial, made his debut as Rodolfo in Luisa Miller in Busseto, at Teatro Comunale di Piacenza, at Teatro Comunale of Ferrara and the Teatro Dante Alighieri in Ravenna, to great acclaim by both the public and critics. In the same year he made his debut in the role of Alfredo Germont in La Traviata at Guangzhou Opera House, and in a production by the Royal Opera House, Covent Garden.
American baritone Anthony Clark Evans sings the role of Sharpless in his debut performance with San Francisco Opera, and mezzo-soprano – and current San Francisco Opera Adler Fellow – Zanda Švēde is Suzuki. Tenor Julius Ahn sings Goro, and bass Raymond Aceto is The Bonze. Current Adler Fellows are well represented by baritone Edward Nelson as Prince Yamadori, bass Anthony Reed is the Imperial Commissioner, and soprano Julie Adams is Kate Pinkerton.
Madama Butterfly is one of three operas for which Jun Kaneko has designed sets and costumes, the other two being Beethoven's Fidelio and Mozart's The Magic Flute (staged by San Francisco Opera in November 2015) – all three of which are currently touring in the United States.
French-Canadian conductor Yves Abel debuted with San Francisco Opera in 1966 with the Company premiere of Ambroise Thomas's Hamlet. Following his performance in Madama Butterfly with San Diego Opera in April this year, Opera Today wrote: The San Diego Symphony Orchestra under the baton of Yves Abel performed Puccini's score with impressive dramatic qualities … he brought out the immense pathos of Puccini's score. This Butterfly left many patrons weeping tears of sympathy.
Currently Chief Conductor of the NordwestDeutsche Philharmonie in Germany, Maestro Abel was Principal Guest Conductor of Deutsche Oper Berlin between 2005 and 2011. He regularly appears in the major opera houses of the world – the Metropolitan Opera, the Royal Opera House, Covent Garden, La Scala, Milan, Vienna Staatsoper, Opera National de Paris, and Gran Teatre del Liceu, Barcelona.  Founder and Music Director of L'Opéra Francais de New York, he has revitalized many rare French operas including the world premiere of Dusapin's To be Sung. Maestro Abel was awarded the Chevalier de l'Ordre des Arts et des Lettres by the French Government in 2009.
Madama Butterfly is a co-production with Opera Omaha. Sung in Italian, with English supertitles, it runs at the War Memorial Opera House for a further nine performances. For more information and tickets, visit the San Francisco Opera website
Sources:
San Francesco Opera program notes