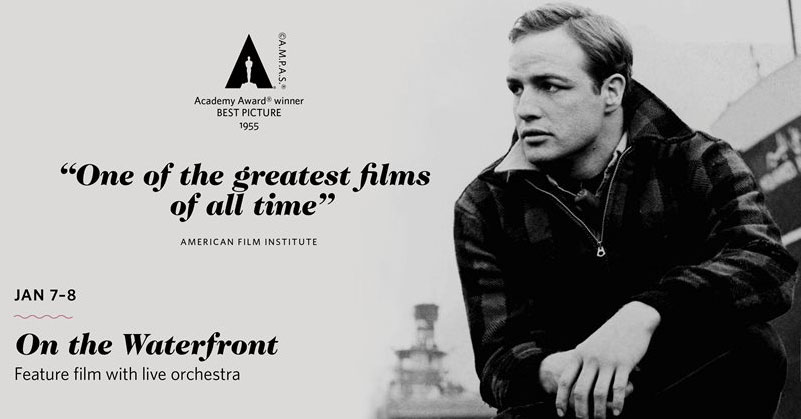 Photograph courtesy San Francisco Symphony
The San Francisco Symphony, under guest conductor David Newman, continues its 2016-17 Film Series this week with a production which the American Film Institute declared to be "one of the greatest films of all time" – Elia Kazan's On the Waterfront.
Produced by Sam Spiegel, with a screenplay by Budd Schulber, On the Waterfront stars Marlon Brando, Eva Marie Saint, Lee J Cob, Karl Malden and Rod Steiger. It took 8 Oscars at the 1955 Academy Awards ceremony, including Brando's for Best Actor, and Eva Marie Saint's for Best Supporting Actress, whilst Cob, Malden and Steiger were all nominated in the Best Supporting Actor category. The original score, written by Leonard Bernstein, also received an Oscar nomination – for Best Music, Scoring of a Dramatic or Comedy Picture. (See full list of Awards and Nominations below)
Dealing with issues of trade unionism, corruption and racketeering, On the Waterfront is based on the true story of a longshoreman who tried (and failed) to topple a corrupt union. In the film, Terry Malloy (played by Brando), succeeds, but Kazan injects plenty of realism into his production, using real longshoremen as extras, and shooting on location in and near the dock in Hoboken, New Jersey, where the longshoremen faced a daily struggle to earn a living and maintain some sort of dignity under the control of an unscrupulous labor union.
Terry Malloy (Brando) with brother Charley (Rod Steiger)
In a 1999 review, the late Roger Ebert wrote that although the story might not be as fresh today as it was when the film was released in 1954, "… the acting and the best dialogue passages have an impact that has not dimmed; it is still possible to feel the power of the film and of Brando and Kazan, who changed American movie acting forever".
This credit for a revolutionary change in the style of acting in American movies was due to Brando's having embraced the Stanislavsky method of acting – one of the most celebrated actors of his time to do so. The technique, developed by the Russian actor and producer Konstantin Stanislavsky, requires actors to put themselves in the place of the character they're portraying, making their emotions, actions and reactions appear to be part of the real world, as opposed to an imaginary one. The 1954 New York Times review described Brando's performance as "shatteringly poignant . . . beautiful and moving".
On the Waterfront was the only original film score which Leonard Bernstein wrote, and even then he only reluctantly agreed to do so, having no working knowledge of film production. Described by Nathan Cone on Texas Public Radio as being "like Brando's character …. a mixture of tenderness, violence, and nobility" – it takes its place among the greatest film scores of all time as No 22 on the American Film Institute's list of top American film scores.
Conductor David Newman has film music fairly coursing through his veins. Regarded as one of today's most accomplished creators of film music, he is a member of the Newman dynasty of film composers – the son of nine-time Oscar-winning composer Alfred Newman, nephew of Emil and Lionel Newman, elder brother of Thomas Newman, and cousin of Randy Newman.
He has scored over 100 films – including the award-winning animated film, Anastasia, for which he holds an Academy Award® nomination. He was the first composer to have his work, 1001 Nights, performed in the Los Angeles Philharmonic's FILMHARMONIC Series, conducted by Esa-Pekka Salonen.  In addition to regular appearances leading the Hollywood Bowl Orchestra, David Newman also conducts the annual movie night at the Hollywood Bowl, having recently made his eighth consecutive annual appearance.
In addition to appearing with some of the world's leading orchestras – the Los Angeles, New York and Royal Philharmonic orchestras, the Boston and the Chicago symphonies, and the Philadelphia Orchestra – David Newman is an active composer for the concert hall, and devotes a considerable amount of his time to researching and restoring film music classics – for which he was elected President of the Film Music Society in 2007 – and he also serves on the Board of the pre-professional American Youth Symphony.
The San Francisco Symphony, with conductor David Newman, accompanies a screening of On the Waterfront at Davies Symphony Hall on January 7 and 8. For more information, and to buy tickets, visit the San Francisco Symphony website.
Full list of Awards and Nominations for On the Waterfront
Sources: