In the second programme of its American Music Festival, New York City Ballet pays tribute to one of America's greatest songwriters, Richard Rogers.  In a career that spanned more than six decades, Richard Rodgers composed the music for more than 900 songs and for 43 Broadway musicals, for film and television.
NYCB's programme opens with a work entitled Thou Swell, choreographed by the Company's Ballet Master in Chief, Peter Martins, in 2002, to celebrate the 100th anniversary of Rodgers' birth.  Danish-born Martins was recently made a Commander of the Knights of Dannebrog, Denmark's highest civilian honour, by HM Queen Margretha II of Denmark, at the Royal Opera House in Copenhagen.
Thou Swell epitomizes the café society era of the early 20th century – all glitz and glamour, luxury and elegance – and some of the most unashamedly romantic songs ever written – arranged by Glen Kelly and orchestrated by Don Sebesky.  In the setting of an art deco ballroom, four couples take to the floor in a whirl of sumptuous Rodgers favorites, which include Manhattan, Mountain Greenery, My Heart Stood Still, Blue Moon, With a Song in My Heart, Isn't it Romantic, Falling in Love with Love, and, of course, Thou Swell.
The ballet was premiered on January 22, 2003, as part of an All Rodgers gala performance which also included Robert La Fosse's Land of Nod and Christopher Wheeldon's Carousel, A Dance, the next work on this programme.
British choreographer, Christopher Wheeldon, is one of today's most innovative creators in the world of dance.  Having started his career at The Royal Ballet in 1991, he joined New York City Ballet in 1993, started creating ballets for the Company in 1997, and retired from dancing in 2000, to concentrate on choreography.
Wheeldon's Carousel is a balletic version of the Rodgers and Hammerstein musical, in which he sets the story of the innocent romance and high drama of the original Broadway production to the music of Rodgers' glorious Carousel Waltz and If I Loved You – arranged and orchestrated by William David Brohn.  Carousel is the musical which Richard Rodgers was said to have considered his favorite.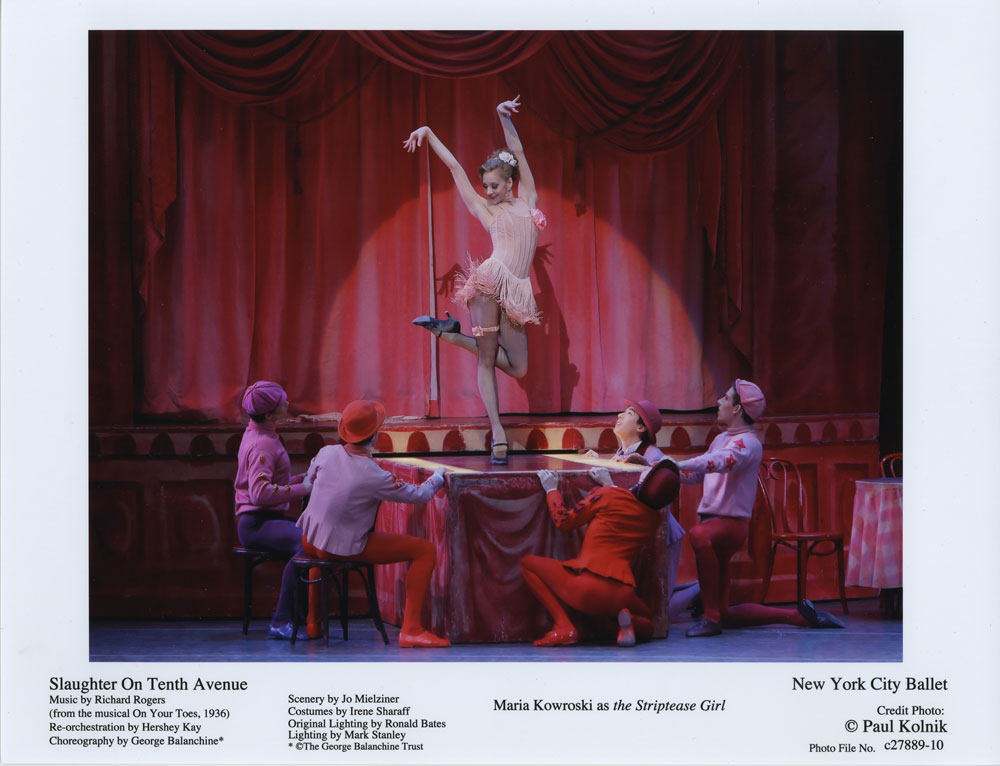 The performance closes with the dazzling vaudeville-style ballet, Slaughter on Tenth Avenue.  Originally created by George Balanchine for the 1936 Rodgers and Hart musical, On Your Toes, the ballet was Richard Rodger's first major orchestral score for a ballet sequence. The Slaughter sequence is the story-within-a-story of On Your Toes, in which a hoofer falls in love with a dance-hall girl who is shot and killed by her jealous boyfriend, but not before we are treated to some of Balanchine's sensational and seductive choreography, to an orchestration of the Rodgers score by Hershy Kay. On Your Toes was the first of four Rodgers and Hart musicals choreographed by Balanchine during the 1930s – the others were Babes in Arms, I Married an Angel, and The Boys from Syracuse.
Watch a video clip from the New York City Ballet production
New York City Ballet's All Rodgers programme takes place on May 2nd, 5th and 7th, at the David H Koch Theater, 20 Lincoln Center Plaza  New York, NY 10023.  For further information and tickets visit the New York City Ballet website.
The George Balanchine Foundation