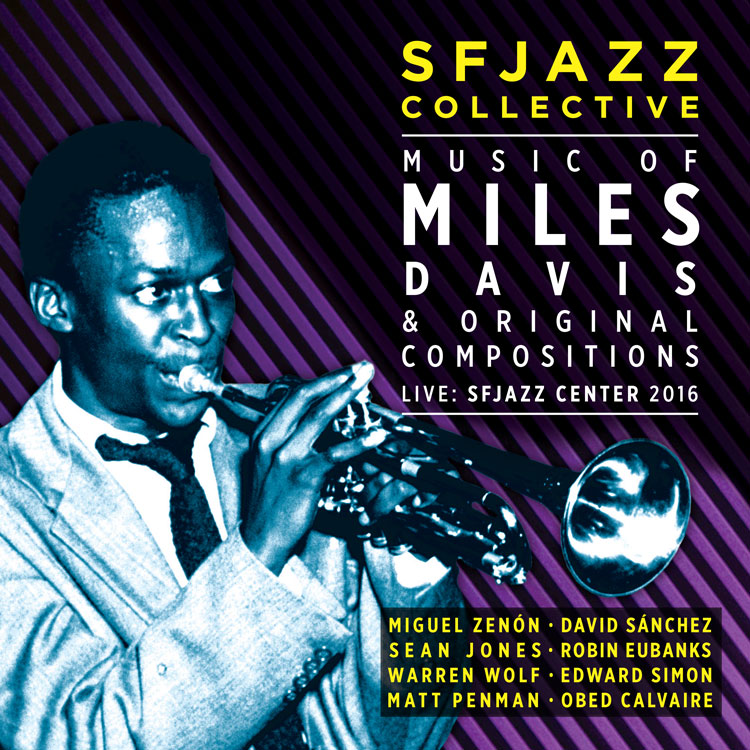 The release of a new album by the SFJAZZ Collective is always worth celebrating, and anyone who attended their four-night residency between October 20 and 23 at the SFJAZZ Center last year, will know that their latest album was recorded live at these concerts, and also that it features the music of Miles Davis, together with a selection of the Collective's own compositions.
On Disc One of this limited edition album, the Collective plays new arrangements of classic works either composed by Davis, or music associated with the legendary trumpeter, bandleader and composer, and on Disc 2 new, original works written by members of the group.
Unusually, this award-winning group doesn't have a leader – they're all stars, regarded as some of the finest performers and composers in jazz today, and they come from far and wide – Ohio, Baltimore, Miami, Puerto Rico, Venezuela and New Zealand. Miguel Zenón plays alto sax, David Sánchez tenor sax, Sean Jones is on trumpet, Robin Eubanks on trombone, the pianist is Edward Simon,  Warren Wolf is on vibraphone, Matt Penman plays bass, and the drummer is Obed Calvaire.
Writing original music, and celebrating the work of major modern artists, the Collective has in previous years cast the spotlight on jazz greats like Thelonious Monk, Ornette Coleman, John Coltrane, Herbie Hancock, Wayne Shorter, McCoy Tyner, Horace Silver, Stevie Wonder and Chick Corea, producing music which SFJAZZ describes as "explosive and refined, orchestrally sumptuous and ferociously swinging".
The release of this album also coincides with the SFJAZZ Collective's Spring 2017 Tour, during which they're taking in performances in Philadelphia, New York, Atlanta, Chicago, and the New Orleans Jazz & Heritage Festival on May 6. Details can be found on this link.
SFJAZZ Collective: Music of Miles Davis and Original Compositions, Live: SFJAZZ Center 2016 is available exclusively through SFJAZZ – and is not available in stores. Each CD set is numbered, and the booklet that goes with the 2-disc album contains exclusive photos from the live performances at the SFJAZZ Center, liner notes by jazz journalist Jesse Hamlin, insights by the musicians, and artist bios.
Copies can be ordered from sfjazz.org, or bought at the SFJAZZ Center, 201 Franklin Street, in San Francisco with a 10% discount for members.
Source: