San Francisco Ballet's magnificent production of The Nutcracker has opened its 2017 season at the War Memorial Opera House – a magical Christmas tradition that will never cease to deliver a warm glow, a frisson of excitement, and a sense of wonder.
The 18th century English writer Samuel Johnson, observed that a man who is tired of London is tired of life, and a similar rationale can be applied to The Nutcracker, for despite the fact that the ballet is presented in countless productions every Christmas, its timeless appeal is universal, and it's regarded as a special part of the Christmas season by many the world over – and not only ballet enthusiasts.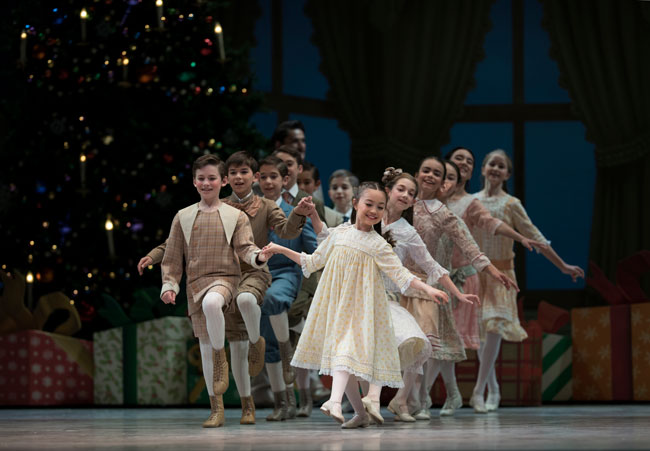 Scenes from Tomasson's 'Nutcracker' – © Erik Tomasson
Even so, this adaptation by Alexandre Dumas Père of a story by E T A Hoffmann was poorly received at its premiere by the Mariinsky Theatre Ballet in St Petersburg in 1892. With choreography by Lev Ivanov to a libretto by Marius Petipa, it was slated by the critics, but The Nutcracker took hold, and has succeeded in establishing its place in the Christmas tradition around the world ever since. Visually it's awe-inspiring – a Christmas party, a magician, and a Nutcracker doll who comes to life in a vivid dream which depicts a battle between toy soldiers and an army of invading rats, waltzing snowflakes, a Kingdom of Sweets with guests from around the world performing a series of colorful variations, a Sugar Plum Fairy and a handsome prince and beautiful princess. Not only does The Nutcracker have all this, but it also has a score which features what many consider to be some of the most beautiful music that Tchaikovsky wrote.
The Nutcracker is of historical importance to San Francisco Ballet as well, the Company having been the first in the United States to stage the ballet in its entirety, in December 1944, with choreography by the then Artistic Director Willam Christensen. In 1986, the present Artistic Director Helgi Tomasson staged the Company's fourth production of The Nutcracker, and in 2004 he presented the unique interpretation which we see today, themed around the Panama-Pacific Exposition held in San Francisco in 1915, and drawing into the design a number of well-known San Francisco landmarks.
This year, San Francisco Ballet welcomes two new Principal Dancers – Ana Sophia Scheller and Ulrik Birkkjaer. Hailing from Buenos Aires, Ana Sophia Scheller was previously a member of New York City Ballet, having danced principal and featured roles in works by choreographers such as George Balanchine, Jerome Robbins, Alexei Ratmansky and Christopher Wheeldon.
Ulrik Birkkjaer was formerly a Principal Dancer with the Royal Danish Ballet, where his repertory included works by Balanchine, August Bournonville, Kenneth MacMillan, John Neumeier, Alexei Ratmansky and Christopher Wheeldon. He has appeared internationally as a guest dancer, and produced the Bournonville Celebration which was performed in New York City and London in 2015, and at a benefit performance, Dancing for UNICEF, in Denmark in 2011.
San Francisco Ballet's The Nutcracker runs at the War Memorial Opera House until December 24. For more information and tickets, visit the SF Ballet website.
Information sources:
San Francisco Ballet program notes