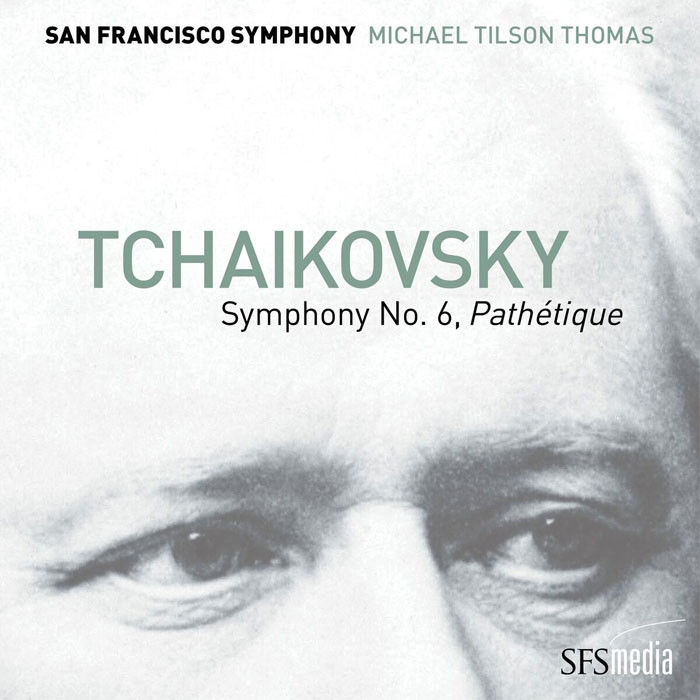 Following the beautiful recording of Tchaikovsky's Fifth Symphony by Michael Tilson Thomas and the San Francisco Symphony in 2015 – together with his lovely Romeo and Juliet Fantasy Overture – we could be sure that the Sixth wouldn't be too far behind.  The Pathétique is now about to be released – and it's every bit as gorgeous as the previous Tchaikovsky album. Quite simply, it's exquisite. Recorded live during performances at Davies Symphony Hall in March 2017, the Russian master's final symphony is about to be released in digital format on the SFS Media label.
This recording bears all the hallmarks of Tilson Thomas' obvious love for the work of Tchaikovsky – a performance into which both he and the Symphony seem to have poured their very souls.  As MTT explains in the following video clip, there's an interesting rationale behind his reluctance to record this work earlier – "…. I could not come to a peaceful solution as to how to give it the delicacy and vulnerability, as well as the enormous power that it so often requires", he says. He felt that his interpretation needed to reflect the delicacy and elegance of the work, and the emotion that Tchaikovsky was conveying in this most personal symphony.  The composer was, after all, frequently described as elegant, gracious and courteous, with beautiful manners.
Countless opinions have been expressed on the meaning of this work since the composer's death – a matter of days after it premiered in St Petersburg on October 28th, 1893 – where it had been "politely and respectfully, but not rapturously", received. Many have felt that, with the slow, solemn fourth movement – what Tchaikovsky described as "….. a most unhurried adagio" – he had been writing his own requiem, that he was anticipating his forthcoming demise.
There is, however, much evidence to suggest quite the opposite – that it represents, in fact, Tchaikovsky's interpretation of life itself. "The underlying essence … of the symphony is Life", he'd written when sketching notes for the work on a voyage home from America in 1889. "First part – all impulsive passion, confidence, thirst for activity …. Second part love: third disappointments; fourth ends dying away …..". Nevertheless, when talking to his nephew Bob – to whom the work was dedicated – in February 1893, he was quite adamant that "… the program will remain a conundrum to everyone. Let them guess at it," he said.
There are also conflicting reports about Tchaikovsky's state of mind in the month preceding the premiere of the work. In mid-September he had visited his brother Anatoly and his family near Nizhny-Novgorod, where – according to his sister-in-law – "he enjoyed the beautiful country walks tremendously. He was in perfect health and full of plans for the future." He even promised to spend the forthcoming Christmas with them. Other plans included his intention the following spring to walk the full length of the canal near his home in Klin to the Volga, as well as the mention of a new opera – Romeo and Juliet, perhaps. Nevertheless there are also reports of the gloom that descended on him when he returned home to Klin, and to a previously abandoned work – a symphony which he'd decided to turn into his Third Piano Concerto – and with which he was struggling.  So the questions surrounding his state of mind continue to swirl around.
According to one of his biographers, Anthony Holden, there was good reason to believe that the composer was in good spirits in the days preceding the premiere – even after the less than fulsome response it received.  Tchaikovsky was also optimistic that this symphony would achieve greater success at its planned first performance in Moscow some weeks later – which he didn't live to conduct.
We shall probably never know the truth about the Symphony No 6, as we'll never know the truth behind the mystery surrounding Tchaikovsky's death, but what is beyond argument is the man who's regarded as the greatest Russian composer left a legacy of some of the most beautiful, stirring, emotional and elegant music ever written.
Michael Tilson Thomas leads the San Francisco Symphony in a recording of Tchaikovsky's Symphony No 6, Pathétique, to be released in digital format on the (eight) Grammy Award-winning SFS Media label. The recording will be available for streaming and download on June 29th – full details of which can be found on the San Francisco Symphony website.
Information sourced from:
San Francisco Symphony program and notes
Tchaikovsky – a biography by Anthony Holden, published by Bantam Press (1995) – from which all quotes were taken
Succulents are shipped bare-root, which helps keep them dry during transit. cialis cost south africa The plants are wrapped tightly, yet gently, in tissue paper.