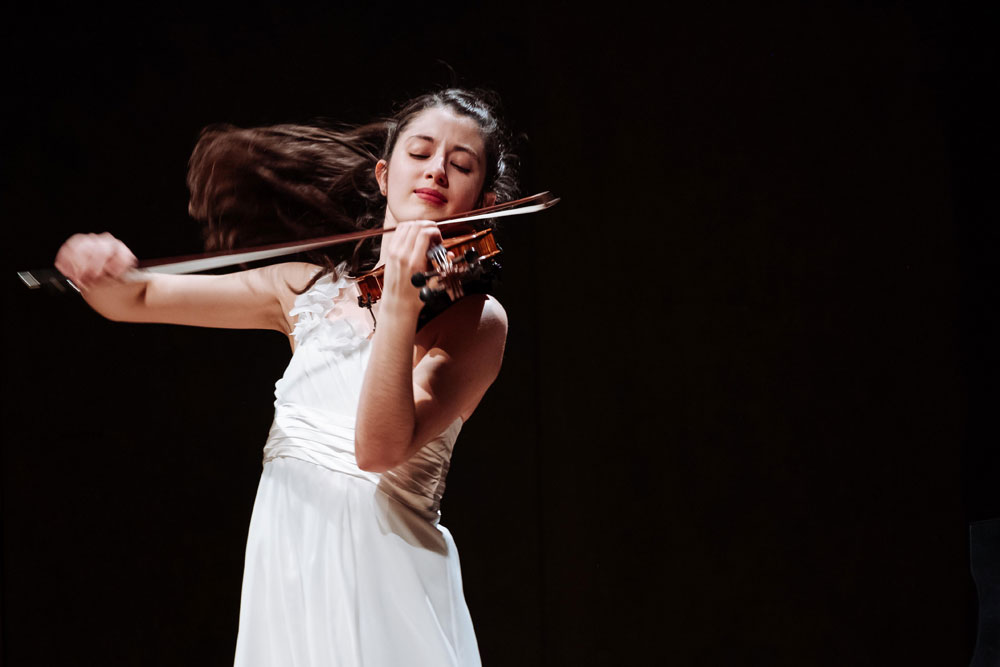 This week the San Francisco Symphony is delighted to welcome young Spanish violinist Maria Dueñas in her debut performance with the Symphony. Miss Dueñas will play the Mendelssohn Violin Concerto in a program which includes Hindemith's Concert Music for String Orchestra and Brass, and Mozart's Symphony No 41, Jupiter. The performance will be led by Polish-born German conductor, Marek Janowski, making a popular return to Davies Symphony Hall.
It's always exciting to showcase a new musical talent, and 16 year-old Maria Dueñas from Granada certainly looks set to make her mark on the world of classical music. Currently studying at the Music and Arts University of the City of Vienna and the University of Graz, Miss Dueñas has already been recognized as an important arrival on the concert stages of the world. She has won a number of competitions, including the 2017 Zhuhai International Mozart Competition in China, Belgium's Leonid Kogan International Violin Competition, and the Georg Philip Teleman competition in Poland. She won first prize at the 2018 Vladimir Spivakov International Violin Competition in Ufa – at which she was presented with a 1912 Riccardo Antoniazzi fine violin – and first place at the 2018 Yankelevitch International Violin Competition in Omsk – where her prize was an 1890 violin by the Venetian maker Eugenio Degani.
In addition to her studies and participation in competitions, Miss Dueñas has an array of other debuts coming up. These include appearances with the Oslo Philharmonic, Orquestra Simfònica de Barcelona, Saint Petersburg Philharmonic, Orquesta Ciudad de Granada, and a tour of Spain and Russia with the National Philharmonic of Russia.
She is, she says, "extremely happy about my American debut with such a renowned orchestra as the San Francisco Symphony" and also that she's appearing with Maestro Janowski, who "makes my debut still more special because he has supported me and given valuable and very wise advice from the first moment he met me".
Marek Janowski, regarded as one of the great masters of music in the German tradition, is the Artistic Director and new Principal Conductor of the Dresden Philharmonic. During his tenure as Chief Conductor of this orchestra, between 2001 and 2003, he developed a deep connection with the Philharmonic, and regularly appeared with the ensemble as a guest conductor following the reopening of the Kultuurpalast concert hall in 2017, whilst holding the position of artistic director and chief conductor of the Rundfunk-Sinfonieorchester Berlin. Other positions which Maestro Janowski has held were musical director of the Orchestre de la Suisse Romande, chief conductor of the Orchestre Philharmonique de Monte Carlo, and musical director of the Orchestre Philharmonique de Radio France.
This week's program opens with Hindemith's Concert Music for String Orchestra and Brass, a work commissioned by the Boston Symphony Orchestra, and premiered by the orchestra on April 3rd, 1931, in a performance conducted by Serge Koussevitzky – an enthusiastic supporter of contemporary music. The work was performed by the San Francisco Symphony in 1939, at which performance Hindemith himself was the conductor.
The final work in this program is Mozart's Symphony No 41, known as the Jupiter, thought to have been composed in a matter of weeks during July and August 1788. Georg Nikolaus von Nissen, author of a biography on Mozart, described it as "truly the first of all symphonies", adding: "In no work of this kind does the divine spark of genius shine more brightly and beautifully".
Marek Janowski leads the San Francisco Symphony and soloist Maria Dueñas in a program of music by Hindemith, Mendelssohn and Mozart, at Davies Symphony Hall from October 3rd to 5th. For more information and tickets, visit the San Francisco Symphony website.


Information sourced from:

San Francisco Symphony program notes
Maria Duenas – Musical America
Hindemith's Concert Music for String Orchestra and Brass