One of the joys of the Christmas season is Handel's Messiah – and the San Francisco Symphony and Chorus present this magnificent work at Davies Symphony Hall this weekend. This performance, conducted by Chorus Director Ragnar Bohlin, features the harmony of 100 voices, with soloists Lauren Snouffer (soprano), countertenor Aryeh Nussbaum Cohen, tenor Ben Bliss and bass Adam Lau.
George Frideric Handel – said by Beethoven to be the "greatest composer that ever lived" – wrote this glorious oratorio in the space of four weeks, over August and September, in 1741, and originally conceived it as an Easter offering. Weary of the emotional and financial burden of producing operas, with their requirement for elaborate scenery and foreign soloists – and to some extent conscious of the changing tastes of audiences – Handel started writing oratorios in the 1730s.
Messiah had its preview at the Musick Hall, Fishamble Street in Dublin, on 13th April, 1742 – before an audience of 700, who flocked to see the oratorio (as well as one of the soloists who was the subject of much gossip at the time). Ladies were asked, in advance, by the management to wear dresses without hoops, in order to make "Room for more company", and gentlemen were asked not to wear their swords. A great benefactor of orphans, retired musicians and those who suffered ill health, Handel donated a portion of the proceeds of this debut to a debtors' prison and a hospital in Dublin.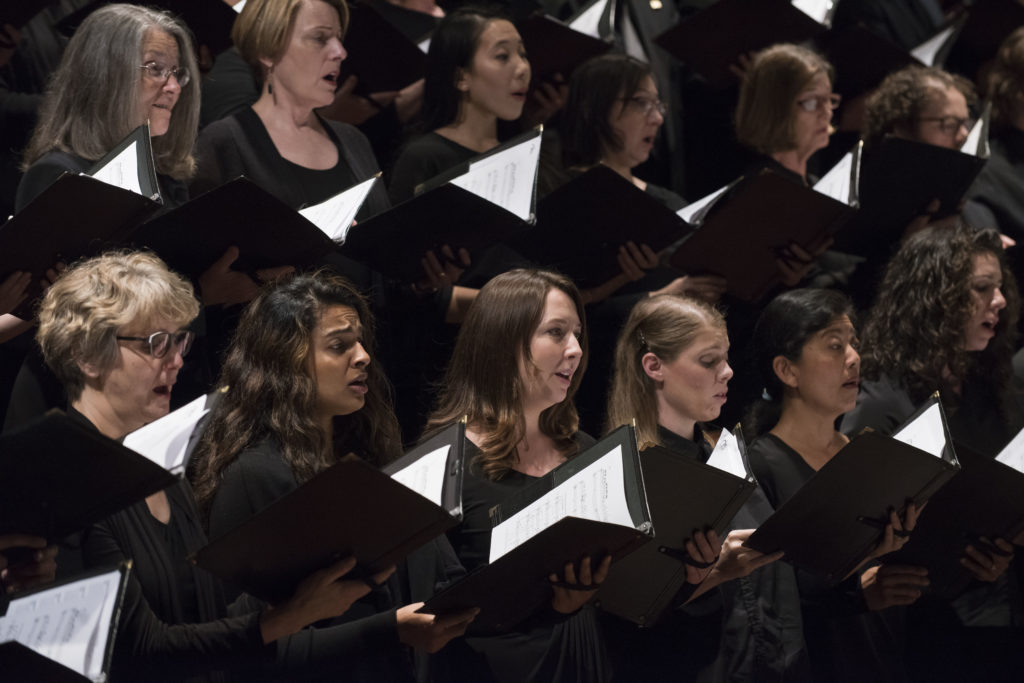 Messiah became an Easter tradition, and was revived in London in 1745, in 1749, and again in 1750. By 1777 performances had spread to major cities throughout the United Kingdom, as well as the German cities of Hamburg and Mannheim, and by the 1780s to Boston, New York and Philadelphia. By the 19th century, however, Handel's oratorio had become firmly entrenched as a Christmas tradition – even more so in the United States than in Britain.
The Grammy Award-winning San Francisco Symphony Chorus (eight awards in all) was established in 1973 at the request of the Symphony's then Music Director Seiji Ozawa. The Chorus numbers 32 professional artists – who are part of the American Guild of Musical Artists – and more than 120 volunteer performers, and it performs more than 26 concerts each season. One of a few choruses in the world devoted solely to one orchestra, it has a repertoire which ranges from Beethoven's Ninth Symphony to A Charlie Brown Christmas – which the Chorus will be performing on 21st to 23rd December. Prior to that – on 19th and 20th December – the Chorus will appear in 'Twas the Night – a Festival of Carols – both at Davies Symphony Hall and with the San Francisco Symphony.
The line-up of soloists for Messiah is impressive as well. American soprano Lauren Snouffer has a wide-ranging repertoire, embracing the music of Monteverdi through to contemporary composers such as Missy Mazzoli and George Benjamin. Multi-award-winning countertenor Aryeh Nussbaum Cohen – with a "commanding stage presence, gorgeous tone and musical sensitivity" (Houston Chronicle) – is regarded as one of opera's most promising young stars. He was a member of San Francisco Opera's 2018-19 Adler Fellowship program. Tenor Ben Bliss, described by the New York Classical Review as "one of the leading Mozartian tenors," is considered to be among the most versatile performers of his generation, and award-winning bass Adam Lau is appearing in Messiah with the Oratorio Society of New York and Musica Sacra this season as well. He has sung in some of the nation's leading summer programs including San Francisco's Merola Summer Festival, Aspen Opera Theater, and Santa Fe Opera.
Ragnar Bohlin leads the San Francisco Symphony and the San Francisco Symphony Chorus and soloists in Handel's Messiah at Davies Symphony Hall on 13th and 14th December. For more information and tickets, visit the San Francisco Symphony website.
Information sourced from:
Smithsonian Magazine
San Francisco Symphony program notes
San Francisco Symphony Chorus
Lauren Snouffer
Aryeh Nussbaum Cohen
Ben Bliss
Adam Lau