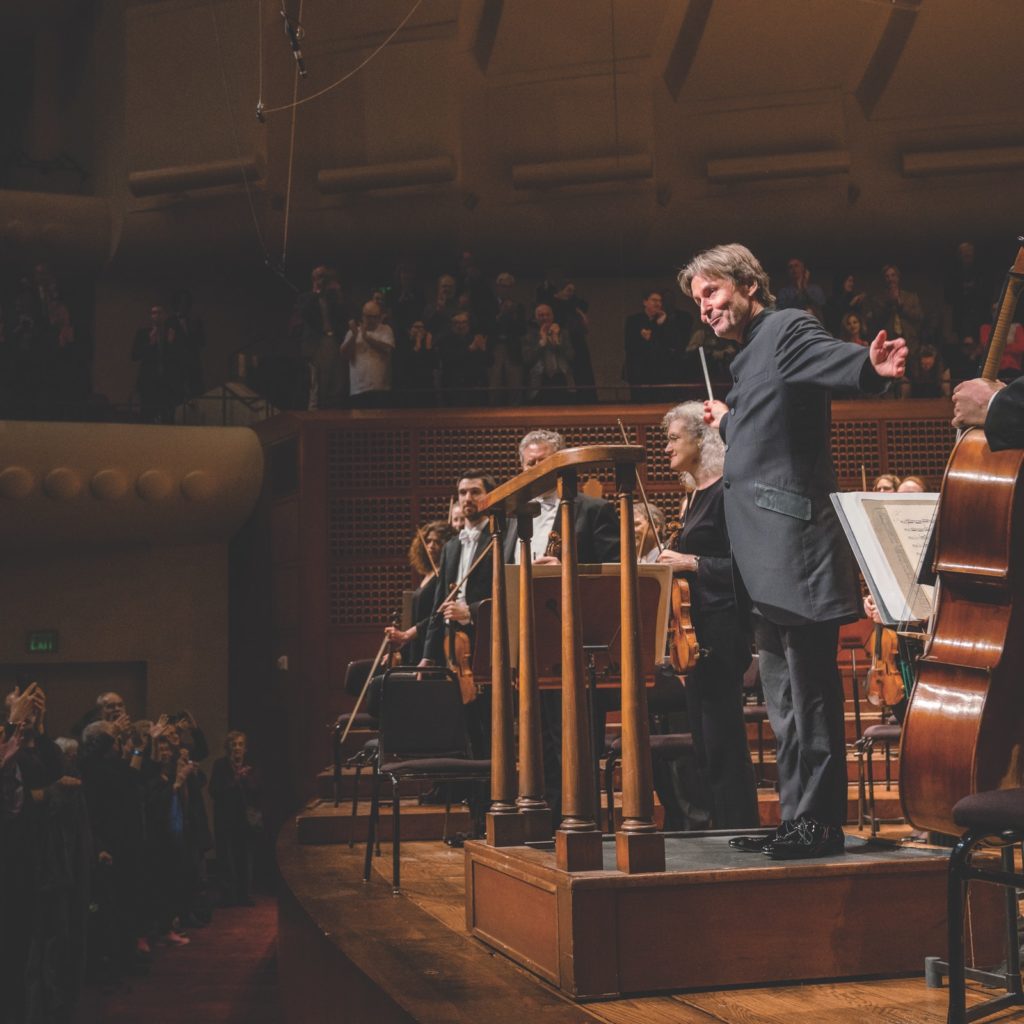 Music Director Designate Esa-Pekka Salonen leads the San Francisco Symphony in the first of two February programs this week, featuring soprano Julia Bullock.
The program opens with a work which is new to the Symphony – Steven Stucky's Music for the Funeral of Queen Mary (after Purcell) – written in 1991 for the Los Angeles Philharmonic at the suggestion of Esa-Pekka Salonen, and premiered by the L A Phil in February 1992.
Soprano Julia Bullock then performs Britten's Les Illuminations – the British composer's song cycle set to the verse and prose poems of Arthur Rimbaud, and first performed in 1940. She follows this with a work by Maurice Ravel, his Trois poèmes de Stéphane Mallarmé – three art songs based on works by the French poet, and leader of the Symbolist movement.
Ms Bullock – Artist-in-Residence to the San Francisco Symphony this season – has a voice described by the L A Times as "…. deeply rich and richly deep …", and by Opera News as a "vibrant, dark-hued lyric soprano". Not only does Ms Bullock have a voice which is drawing superb reviews, but she's also noted for her curatorial abilities. She was the 2018-19 Artist-in-Residence of New York's Metropolitan Museum of Art, the opera-programming host of new broadcast channel All Arts, a founding member of the American Modern Opera Company (AMOC), and she's also a member of a cross-disciplinary artistic team recently assembled by Esa-Pekka Salonen for his inaugural season in 2020-21.
As part of her residency with the Symphony, Julia Bullock will also perform at the Symphony's experimental SoundBox space, and she'll present an expanded version of her recital program "History's Persistent Voice" – a mixed-media concert of newly commissioned works by award-winning composers Rhiannon Giddens, Camille Norment, Cécile McLorin Salvant, and Pamela Z.
The program ends with Ravel's delightful suite Ma Mère l'Oye (Mother Goose), originally written in 1908 as five pieces for piano with four hands, and orchestrated by Ravel in 1912. Choreographer Jerome Robbins created a ballet entitled Mother Goose for the 1975 New York City Ballet's Ravel Festival, using the music which Ravel had composed.
Esa-Pekka Salonen leads the San Francisco Symphony, and Artist-in-Residence Julia Bullock, in a program of works by Steven Stucky, Benjamin Britten and Maurice Ravel, at Davies Symphony Hall, from 20th to 22nd February. For more information and tickets, visit the San Francisco Symphony website.