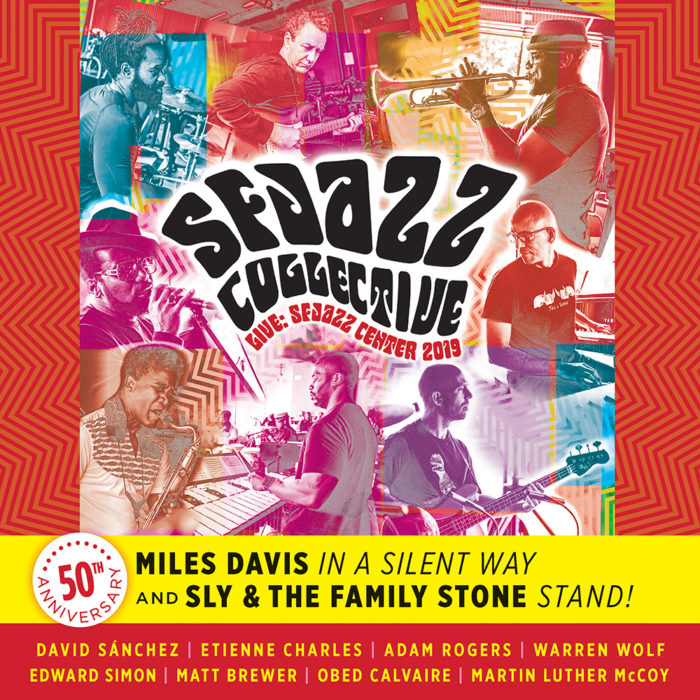 Great news for jazz lovers – the SFJAZZ Collective's new album will be released on 13th March! True to tradition, the album features the music of the artist (or artists) to whom the Collective pays tribute in a particular season, and during the group's residency at SFJAZZ last October they celebrated the 50th anniversary of two hugely significant albums which were recorded within a couple of months of each other in 1969 – Miles Davis' In A Silent Way and Stand! by Sly & the Family Stone.
This new album – which bears the title The SFJAZZ Collective Plays Miles Davis' In A Silent Way / It's About That Time and Sly & the Family Stone's Stand! – was recorded live in the Miner Auditorium at SFJAZZ during those 2019 performances.
Founded by SFJAZZ in 2004, the Collective has a stated mission each year to perform new arrangements of works by a modern master, as well as a selection of newly-commissioned pieces by each of the group's members. In this way, not only does the Collective honor one of the great names in jazz every year, but it also demonstrates the SFJAZZ commitment to maintaining the relevance of the art form and ensuring that it's fully representative of what's happening in jazz today.
The line-up currently features vocalist Martin Luther McCoy, David Sánchez on tenor saxophone, Etienne Charles on trumpet, guitarist Adam Rogers, vibraphonist Warren Wolf, pianist Edward Simon, Matt Brewer on bass and Obed Calvaire on drums. Previous members of the Collective have included names such as Bobby Hutcherson, Joshua Redman, Miguel Zenón, Eric Harland, Mark Turner, Matt Penman, Avishai Cohen, Sean Jones, Andre Hayward, Stefon Harris, Dave Douglas, Nicholas Payton, Joe Lovano, Josh Roseman, Renee Rosnes, Jeff Ballard, Robert Hurst, Brian Blade.
Over the years, jazz greats to have featured in the Collective's annual tribute include John Coltrane, Ornette Coleman, Herbie Hancock, Thelonious Monk, Wayne Shorter, McCoy Tyner, Horace Silver, Stevie Wonder, Chick Corea, Joe Henderson, Michael Jackson, Miles Davis, and Antonio Carlos Jobim. During this time, the SFJAZZ Collective has created over 100 new arrangements and original compositions.
This new CD features selections from the Miles Davis and Sly & the Family Stone albums, and includes the Collective's arrangements of In A Silent Way/It's About That Time arranged by Edward Simon, Shhh/Peaceful arranged by Warren Wolf, You Can Make It If You Try arranged by Adam Rogers, Everyday People arranged by Martin Luther McCoy, Sing A Simple Song arranged by Etienne Charles, Stand arranged by Matt Brewer, Somebody's Watching You arranged by Martin Luther McCoy and Warren Wolf, Sex Machine arranged by Warren Wolf, Don't Call Me Nigger, Whitey arranged by Obed Calvaire, and I Want to Take You Higher arranged by David Sánchez.
Each numbered copy of this limited edition CD includes a booklet with extensive liner notes and photographs, as well as interviews with the group's members about their arrangements.
The Apple Music release date of the album is March 13th, and the physical album will be released on March 13th as well. As of March 20th, it'll be available on all platforms.
To order a copy of the album, visit the SFJAZZ website.
In addition to all this good news, the SFJAZZ Collective Spring 2020 Tour starts in St Louis, MO, just a day after the release – on March 14th – for details on the tour, follow this link.
Information sourced from: