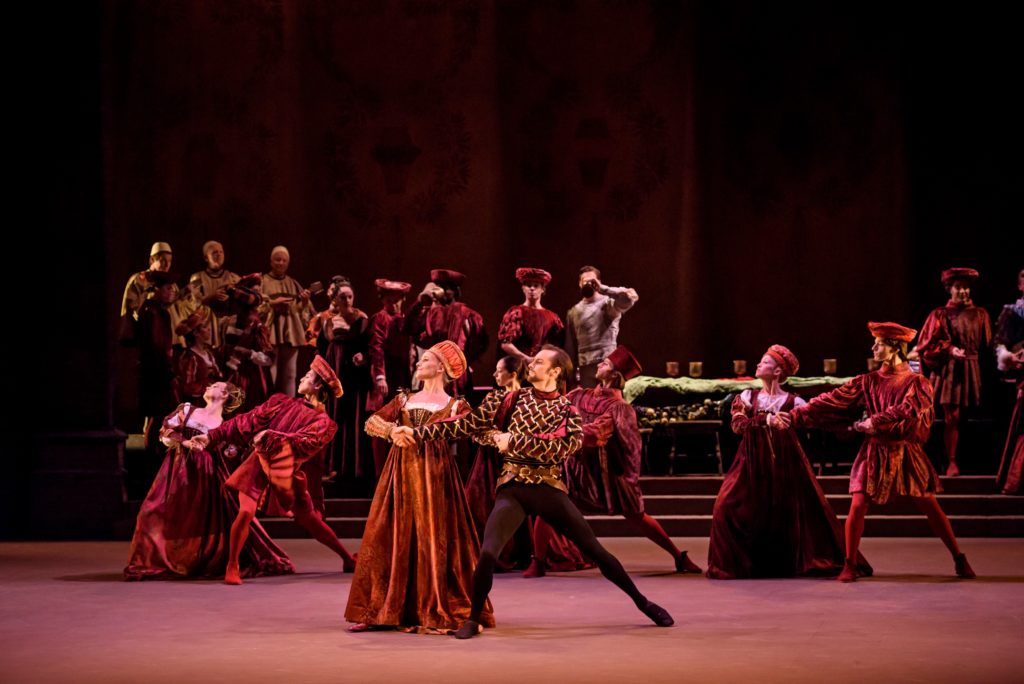 Continuing its Wednesday Watch Parties on ENB at Home, English National Ballet this week presents Leading Principal Dancers Alina Cojocaru and Isaac Hernández in Rudolf Nureyev's interpretation of Shakespeare's tragic tale of young love – Romeo and Juliet.
The work was created for the Company (then known as Festival Ballet) to celebrate the Queen's Silver Jubilee in 1977, and is set to Prokofiev's gorgeous score, played by the English National Ballet Philharmonic, led by Gavin Sutherland. This performance was recorded live at The Bristol Hippodrome in 2015, during the Company's annual Autumn UK Tour.
Prokofiev was initially commissioned in 1934 to write the score for Romeo and Juliet by choreographer Leonid Lavrovsky at the then Kirov Ballet in Leningrad (now the Mariinsky in St Petersburg). When these plans failed to materialise, the composer offered the work to the Bolshoi Ballet, but the music was considered by the dancers of the Moscow company to be difficult and impossible for dancing. The ballet was finally produced in Brno, Czechoslovakia (now the Czech Republic) in 1938, with choreography by Ivo Vana Psota. Due to the success with which it was received, the Kirov asked Prokofiev to return to Leningrad, and in January 1940 the Lavrovsky version was given its Leningrad premiere.
After Lavrovsky's Romeo and Juliet, other versions were created – by choreographers such as John Cranko for La Scala Ballet in Milan, and Kenneth MacMillan for The Royal Ballet – but Nureyev's version is said to be the closest to Shakespeare's text. Set in Verona during the Italian Renaissance, it features a colourful and busy piazza, with market traders and street entertainers, against which is set the quarrelsome relationship between the Capulet and Montague families, the warring supporters of each – and ultimately the doomed love shared by Romeo and Juliet.
Ever-popular Romanian dancer Alina Cojocaru trained in both Kiev and at The Royal Ballet School, before returning to the Kiev company as a principal dancer. In 1999 she joined The Royal Ballet, was promoted to soloist, then principal dancer, and joined English National Ballet in 2013 as Leading Principal Dancer. Possessing a vast repertoire , Ms Cojocaru also appears as a guest artist for leading ballet companies worldwide, returning frequently to both Hamburg Ballet and American Ballet Theatre.
Alina Cojocaru is partnered in this performance by Mexican dancer, Isaac Hernández. He danced with ABII, San Francisco Ballet and Dutch National Ballet, before joining ENB in 2015. The most recent of his awards was the 2018 Benois de la Danse – he was the first ever Mexican recipient – and he has appeared as a guest artist with Paris Opera Ballet and the Rome Opera Ballet.
English National Ballet's presentation of Nureyev's Romeo and Juliet is free to view on Wednesday 6th May, at 7.00 pm BST, on both Facebook and YouTube. It will be available online for 48 hours after the first transmission.
Information sourced from:
English National Ballet programme notes