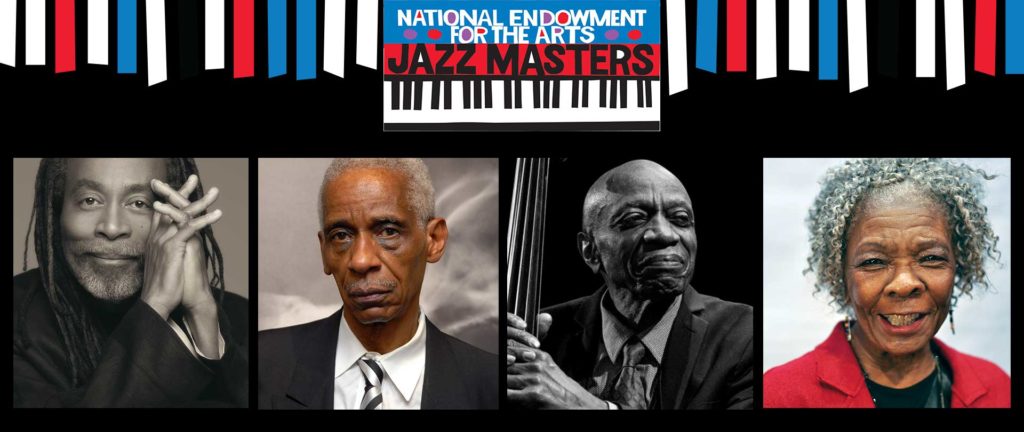 This week SFJAZZ, together with the National Endowment for the Arts, hosts a very special event – a tribute to the 2020 NEA Jazz Masters – Dorthaan Kirk, Bobby McFerrin, Roscoe Mitchell, and Reggie Workman – in a free broadcast.
The National Endowment for the Arts has, since 1982, awarded 157 fellowships to great figures in jazz, artists such as Ella Fitzgerald, Sonny Rollins, Dianne Reeves, Miles Davis, Chick Corea, and George Wein – and SFJAZZ was selected to host the 2020 NEA ceremony in a live concert on April 2nd this year – the first time that this auspicious event was to be held outside New York City or Washington, DC. Due to the worldwide closure of theatres, this honor was denied the San Francisco organisation which is regarded as one of the world's leading presenters of jazz.
Undeterred, and because of the success of its weekly online Fridays at Five sessions, SFJAZZ and Musical Director, drummer, and composer Terri Lyne Carrington, have succeeded in putting together a remarkable online celebration in tribute to the honorees. With 2017 NEA Jazz Master Dee Dee Bridgewater as emcee, this performance features appearances by honorees McFerrin, Mitchell and Workman, by Bridgewater and Carrington, as well as other acclaimed jazz musicians such as Ambrose Akinmusire, James Carter, Vincent Davis, Gerald Clayton, Morgan Guerin, Oliver Lake, Jevon McFerrin, Madison McFerrin, Taylor McFerrin, Kanoa Mendenhall, Junius Paul, and Steve Turre, as well as the SFJAZZ High School All-Stars. All performances have been recorded from locations across the country.
Bobby McFerrin – master vocal improviser, vocalist, composer and ten-time GRAMMY winner – has performed and conducted in both jazz and in classical settings. He's well known for his 1988 worldwide hit Don't Worry, Be Happy which showcased his virtuoso musicality and four-octave range.
Saxonophist and composer Roscoe Mitchell is known as a pioneering figure in avant garde jazz. Currently Darius Milhaud Chair of Composition at Mills College in Oakland, he has also worked with Chicago's Association for the Advancement of Creative Musicians (AACM) since its inception, and is co-founder of the legendary Art Ensemble of Chicago.
Reggie Workman, bassist and composer, is regarded as one of the great instrumentalists in jazz history, and well known for his work with the John Coltrane Quartet and Art Blakey's Jazz Messengers. A professor at The New School in New York, Workman has appeared on numerous albums with an impressive line-up of artists.
Dorthaan Kirk, jazz advocate and widow of jazz legend Rahsaan Roland Kirk, is a founding staffer at WBGO in Newark, NJ, and a regular curator of jazz events around New Jersey. Dedicated to maintaining the legacy of her late husband, and promoting jazz education, she has been a major figure in jazz radio for over 40 years.
"This virtual concert will be an opportunity to bring together jazz fans around the world in celebration of the 2020 NEA Jazz Masters," says Mary Anne Carter, Chairman of the NEA who – along with Randall Kline, Founder and Executive Artistic Director of SFJAZZ – will be commenting on the concert.
From 6.10 pm to 7.00 pm PT (after the concert), there'll be a Virtual Reception and Q&A Session with Randall Kline and the 2020 NEA Jazz Masters, during which the online audience, through the broadcast's YouTube stream, will be able to ask questions of the Jazz Masters. Viewers can also join the conversation on Twitter using the hashtag #NEAJazz2020.
Watch this free broadcast online on Thursday, August 20, 2020 on arts.gov or sfjazz.org at 5.00 pm PT (8.00 pm ET, and 1.00 am London, 2.00 am Paris on Friday morning).
For those unable to watch the live stream, an archive of the concert will be available following the event at arts.gov.
Information sourced from SFJAZZ program notes