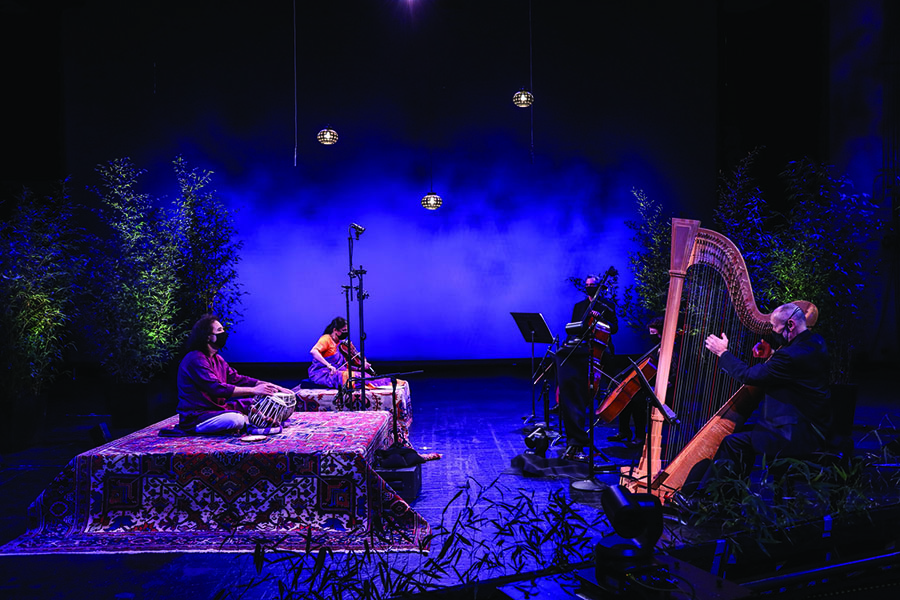 Rhythm Spirits – the latest in San Francisco Symphony's series of CURRENTS video performances – brings together tabla master Zakir Hussain, Indian classical violinist Kala Ramnath and musicians of the San Francisco Symphony, in a colorful and elegant blend of Indian folk tradition and classical music.
Performer, composer, recording artist and educator, Zakir Hussain – the curator of this program – is acknowledged as one of the world's most influential musicians, and is the recipient of a number of honors and awards – including a Grammy. Well known in the world of jazz, he has been voted "Best Percussionist" by both the Downbeat Critics' Poll and Modern Drummer Reader's Poll over several years. He was resident artistic director at SFJazz from 2013 until 2016, and honored with the SF Jazz Lifetime Achievement Award in January 2017, in recognition of his "unparalleled contribution to the world of music". The following year, Hussain was presented with the Montreal Jazz Festival's Antonio Carlos Jobim Award.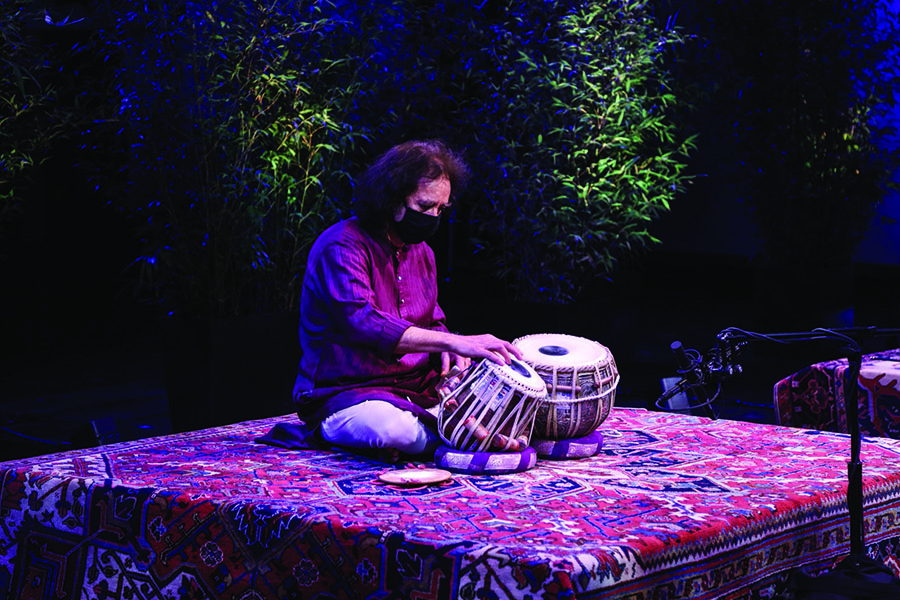 Not only has Hussain composed scores for a number of feature films, major events and productions, but he has also written classical works. His third concerto – the first-ever for tabla and orchestra – was premiered by the Symphony Orchestra of India in September 2015, in the United Kingdom the following year, and by the National Symphony Orchestra at Kennedy Center in 2017. He has been named a Sangeet Natak Akademi Fellow and received honorary doctorates from Berklee College of Music and the Indira Kala Sangit University in Khairagarh, India. Zakir Hussain is the founder and president of Moment Records, an independent record label presenting rare live concert recordings of Indian classical and world music.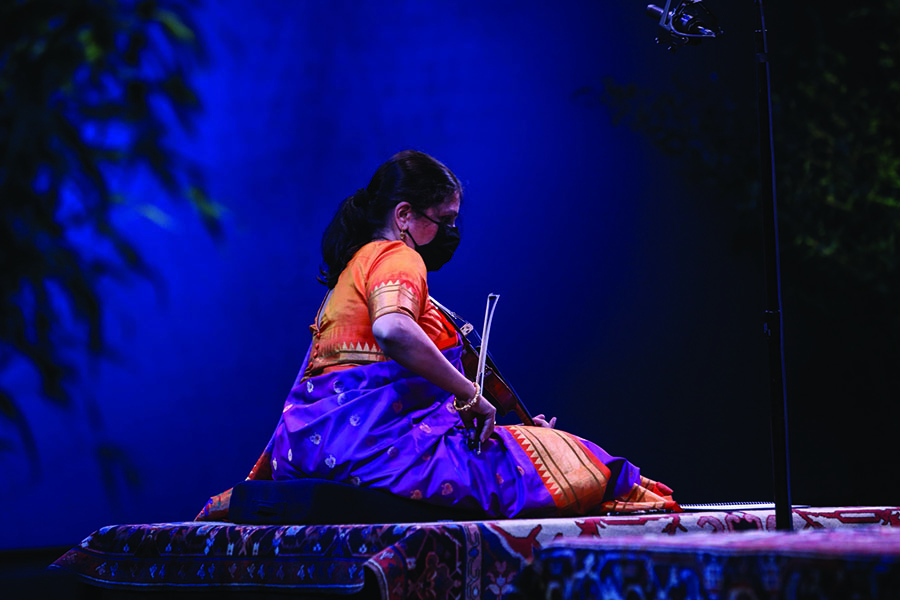 Kala Ramnath, with her 'Singing Violin', is regarded as one of the world's most inspirational instrumentalists. The first Indian violinist to be featured in The Strad, she has appeared at the Sydney Opera House, Théâtre de la Ville in Paris, London's Queen Elizabeth Hall, San Francisco's Palace of Fine Arts, Singapore's Esplanade, Carnegie Hall, the Rudolstadt Festival in Germany and the Edinburgh Music Festival. Her compositions featured on the Grammy-winning album In 27 Pieces, also on the Kronos Quartet's 50 For the Future, her playing was featured on the Grammy-nominated Miles from India project, and she has contributed to Hollywood soundtracks such as the Oscar-nominated Blood Diamond. In 2017, Kala Ramnath was honored with the Sangeet Natak Academy Puraskar for her contribution to Hindustani Classical Music.
In the three pieces featured in this SFSymphony+ transmission, Zakir Hussain and Kala Ramnath are joined by SF Symphony cellist Barbara Bogatin, bassist Scott Pingel and harpist Douglas Roth for the first, by percussionists Jacob Nissly, Bryce Leafman, James Lee Wyatt III and Stan Muncy for the second, and by violinists In Sun Jang and Raushan Akhmedyarova, violists Katie Kadarauch and Christina King, cellist Amos Yang and bassist Daniel G Smith for the final work.
The performance can be viewed on the San Francisco Symphony website from 10.00 am (Pacific) on Thursday, February 18th, and will be available indefinitely.
Information sourced from:
San Francisco Symphony program notes
Artists' websites