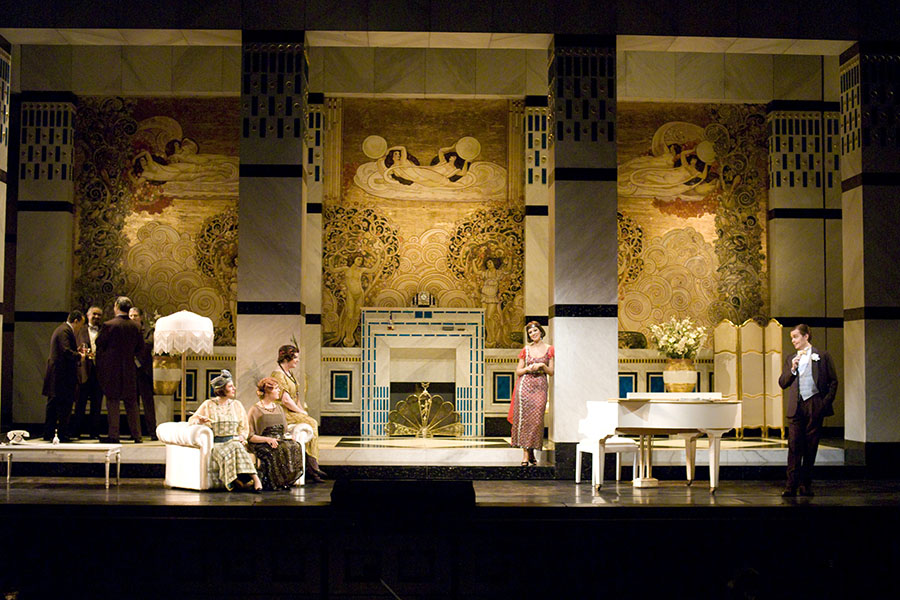 San Francisco Opera continues its season of online productions this weekend with Giacomo Puccini's La Rondine. Starring Romanian soprano Angela Gheorghiu, this production is set in 1920s Paris and on the Riviera, and was filmed at San Francisco's War Memorial Opera House in 2007.
Angela Gheorghiu is the courtesan Magda de Civry who falls in love with Ruggero Lestouc – sung by Ukranian tenor Misha Didyk – an old schoolfriend of Magda's wealthy patron, Rambaldo Fernandez – sung by bass-baritone Philip Skinner.
This staging, by the late Nicolas Joël, and directed by Stephen Barlow, also features Anna Christy as Magda's maid Lisette, and Gerard Powers is Prunier, the artist who guides Magda's decisions on matters of the heart.
Puccini set his three-act opera to an Italian libretto by Giuseppe Adami, based on the German libretto Die Schwalbe by Alfred Maria Willner and Heinz Reichert. Originally commissioned for the Carltheater in Vienna, the production was postponed due to the outbreak of the First World War, and wasn't premiered until March 27th, 1917, at the Grand Théâtre de Monte Carlo (also known as the Théâtre du Casino).
The title of the opera – which translates as The Swallow – comes from the artist Prunier who prides himself on reading palms, and tells Magda that, like the swallow, she will fly south for love. Magda, posing as a shop girl, falls for Ruggero – a young man from a respectable family – and does indeed head south, to the Riviera, to live with Ruggero, parting ways with her patron Rambaldo. She faces a dilemma though – when and how should she tell Ruggero the truth about her past? Her dilemma is compounded by the fact that Ruggero manages to persuade his family to accept her as his wife, and Magda realises that the time has come to be honest with him.
Angela Gheorghiu – described by The Sunday Times as "…… the most instantly recognisable and interesting soprano voice of our time …." makes her Company debut in the role of Magda. Since making her operatic debut as Mimi in Puccini's La bohème at London's Royal Opera House in 1992, Ms Gheorghiu has been in constant demand, appeared on the stages of the world's major opera houses, and been the recipient of numerous honors and awards.
Misha Didyk made his debut with San Francisco Opera as Gherman in Tchaikovsky's Queen of Spades in 2005 – the same year in which he sang the role in his debut performance with Teatro alla Scala, Milan. He returned to San Francisco the following year to appear as Charles VII in Tchaikovsky's Maid of Orleans, and as des Grieux in Puccini's Manon Lescaut with Karita Mattila.
Philip Skinner was a graduate of San Francisco's Merola Opera Program in 1985, and a member of the San Francisco Opera Adler Fellowship Program in 1986 and 1987. Since then, he has made appearances for the Company in a number of roles – as Baron Douphol in La Traviata, King Priam in Les Troyens, Edgar Ray Killen in Philip Glass' Appomattox, The Speaker in Die Zauberflöte, The Water Spirit in Rusalka, Escamillo in Carmen, Ferrando in Il Trovatore, Colline in La bohème, Lorenzo in I Capuleti e i Montecchi, The Duke of Verona in Romeo and Juliet, Dansker in Billy Budd and Geronte di Ravoir in Manon Lescaut.
The set design for this performance is by Italian art director Ezio Frigerio, costumes are by Italian designer Franca Squarciapino, and lighting design is by Duane Schuler.
Sung in Italian with English subtitles, this performance of La Rondine, a co-production with Théâtre du Capitole de Toulouse and The Royal Opera, Covent Garden, is led by Romanian-Austrian conductor Ion Marin, a regular guest at the world's major opera houses, who has also conducted nearly all the great European orchestras, and toured with virtuoso jazz pianist, the late Chick Corea. Since the 2014/15 season, Maestro Marin has held the position of Principal Guest Conductor of the Hamburger Symphoniker – resident orchestra of the Elbphilharmonie.
La Rondine can be viewed free of charge on the San Francisco Opera website from 10.00 am (Pacific) on Saturday, February 20th, until 11.59 pm on February 21st.
Information sourced from:
San Francisco Opera program notes
Universal Edition https://www.universaledition.com/giacomo-puccini-567/works/la-rondine-13294
Artists' websites
ArtsPreview home page