The third program in San Francisco Ballet's digital season, which opens on March 4th, features two of the most successful works in the Company's contemporary repertoire – Alexei Ratmansky's Symphony #9 from his Shostakovich Trilogy, and Swimmer by Choreographer in Residence Yuri Possokhov. The program also heralds another World Premiere for San Francisco Ballet – Wooden Dimes by Danielle Rowe.
Wooden Dimes takes its name from the American saying "don't take any wooden nickels" – meaning beware of allowing yourself to be swindled or manipulated – and is set in the 1920s, with art deco designs, and a fabulous jazzy original score by composer James M Stephenson. It focuses on the deterioration of the relationship between husband and wife, Robert and Betty Fine. Robert does a mundane, repetitive, job while Betty climbs the ladder to stardom in the theatre, and the more successful she becomes, the harder it is to maintain the pure love which they had initially shared.
The rehearsal process for this ballet involved remote collaboration with the composer, with costume designer Emma Kingsbury, and the lighting designers Jim French and Matthew Stouppe. Director of Photography Heath Orchard worked with the choreographer and dancers both remotely via teleconference and in person, and the finished product – Danielle Rowe's first mainstage production for the Company – was filmed at San Francisco's War Memorial Opera House.
Alexei Ratmansky's Symphony #9 is the first part of his fabulous and highly successful Shostakovich Trilogy – a work which was co-commissioned by American Ballet Theatre and San Francisco Ballet in 2012, and which earned the choreographer his second Prix Benois de la Danse in 2014. The Trilogy is Ratmansky's tribute to the music of Shostakovich, a composer who has long held a fascination for him, each section – set to Shostakovich's Symphony No 9, his Chamber Symphony and his Piano Concerto No 1 – reflecting a different phase of the composer's life during the tumultuous years of the Stalinist era.
Shostakovich wrote his Symphony No 9 at the end of the Second World War. It was supposed to be a grand triumphal work, celebrating the defeat of the Nazis, instead of which the composer – in one of his acts of rebellion – produced a symphony that was somewhat critical of Stalin's Russia, and after its premiere performance in 1945, the piece was not performed again until after Stalin's death.
With scenic designs by George Tsypin and costumes by Keso Dekker, this dramatic work features five principal characters – two lead couples and a solo male dancer. The first couple represents Shostakovich and his wife, supporting each other in a time of great personal danger, when he was in constant fear of arrest. The other couple leads the corps de ballet which is representative of the Soviet regime. The ballet, however, is not devoid of hope which comes in the form of a dancer whom Ratmansky calls the Angel, who shows that a way through the turmoil can be found.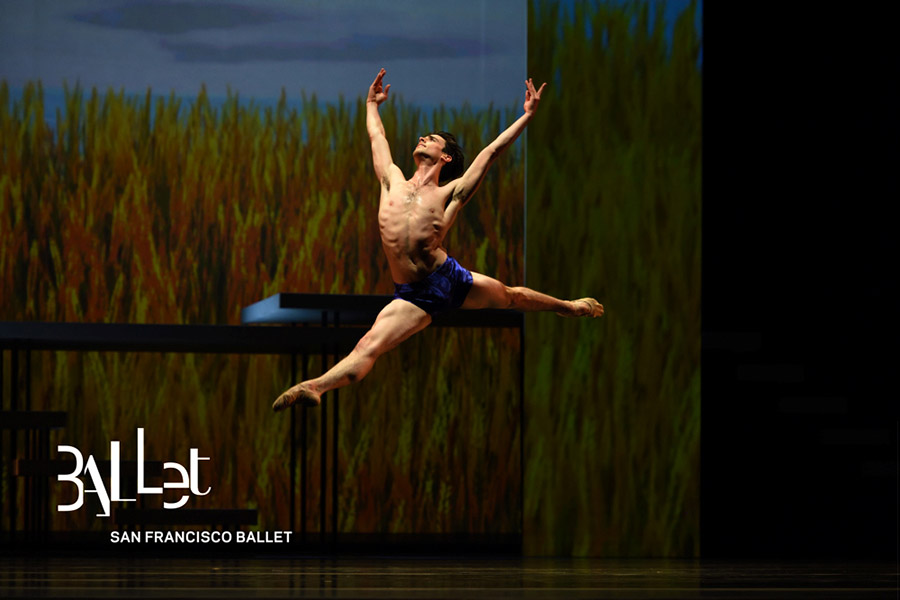 Yuri Possokhov's Swimmer, premiered by San Francisco Ballet in 2015, must still rate as one of the most unusual and creative experiences staged by the Company. Inspired by John Cheever's 1964 surrealist short story, The Swimmer, the ballet was Possokhov's tribute to American culture, recounting the experiences of a man who 'swims' his way back home from work through a series of pools belonging to his neighbors, ultimately finding his home empty and abandoned.
Possokhov doesn't relate Cheever's story as such, but through a series of fascinating scenic designs by Alexander V Nichols, and video projections by Kate Duhamel, he highlights, in each of these 'pools', an aspect of American culture, portraying impressions of works by Mike Nichols, Vladimir Nabokov, Edward Hopper, J D Salinger and Jack London.
The unusual score was devised by Shinja Eshima – double bassist of both the San Francisco Ballet and San Francisco Opera orchestras – with the addition of four songs by the gravelly-voiced Tom Waits. Costume design is by Mark Zappone.
Wooden Dimes, together with archival captures of Alexei Ratmansky's Symphony #9 and Yuri Possokhov's Swimmer, streams online from March 4th to 24th. Tickets and packages may be purchased online at sfballet.org where further information is available.
Information sourced from:
San Francisco Ballet program notes