One of the successes of San Francisco Ballet's 2017 season was the North American premiere of Liam Scarlett's Frankenstein, and those who were fascinated by his adaptation of Mary Shelly's 1813 Gothic novel will no doubt be keen to have another opportunity to see this production when it opens at the War Memorial Opera House tomorrow evening.
In this co-production between The Royal Ballet and San Francisco Ballet, British choreographer Liam Scarlett reveals the truth behind what is usually presumed to be a horror story. Mary Shelley's Frankenstein: or, The Modern Prometheus was, however, far removed from that genre. More like an early piece of science fiction, it is – as Scarlett says – "essentially about love", and is a deeply moving and tragic tale, one that he chose because he wanted to show people "what Frankenstein is really about".
Scarlett's ballet – set, like the novel, at the end of the 18th Century – revolves around the creation of a living being by a young man, Victor Frankenstein, who has a gift for chemistry, and sets about trying to recreate the life of his deceased mother through an experiment. Using non-living body parts, Victor succeeds in giving life to his creation, but the Creature, as he calls him, is physically hideous, and Victor, repulsed by what he has done, wants nothing to do with him.
The Creature, however feels abandoned, and is desperate to be loved, his feelings intensified by the love which is evident between Victor and his fiancée, Elizabeth, as well as the relationships that Victor shares with his family and friends. They all become involved in the tragedy resulting from Victor's struggle to reconcile himself to the consequences of his actions.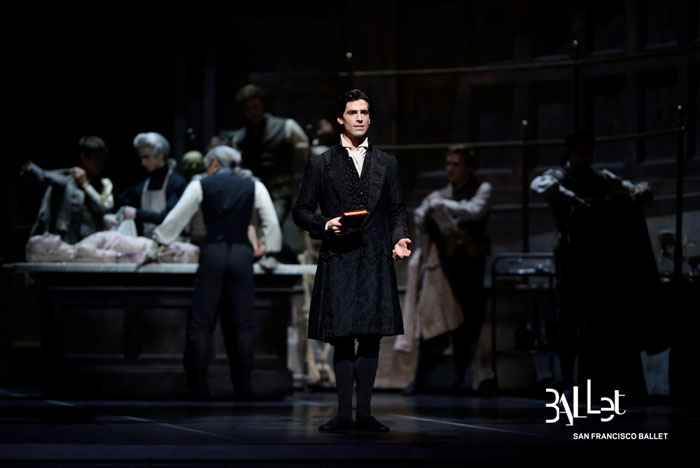 Award-winning Liam Scarlett, The Royal Ballet's first Artist in Residence, and Artistic Associate for Queensland Ballet, was the youngest choreographer to receive a commission for a full-length work from the Royal, and in addition to creating works for San Francisco Ballet, he has also choreographed for English National Ballet, New York City Ballet, American Ballet Theatre and Miami City Ballet. Frankenstein is a work clearly very close to his heart – a creation that he describes as "a labor of pure love".
The score for Frankenstein was commissioned from American composer, pianist and conductor, Lowell Liebermann, whose works have been performed by orchestras under the direction of names as illustrious as Kurt Masur, Andrew Litton, David Zinman and Wolfgang Sawallisch, and performed by luminaries such as Joshua Bell, Sir James Galway, Garrick Ohlsson, Stephen Hough and Jean-Yves Thibaudet. He also wrote The Picture of Dorian Gray, the only American opera to be commissioned and premiered by Opéra Monte-Carlo.
Set and costume design for Frankenstein is by the amazingly creative British artist and theatre designer, John McFarlane, who has collaborated with choreographers such as Jiri Kylian, Glen Tetley, Sir Peter Wright, as well as Liam Scarlett, and designed for companies such as The Royal Ballet and Birmingham Royal Ballet, Netherlands Dance Theatre, Danish Royal Ballet, Canadian Royal Ballet, Dance Theatre of Harlem and Australian National Ballet.
San Francisco Ballet presents Liam Scarlett's Frankenstein at the War Memorial Opera House from March 6th to 11th, with the San Francisco Ballet Orchestra, conducted by Martin West. For more information and tickets, visit the San Francisco Ballet website.
San Francisco Ballet
The Royal Ballet
Information sourced from:
San Francisco Ballet program notes by Cheryl A Ossola
The Royal Ballet program notes