Drama, bloodlust and murder rule in this dramatic production of Richard Strauss' Elektra, starring soprano Christine Goerke in the title role – one of her greatest portrayals.
Mezzo-soprano Michaela Martens takes the role of Klytemnestra, soprano Adrianne Pieczonka is Elektra's sister, Chrysothemis, bass-baritone Alfred Walker – in his Company debut – sings the role of Orest, their brother, and tenor Robert Brubaker is Aegisth, Klytemnestra's lover.
A co-production with the National Theatre in Prague and the Badisches Staatstheater Karlsruhe, this revival of Elektra, recorded at the War Memorial Opera House in 2017, is led by Hungarian conductor Henrik Nánási, directed by the Staatstheatre's director, Anja Kühnhold, and staged by English director Keith Warner, currently director of theatre studies for London's National Opera Studio.
The inspiration for this work – Sophocles' tragedy, Elektra – is a dark tale, revolving around the descent into insanity of the central figure, Elektra, the daughter of King Agamemnon, who becomes fanatical about avenging her father's death at the hands of her mother, Klytemnestra. Strauss' opera, with a libretto by Hugo von Hofmannsthal, premiered in Dresden on January 25, 1909.
Warner's setting is a modern-day museum, where a girl becomes fixated by a display representing the fall of the house of Atreus in ancient Greece. She watches and re-watches a film relating the story of how Agamemnon was killed by Klytemnestra and Aegisth, in revenge for Agamemnon's having sacrificed his daughter, Iphigenia, to the gods. It shows Elektra's brother, Orest, killing Klytemnestra and Aegisth, to satisfy his sister's vengeance, and although these murders initially give Elektra and Chrysomethis cause for celebration, when Elektra is left alone, the terrible burden caused by the death of her father becomes too much for her, and she descends into insanity and dies.
To the museum visitor in this interpretation – who is also obviously in mourning, and in a state of mental trauma – this story triggers a series of memories, and in her mind she takes on the persona of Elektra. She, too, must face the truth of her circumstances, going through the same torment as Elektra, until the harrowing events of this fantasy eventually take the same toll on her as on the central figure of Sophocles' tragedy.
Name some of the finest opera houses in the world, and Christine Goerke has appeared on their stages, and also performed with most of the world's greatest orchestras and conductors. The New York Times describes her as "…. one of the most fearless and formidable dramatic sopranos of the day. …. she brought effortless power, gleaming sound and dramatic intensity to this unforgettable Elektra ….", while the Houston Examiner simply states: "A voice like hers comes once in a generation…".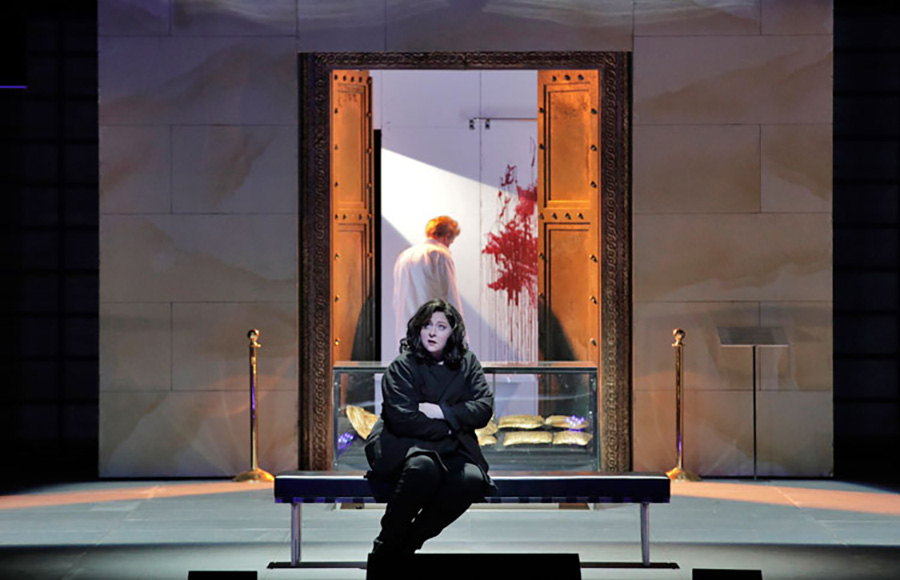 A former participant in the Merola Opera Program, Michaela Martens has become known for her portrayals of some of the most challenging mezzo-soprano roles in the repertory – such as Judith in Bartók's Bluebeard's Castle, Kostelnička in Janáček's Jenůfa, Herodias in Strauss' Salome, Ortrud in Wagner's Lohengrin and Kundry in Parsifal. In this production of Elektra, Ms Martens sings Klytemnestra for the first time.
The role of Elektra's sister, Chrysothemis is one that Adrianne Pieczonka has sung around the world, including performances at the Gran Teatre del Liceu in Barcelona and the Staatsoper in Berlin. Internationally renowned for her interpretations of Wagner, Strauss, Verdi and Puccini, Ms Pieczonka has portrayed powerful women such as Senta in The Flying Dutchman, Sieglinde in Die Walküre, the Marschallin in Die Rosenkavalier, the title role in Tosca and Amelia in Un Ballo in Maschera, in leading opera houses and concert halls across Europe, North America and Asia.

Conductor Henrik Nánási, in his debut with San Francisco Opera, leads the cast, Chorus (Director Ian Robertson) and unusually large Orchestra required by Strauss for Elektra. During his tenure as general music director of the Komische Oper Berlin, the company was named Opera House of the Year 2013 by Opera World Magazine and Opera Company of the Year 2015 at the Opera Awards. He has regularly conducted at several major opera houses including The Metropolitan Opera, Royal Opera House Covent Garden, Teatro alla Scala, Bayerische Staatsoper München, Opéra National de Paris and Gran Teatre del Liceu.
This production of Elektra introduces to San Francisco Opera the work of set designer Boris Kudlička, costume designer Kaspar Glarner, lighting designer John Bishop and video designer Bartek Macias.

Richard Strauss' Elektra, sung in German with English supertitles, will be streamed free of charge from 10.00 am (PDT) on Saturday, July 24th, until 11.59 pm (PDT) on Sunday, July 25th. Log-in details are available on the San Francisco Opera website.
Information sourced from:
San Francisco Opera program notes
Artists' websites