SFJAZZ Collective performs – and records –
the music of Miles Davis
Each year, the SFJAZZ Collective – the ensemble of star performers and composers regarded as some of the finest in the world of jazz today – pays tribute to the works of a modern jazz master.  Previously – in a series of performances which also includes a selection of the Collective's own compositions – they have honored Ornette Coleman, John Coltrane, Herbie Hancock, Thelonious Monk, Wayne Shorter, McCoy Tyner, Horace Silver, Stevie Wonder, and Chick Corea.  This season, the featured artist is the legendary trumpeter and bandleader, Miles Davis.  Read more ….
Pablo Heras-Casado & Alisa Weilerstein guest
with San Francisco Symphony
Always a welcome visitor to San Francisco, Spanish conductor Pablo Heras-Casado returns to Davies Symphony Hall this week to lead the San Francisco Symphony in Mozart's Symphony No 29, Dvořák's Seventh Symphony, and the Schumann Cello Concerto, with guest artist Alisa Weilerstein.   Read more ….
San Francisco Opera recreates acclaimed production of
'The Makropulos Case'
The intriguing case of a woman who has lived for over 300 years, and her search for a missing formula to extend her lifespan even further, provide the backdrop to Leoš Janáček's dramatic opera Věc Makropulos (The Makropulos Case) – the latest production by San Francisco Opera in a season which has already demonstrated the Company's flair for creative programming.   Read more ….
Stephen Hough plays Saint-Saëns
with Tortelier & Monte-Carlo Philharmonic
He's been described by Musical America as "truly an exquisite player", The Economist has written of "the technical finesse and idiomatic authority he brings to every piece he plays", and The Times refers to him as "the effortlessly mellifluous pianist". This is British pianist Stephen Hough, the guest soloist appearing with Yan Pascal Tortelier and the Monte-Carlo Philharmonic Orchestra in a programme entitled À la française on 14th October.   Read more ….
Rebeck does it again for San Francisco Playhouse
Take a work by an award-winning playwright, add a liberal measure of perfectly paced direction, blend in the talents of four superb actors, season with a sprinkling of slightly dark humor, add a dash of San Francisco Playhouse magic, and you have a stage show of superlatives – the commissioned world premiere of Theresa Rebeck's Seared.   Read more ….
World premiere for MTT & SF Symphony –
& Yuja Wang plays Shostakovich
Michael Tilson Thomas and the San Francisco Symphony celebrate a world premiere by Chinese American composer Bright Sheng in a concert which features the incomparable talent of Yuja Wang, and works by two of the greatest Russian composers of the 20th century – Dmitri Shostakovich and Igor Stravinsky.   Read more ….
San Francisco Opera presents 'Don Pasquale' – à la Pelly
Fun, farcical and frolicsome – Donizetti's sparkling comedy Don Pasquale is the next production in San Francisco Opera's fall season line-up. Throw in a dash of Laurent Pelly's clever and creative design, and some fabulous Bel Canto specialists, and you have all the elements for a delightful evening at the opera.   Read more ….
Met Opera Celebrates 50th anniversary
of Lincoln Center home
The Metropolitan Opera celebrates the 50th anniversary of its Lincoln Center home this season, with a production of Wagner's epic drama, Tristan und Isolde.  It was in 1966 that The Metropolitan Opera House took its place alongside the Avery Fischer Hall (now the David Geffen Hall) – home of the New York Philharmonic – and the David H Koch Theater – home of the New York City Ballet – in the city's celebrated Lincoln Center for the Performing Arts.  Read more ….
Christian McBride residency at SFJAZZ
Downbeat calls him "One of the premier musicians of his generation … ", he's regarded as one of the world's most versatile bassists, is a four-time GRAMMY winner, has appeared on over 300 recordings, is the host of NPR's Jazz Night in America, and is Resident Artistic Director of SFJAZZ – this is Christian McBride, whose 5-day residency at the JAZZ Center begins this evening.   Read more ….
New concert format from MTT
and San Francisco Symphony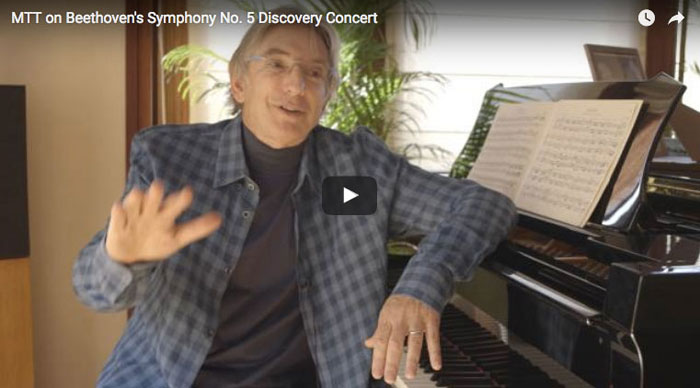 Ever creative, ever enterprising, San Francisco Symphony Music Director Michael Tilson Thomas has devised a new concert format which he and the Symphony will be introducing on Sunday afternoon.   Read more ….
I