Yamada & Monte-Carlo Philharmonic open new season with Beethoven
Principal Conductor and Artistic Director Kazuki Yamada leads the Monte-Carlo Philharmonic Orchestra in a rousing opening to the 2021-22 season with music by Beethoven – his Overture to Leonore No 2, Opus 72a, and his Symphony No 9 (Choral) Opus 125. Read more ….
English National Ballet premieres Akram Khan's 'Creature'
English National Ballet presents the long-anticipated world premiere of its new ballet, Akram Khan's Creature. Read more ….
Kris Bowers in spectacular opening to new SFJAZZ season
SFJAZZ gets the new season off to a spectacular start next week with Emmy Award-winning composer and pianist Kris Bowers who takes to the stage of the Miner Auditorium for what promises to be a hugely memorable opening night on September 23rd. Read more ….
Concertgebouworkest celebrates opening of new season on Dam Square
The Concertgebouworkest celebrates the opening of the 2021-22 season on Friday evening with an open-air concert on Amsterdam's Dam Square. Daniel Harding leads the orchestra in a varied light programme, with violinist Leonidas Kavakos as guest artist. Read more ….
Semyon Bychkov & Kirill Gerstein at the BBC Proms
This Friday, Semyon Bychkov will be in London to conduct the BBC Symphony Orchestra (BBCSO) in a programme comprising Beethoven's Coriolan Overture, the Schumann Piano Concerto in A minor – soloist Kirill Gerstein – and Mendelssohn's Symphony No 3 in A minor, Scottish. Read more …..
Sonya Yoncheva & Plácido Domingo – Gala Concert streamed from Sofia
The Saint Alexander Nevsky Square in Sofia is the setting for a highly-anticipated Gala Concert on August 31st, when soprano Sonya Yoncheva and baritone Plácido Domingo appear with the Sofia Philharmonic Orchestra conducted by Nayden Todorov. Read more ….
SFJAZZ Collective plays Jobim on 'Fridays at Five'
This week's Fridays at Five session from SFJAZZ features the SFJAZZ Collective a group of musicians with an enviable international reputation, based at San Francisco's JAZZ Center. This week's streamed performance is devoted to the creator of the bossa nova style of music, Antônio Carlos Jobim. Read more ….
Inaugural season of San Francisco Opera's Music Director opens with Puccini's 'Tosca'
Eun Sun Kim opens her inaugural season as San Francisco Opera's Music Director with Puccini's Tosca – a work which has long been associated with significant moments in the history of the Company. Read more ….
San Francisco Opera closes 'Opera is ON' season with Donizetti's 'Roberto Devereux'
San Francisco Opera goes back to the Tudor period with Gaetano Donizetti's Roberto Devereux – the final free stream of the Company's Opera is ON series. In this production, soprano Sondra Radvanovsky sings the role of Elisabetta, Queen of England, tenor Russell Thomas takes the title role, and mezzo-soprano Jamie Barton is Sara, Duchess of Nottingham. Read more ….
Starry Nights: San Francisco Ballet celebrates Return to the Stage
San Francisco Ballet, in partnership with Stanford Live, celebrates the joy of live performances in Starry Nights: SF Ballet's Return to the Stage in Stanford this week. Read more ….
San Francisco Opera streams Wagner's 'Die Meistersinger von Nürnberg'
Prior to the opening of San Francisco Opera's 2021-22 season on August 21st, the Company has added two more productions to its Opera is ON season of free opera streams – Wagner's Die Meistersinger von Nürnberg and Donizetti's Roberto Devereux. Read more ….
Met Opera's 'Live in HD' Summer Encores presents 'Tosca'
The Metropolitan Opera continues its encore series of popular Live in HD transmissions from past seasons. The latest of these, Puccini's historical melodrama Tosca, will be screened in cinemas in the United States (from August 4th) and the United Kingdom (from August 11th). Read more ….
González-Granados debuts with San Francisco Symphony
In her first appearance with the San Francisco Symphony, Colombian conductor Lina González-Granados leads the Symphony in two concerts this week – at Davies Symphony Hall on July 30th, and at the Frost Amphitheater, Stanford University, the following evening. Read more ….
'Carmen' features in Met Opera's 'Live in HD' Summer Encores
Bizet's Carmen, regarded as one of the most popular operas in the repertoire, is the latest production to be screened in the Metropolitan Opera's Live in HD Summer Encores season – a series of cinema screenings of some of the Company's greatest productions. Read more ….
San Francisco Opera streams Strauss' powerful 'Elektra'
Drama, bloodlust and murder rule in this dramatic production of Richard Strauss' Elektra, starring soprano Christine Goerke in the title role – one of her greatest portrayals. Read more ….
Netopil leads Monte-Carlo Philharmonic in Concert at the Prince's Palace
The traditional series of summer Concerts at the Prince's Palace by the Monte-Carlo Philharmonic Orchestra continues this week in the magnificent setting of the Courtyard of Honour. The performance, led by Czech conductor Tomáš Netopil, features music by Francis Poulenc and Bedřich Smetana, and the guest artists in the Poulenc Piano Concerto are Katia and Marielle Labèque. Read more ….
Stars gather in Verbier for annual music extravaganza
The Alpine village of Verbier welcomes some of the greatest names in classical music to its mountain home over the next two weeks, as the 2021 Verbier Festival takes place. Launched in 1994 by Founder and Director Martin Engstroem, the Festival – with its glittering selection of events, both large-scale and intimate – is one of the highlights of the international music calendar. Read more ….
San Francisco Opera streams Berlioz's 'Les Troyens'
San Francisco Opera's production of Les Troyens (The Trojans) – one of the most significant and impressive works in the entire repertoire of opera – will be streamed online this weekend. This magnificent five-act production of Hector Berlioz's operatic interpretation of Virgil's epic poem, The Aeneid, is by Scottish director Sir David McVicar. Read more ….
Les Ballets de Monte-Carlo celebrates 'L'Été Danse!'
L'Été Danse! (Summer Dance) is Les Ballets de Monte-Carlo's summer celebration of the joy of dance, and this year it falls into two programmes – Soirée "Créations" and Danse et Musique "Live". Read more ….
San Francisco Opera streams Janácek's 'Jenůfa'
In the first of its July free opera streams, San Francisco Opera presents Leoš Janáček's compelling family drama Jenůfa, staged at the War Memorial Opera House in June 2016. In this production, directed by Olivier Tambosi, the legendary Finnish soprano Karita Mattila makes her role debut as the domineering stepmother, Kostelniča Buryjovka, and Swedish soprano Malin Byström sings the title role. Read more ….
SFJAZZ presents international line-up for 'Fridays at Five'
The first three concerts in the July SFJAZZ Fridays at Five sessions feature a truly international mix – Portuguese fado singer Mariza, world music Ukranian group DakhaBrakha, and the Bay Area's soul/funk/R&B band Con Brio. Read more ….
Concertgebouworkest in Berlin to mark state visit
This month, the Concertgebouworkest appears in concert in Berlin to mark the occasion of a state visit to the German city by King Willem Alexander and Queen Máxima of the Netherlands. Read more ….
Netopil leads Czech Philharmonic at Smetana's Litomyšl National Festival
Following tradition, the Czech Philharmonic brings the current season to a close with two performances at the Smetana National Festival held each year in Litomyšl, the birthplace of Bedřich Smetana. Read more ….
San Francisco Jazz Festival streams Tribute to Ernesto Lecuona
At this week's San Francisco Virtual Jazz Festival, SFJAZZ streams a tribute to one of the most important and influential figures in Cuban music – pianist and composer Ernesto Lecuona. He is honored by three of today's greatest Latin Jazz pianists – Chucho Valdés, Gonzalo Rubalcaba and Michel Camilo – in a concert recorded at an SFJAZZ concert in May 2017. Read more ….
From the New World Symphony archives: MTT honors Anne Frank with Audrey Hepburn
Miami-based New World Symphony this week pays tribute to Anne Frank, the young girl who spent two years in hiding in Nazi-occupied Amsterdam, and whose diary detailing those years of captivity made her famous the world over. Read more ….
Augustin Hadelich plays Brahms with Salonen & SF Symphony
This week, the San Francisco Symphony's Music Director Esa-Pekka Salonen leads the Symphony, in a performance at Davies Symphony Hall, of Richard Strauss's Serenade in E flat major, contemporary composer Daniel Kidane's Be Still, and Brahms' Violin Concerto, with Grammy Award-winning Augustin Hadelich as soloist. Read more ….
Thibaudet plays Ravel with Bringuier & Nice Philharmonic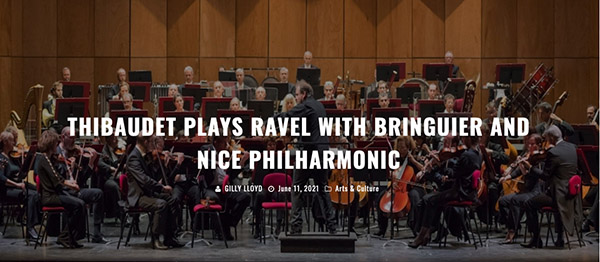 The Nice Philharmonic Orchestra presents an all-French concert on 18th and 19th June – with Lionel Bringuier leading the Orchestra in a performance of Ravel's Piano Concerto in G major – soloist Jean-Yves Thibaudet – and Bizet's Symphony in C. Read more ….
Tributes to Thelonious Monk & Duke Ellington at the Virtual San Francisco Jazz Festival
This week, the Virtual San Francisco Jazz Festival, hosted by SFJAZZ, pays tribute to Thelonious Monk, and features performances by Brian Blade & the Fellowship Band, and Marcus Shelby & his Orchestra with their tribute to Duke Ellington. Read more ….
Met Opera presents 'Changing the Scene: Updated Settings for Classic Operas'
This next week, in the online presentation of its Nightly Opera Streams, the Metropolitan Opera presents productions which have been brought forward to a more contemporary time than that in which they were originally set. Read more ….
SFJAZZ presents virtual 2021 San Francisco Jazz Festival
SFJAZZ opens the San Francisco Jazz Festival tomorrow – and this year it's to be an all-digital affair, enabling not only US jazz enthusiasts, but late-nighters in other parts of the world, to enjoy some of the finest jazz around today. Read more ….
Opéra Nice presents new production of Massenet's 'Werther'
Opéra Nice Côte d'Azur stages a new version of Jules Massenet's opera Werther in the first week of June. Read more …..
Met Opera highlights operas featured in 'Aria Code'
The Nightly Met Opera Streams beginning Monday, May 31st, highlight the collaboration between the Metropolitan Opera and WQXR – New York's Classical Radio Station. For the next week, the Met presents some of the productions from its Live in HD series of transmissions which featured during the podcast series Aria Code, broadcast on WQXR. Read more ….
Boston Pops Spring Celebration features classic Ella Fitzgerald concert
The Boston Pops Orchestra is well into its Spring Celebration series of streamed concerts on BSO NOW!. Four of these programs have been newly recorded, but the series also features two concerts, conducted by the legendary Arthur Fiedler, from the Orchestra's archives – and one of these is the fabulous Pops Classic, Exquisite Ella – a performance by "The First Lady of Song", Ella Fitzgerald, filmed at a live performance in June 1976, and not seen for decades. Read more ….
Met Opera presents Three Divas Live in Concert from Château de Versailles
The latest program in the Metropolitan Opera's Live in Concert series features Three Divas – sopranos Alyn Pérez and Nadine Sierra, and mezzo-soprano Isabel Leonard. It will be filmed in the gorgeous setting of France's Opéra Royal du Chateau de Versailles. Read more …..
San Francisco Ballet closes Digital Season with 'Swan Lake'
San Francisco Ballet closes its 2021 Digital Season with Helgi Tomasson's interpretation of one of the best loved ballets in the classical repertoire – Swan Lake. Read more ….
English National Ballet celebrates a return to the stage
English National Ballet celebrates the return of live performances next week with a programme of five works by contemporary choreographers – Sidi Larbi Cherkaoui, Russell Maliphant, Yuri Possokhov, Stina Quagebeur and Arielle Smith. These ballets were all created for ENB's Digital Season late last year, but this will be their first live performance. Read more ….
SFSymphony+ highlights diversity in music
There's a lot of activity on the SFSymphony+ streaming platform at present. Demonstrating yet again the wealth of creativity caused by the cancellation of live performances – happily restored again as of this week – the San Francisco Symphony continues to celebrate the diversity of music-making in three very different online series – CURRENTS which explores what happens when classical music meets different musical cultures, SoundBox which is described as "eclectic music for adventurous listeners", and a Chamber Music series for those who prefer a more traditional approach to classical music. Read more ….
Met Opera streams 'Wagnerians Live in Concert'
Continuing its Met Stars Live in Concert series, the Metropolitan Opera features four luminaries of Wagnerian opera, streaming live from the grand Hessisches Staatsheater in Wiesbaden on Saturday, May 8th. Read more ….
SFJAZZ 'Fridays at Five' celebrates the music of Miles Davis

Fridays at Five sessions during the month of May are all dedicated to a celebration of the music of Miles Davis – American trumpeter, bandleader and composer, who is regarded as one of the most influential and acclaimed figures of 20th century music and the history of jazz. Read more ….
San Francisco Ballet streams 'Romeo and Juliet'
The next production in San Francisco Ballet's 2021 Digital Season is Romeo and Juliet – Helgi Tomasson's interpretation for ballet of Shakespeare's romantic tragedy about the doomed young lovers of Verona. Read more ….
Gerstein plays Schumann with Bychkov & Czech Philharmonic
This week, Semyon Bychkov leads the Czech Philharmonic in another programme streamed live from the Rudolfinum in Prague. This concert features Schumann's Piano Concerto in A minor, with soloist Kirill Gerstein, and Tchaikovsky's Symphony No 2 – known as the 'Little Russian'. Read more ….
SFJAZZ honors 2021 NEA Masters in online concert
Thursday, April 22nd is a big day in the world of jazz – it's the day on which SFJAZZ collaborates with the National Endowment for the Arts to honor this year's NEA Jazz Masters in an online celebratory concert. Read more ….
New production of Mussorgsky's 'Boris Godunov' for Monte-Carlo Opera
Modest Mussorgsky's magnificent historical opera, Boris Godunov, opens this week at the Salle Garnier in Monaco. Starring Russian bass, Ildar Abdrazakov in the title role, this is a new production, in co-operation with Grand Avignon Opera, and the first staging by Monte-Carlo Opera of the original 1869 version of the work. Read more ….