Merola Grand Finale brings Summer Festival to a close
The Merola Opera Program  – regarded as one of the most prestigious and selective opera training programs in the United States – presents the Grand Finale of its Summer Festival at the War Memorial Opera House on Saturday evening.   Read more ….
'Something Rotten!' opens at SHN's Orpheum Theatre
There's a new Broadway hit opening at SHN's Orpheum Theatre this week – Something Rotten! – described by Time Out New York as "the funniest musical comedy in at least 400 years".   Read more
UnderCover Presents showcases Bay Area talent at SFJAZZ
SFJAZZ winds up its Summer Sessions this week with an eclectic set of concerts, over four nights, staged by a group which goes by the name of UnderCover Presents. This collective – which has been in existence since 2010 – hit upon the brilliant idea of bringing together musicians from all round the Bay Area to "celebrate the influence of classic albums", as they describe it.   Read more ….
San Francisco Opera steals the show
San Francisco Opera takes to the airwaves this week, with a televised performance of Verdi's Attila on KQED Public Television tomorrow evening, and a radio broadcast of Puccini's Madama Butterfly on Classical KDFC on Sunday. And there's more, as the SF Opera Merola Program presents two live performances of Rossini's La Cenerentola.   Read more ….
All-Russian program with Valčuha and
the San Francisco Symphony
Slovak conductor Juraj Valčuha makes a very welcome return to Davies Symphony Hall this week as he leads the San Francisco Symphony in an all-Russian program, with guest artist Benjamin Beilman playing the magnificent Tchaikovsky Violin Concerto. The concert opens with Glazunov's delightful Concert Waltz No 1, and closes with Mussorgsky's Pictures at an Exhibition.   Read more …
Kick up your heels at 'La Cage aux Folles'!
La Cage aux Folles – the latest production at San Francisco Playhouse – is a blast! Winner of six Tony Awards – including Best Musical – it's fun and colorful, has some wonderful numbers, exuberant dance routines, plenty of humor – and just enough poignant moments to give us pause for thought, and indulge in a bit of introspection.   Read more ….
Three one-act works from Merola Opera's Summer Festival
The Merola Opera Program's  2017 Summer Festival continues this week with a triple bill of fully-staged one-act operas – Pergolesi's La serva padrona, Holst's Sāvitri, and Walton's The Bear. Christopher Ocasek conducts, and direction is by Peter Kazaras.   Read more ….
SFJAZZ presents The Caribbean Basin Songbook
The Caribbean Basin Songbook is the featured theme for week two of the SFJAZZ  Summer Sessions, and Dominican singer and songwriter Joan Soriano  is just the man to get things off on the right note.   Read more ….
A summer selection of popular works from
the San Francisco Symphony
Gershwin and Bernstein – what a fabulous combination! And with a selection of other Broadway numbers, and vocalist Rhiannon Giddens performing songs from the American south, Edwin Outwater and the San Francisco Symphony plan a wonderful night out on Thursday!   Read more ….
SFJAZZ Summer Sessions opens with
Great American Songbook series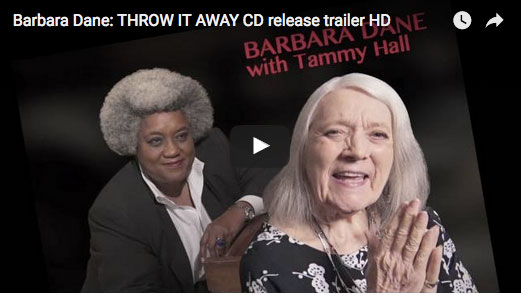 Thursday evening heralds the opening of the SFJAZZ Summer Sessions – just over five weeks of fabulous music and performances running through August 20. Opening this season is "legendary singer, social activist, and Bay Area gem" (SFJAZZ), Barbara Dane, who's also celebrating her 90th birthday!   Read more ….
At a glance …..
A look at performances in and around the Bay Area this week.   Read more ….
A sparkling start for San Francisco Symphony's Summer Season
What a good thing that the Declaration of Independence was signed within the first few days of July – it gives the San Francisco Symphony a grand platform from which to launch its Summer with the Symphony program – opening with a performance at The Annual 4th of July Fireworks Spectacular on Tuesday evening.   Read more ….
San Francisco Opera dominates the arts scene this weekend
Opera is where it's all happening in San Francisco this weekend!  Read more ….
San Francisco Opera takes Mozart to the Ballpark
This is the week in which San Francisco Opera and AT&T provide the people of San Francisco and the Bay Area with a wonderful annual gift – the broadcast of an admission-free live performance direct from the stage of the War Memorial Opera House to the big screen at AT&T Park – and this year, the featured opera is Mozart's Don Giovanni.   Read more ….
Berlioz's 'Romeo and Juliet' closes
San Francisco Symphony season
Just because the end of the season is upon is, Michael Tilson Thomas and the San Francisco Symphony don't see that as a reason to gently slide into the summer. Indeed, their final performance is Romeo and Juliet – Hector Berlioz's Dramatic Symphony for chorus and solo voices, inspired by Shakespeare's tragedy, with a text by Émile Deschamps, after William Shakespeare.   Read more ….
Three from Ashton – The Royal Ballet in cinema
It's not often that ballet audiences who are not within reach of Covent Garden have an opportunity to see a full programme of works by one of the finest choreographers in British ballet history – Sir Frederick Ashton. Over the next couple of weeks, lovers of ballet around the world can see, in cinema, dancers of The Royal Ballet in an on-screen presentation of three classics from Ashton's repertoire of more than a hundred works – The Dream, Symphonic Variations and Marguerite and Armand.   Read more ….
MTT & San Francisco Symphony turn on the razzle-dazzle!
Michael Tilson Thomas and the San Francisco Symphony aren't just thinking outside the box this week – they're stepping right outside it as well! Their program Music for a Modern Age features unique audio-visual presentations of two works – the West Coast Premiere of Tilson Thomas' song cycle Four Preludes on Playthings of the Wind, and George Antheil's A Jazz Symphony.   Read more
Stern Grove Festival celebrates 80th season
The Stern Grove Festival, San Francisco's traditional summer celebration of music and dance, opens at Sigmund Stern Grove on Sunday, June 25, this year celebrating its 80th season. The line-up features some favorite artists making a return visit, as well as a host of others, some of whom will be performing original pieces commissioned by the Festival for this event.   Read more ….
The stars come out as Petrenko and Bell guest
with San Francisco Symphony
The presence of either Vasily Petrenko or Joshua Bell at Davies Symphony Hall would be enough to create a stir among San Francisco classical music enthusiasts, so to have both appearing with the San Francisco Symphony on the same bill is something of an occasion.   Read more ….
More music to come from Week 2 of
San Francisco Jazz Festival
Now into its second week, the San Francisco Jazz Festival is still drawing crowds to the Miner Auditorium and Joe Henderson Lab at SFJAZZ – and since this hugely popular event runs until Sunday, there's still time to get the Jazz Center and revel in some of the finest music-making around.   Read more ….
San Francisco Opera completes summer season with Puccini's 'La Bohème'
San Francisco Opera opens the final production in its summer season this weekend with one of the world's most popular operas, Giacomo Puccini's La Bohème. This passionate and heartbreaking portrayal of love in the bohemian quarter of 19th century Paris brings to the stage of the War Memorial Opera House some of the most beautiful music ever written.   Read more ….
Mälkki and Ohlsson guest with San Francisco Symphony
Finnish conductor Susanna Mälkki leads the San Francisco Symphony this weekend in a program featuring two works by Stravinsky – his Scherzo fantastique and Le sacre du printemps (The Rite of Spring) – and piano virtuoso Garrick Ohlsson plays the Beethoven Piano Concerto No 1.   Read more
35th San Francisco Jazz Festival goes live
It's all go at SFJAZZ this week as the 35th San Francisco Jazz Festival gets underway. With 43 concerts over the next 13 days, at 5 different venues, it's no wonder that the Chicago Tribune refers to this annual event as "The crown jewel among American jazz festivals".   Read more …..
Marc Minkowski leads San Francisco Opera's 'Don Giovanni'
'Twas ever thus. No matter that he might be a cad, there's a certain type of man who never seems to lack female attention – and so it is with the anti-hero of Mozart's comic opera Don Giovanni.   Read more ….
'The Roommate' – dark humor, brilliantly played
What happens when a rather naïve and unworldly woman in Iowa City – whose major excitement in life is her book club – opens her home to a stranger from the Bronx – a very savvy and streetwise woman who is most decidedly experienced in the ways of the world?   Read more ….
A season of favorites from San Francisco Opera
San Francisco Opera's summer season opens at the War Memorial Opera House this week – a season featuring Verdi's Rigoletto, Mozart's Don Giovanni and Puccini's La Bohème.   Read more …..
I