San Francisco Opera opens a new production of Beethoven's Fidelio this week.
Directed by Matthew Ozawa, whose "strikingly spare productions" (New York Times) are, says Opera News "a vivid demonstration of what opera is all about". This new production brings forward Fidelio's setting from an eighteenth-century prison to a modern government detainment center, with set and projection design by Alexander V Nichols.
This production of Fidelio features South African soprano Elza van den Heever as Leonore. Ms van den Heever, who made her debut with San Francisco Opera while still an Adler Fellow, is described by Associated Press as being "Blessed with a plush, dramatic voice capable of formidable power and dazzling high notes …". The Telegraph writes of her as "…. a superb South African soprano who looks and sounds remarkably like the young Joan Sutherland ..", and Forum Opéra says that she "…. moves us deeply, enthrals and captivates… she delighted us with her powerful and controlled voice, with a splendid midrange that does not exclude dazzling high notes".
The role of Florestan is sung by Russell Thomas -"A tenor of gorgeously burnished power…" writes the New York Times. Mr Thomas was last seen in San Francisco in 2018 in the title role in Roberto Devereux, following which Seen and Heard wrote: "With a pure, focused tenor sound, remarkably even from top to bottom, Thomas managed to convey both the nobility and anguish of the title character…he created a time-stopping moment as he awaited his execution in Act III.".
Bass-baritone Greer Grimsley takes the role of Don Pizarro. Regarded as one of the most prominent Wagnerian singers of our day, Mr Grimsley last appeared with San Francisco Opera in 2018 as Wotan/The Wanderer in the Ring cycle. Following that performance, The Mercury News wrote: "As Wotan, bass-baritone Greer Grimsley was a swaggering captain of industry; singing with forceful dark power, he was in suave, commanding voice.".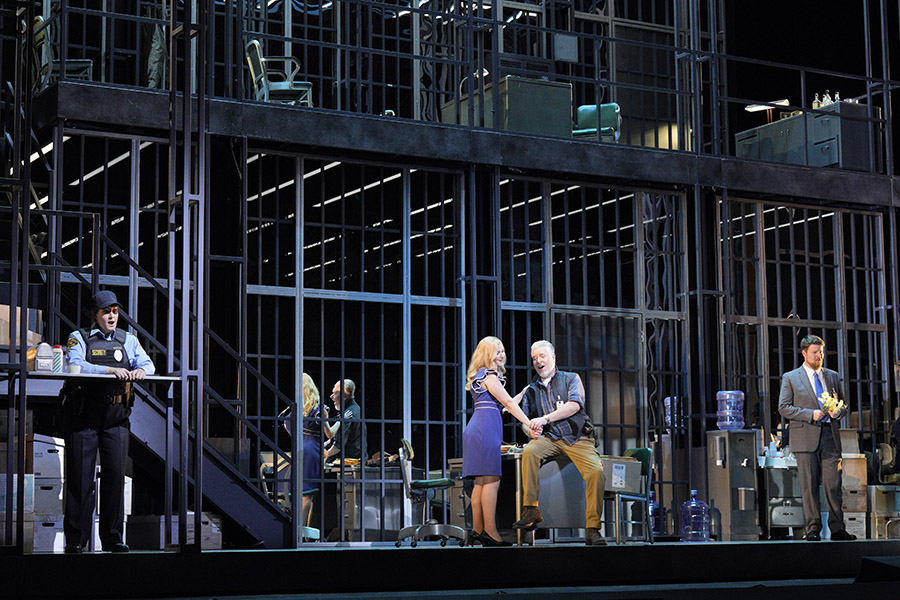 The San Francisco Opera Orchestra, Chorus and cast are led by Music Director Eun Sun Kim. Chorus Director Ian Robertson has prepared the ensemble for this performance – two of the most memorable choruses being the Act I Prisoner's Chorus and the opera's finale, both of which are said to be comparable to Beethoven's Ode to Joy from the 9th Symphony.
The plot of Fidelio revolves around the unjust jailing of Spanish aristocrat, Florestan, by a political enemy, Don Pizarro, the cruel governor of the State prison who would face a corruption scandal if the identity of his secret prisoner were to be revealed. It tells how Florestan's wife Leonore devises a plan to rescue him from the death penalty. Taking the name Fidelio, she disguises herself as a man, and goes to work as a deputy gaoler at the prison where Florestan is being held. Don Pizarro – concerned about a proposed inspection of the jail by the king's minister, Don Fernando – orders the head jailer, Rocco, to kill Florestan, which Rocco refuses to do. When Pizarro goes down to Florestan's cell to do the deed himself, Leonore reveals her true identity, threatens the tyrant, and Florestan's life is saved by the arrival of Don Fernando.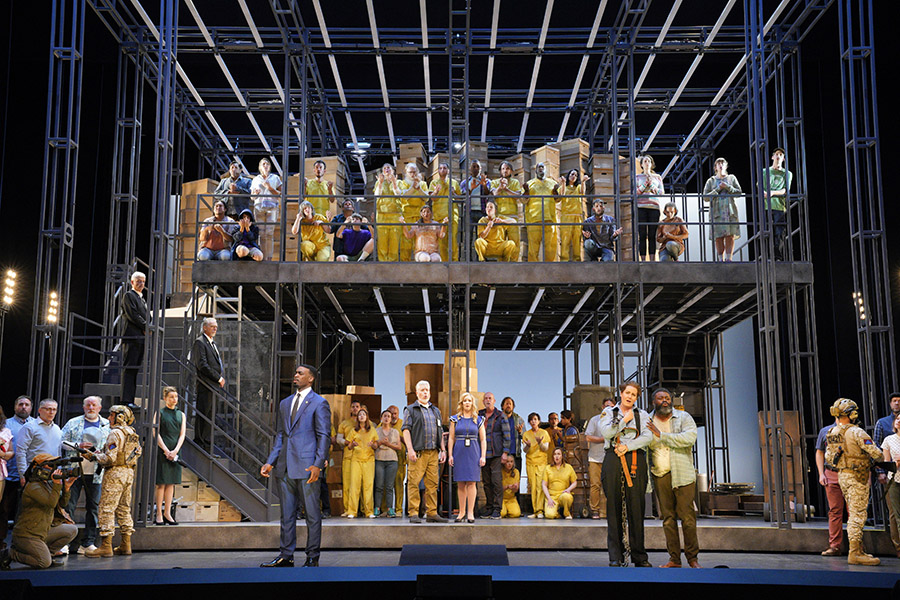 Beethoven was commissioned in 1804, by the Theater an der Wien, to write his only opera, the story of which was based on a true incident of a woman disguised as a man who liberated her husband from a Jacobin prison. A judge named Jean-Nicolas Bouilly witnessed this event, and developed it into a story, entitled Leonoré, which was transferred to Spain. The theatre director and writer Joseph Sonnenleithner, translated the French libretto into German and Beethoven set about writing the score for the opera Leonore. The premiere in Vienna on November 20th, 1805, was disrupted by the arrival in the city of Napoleon's troops, and was an abject failure. The libretto was then subject to a number of edits by Stephan von Breuning, and after the failure of this second version in 1806, Beethoven consigned the project to a drawer for eight years. The final version was fundamentally revised, and with a libretto by Georg Friedrich Treitschke, Fidelio premiered at the Kärntnertortheater in Vienna on May 23rd, 1814.
Beethoven wrote four different overtures for the opera first known as Leonore. The first – with which he wasn't satisfied – was never played during his lifetime and was followed by a new overture for each of the three staged versions. The last overture written, in E major, is the one that has prevailed.
Also in this San Francisco Opera production of Fidelio are James Creswell as Rocco, Soloman Howard as Don Fernando, Ann-Marie MacIntosh as Marzelline, Christopher Oglesby as Jaquino, Zhengyi Bai as the First Prisoner and Stefan Egerstrom as the Second Prisoner.
Costumes are by Jessica Jahn and lighting by JAX Messenger and Justin A Partier.
Sung in German with English supertitles, San Francisco Opera's production of Fidelio runs at the War Memorial Opera House between October 14th and 30th. Further information and tickets are available on the San Francisco Opera website.
This production will also be available as a livestream on October 14th, 17th and 20th. Tickets for livestream performances are available on this link. The livestream can be viewed on desktop, mobile or tablet devices, and starts promptly at curtain time. It cannot be rewound or watched on-demand. Upon purchase, you will receive a link that will direct you to the livestream.
Information sourced from:
San Francisco Opera program notes