"Jewish composers and lyricists created the Broadway musical.  Along with a handful of other talents like George M Cohan and Cole Porter, they fashioned a new, quintessentially American art form."  So says Barbara Brilliant, Creator and Executive Producer of Broadway Musicals:  A Jewish Legacy, a documentary which was screened by the PBS television network in the United States in January, and which has just become available on DVD.  Produced, written and directed by Michael Kantor, this is the first documentary film to explore the phenomenal contribution to the Broadway musical made by Jewish Americans between 1920 and 1970.
This fascinating film, narrated by Tony® and Academy Award® winner, Joel Grey, tells the story of "a small group of songwriters who created such a powerful art form that it has resonated for generations", says Barbara Brilliant.  "America changed the Jews, and Jews changed America …. for good."  The documentary looks at the lead taken in the creation of the Broadway musical by Jewish composers and lyricists, and features the work of legendary figures such as Irving Berlin, Jerome Kern, George and Ira Gershwin, Lorenz Hart, Richard Rodgers, Oscar Hammerstein II, Leonard Bernstein and Stephen Sondheim.
Providing a unique, engaging and often humorous insight into the Jewish contribution to the golden age of Broadway, this documentary features interviews with composers and celebrities including Sheldon Harnick, Stephen Schwartz, Harold Prince, Arthur Laurents, Charles Strouse, Mel Brooks, and Michael Tilson Thomas, Music Director of the San Francisco Symphony, whose grandparents were pioneers of the American Yiddish theater.
One delightful anecdote comes from Leonard Bernstein's daughter, Jamie.  Bernstein's father was apparently devastated that his son would want to become a musician instead of inheriting the family business, the Samuel J Bernstein Hair Company in Boston.  When asked, much later, by a journalist whether it was true that he'd refused to pay for his son's piano lessons so as not to encourage him, he replied:  "Well how was I supposed to know he'd turn out to be Leonard Bernstein?".
The film also delves into the question as to why Jewish songwriters and lyricists were so successful in creating what Michael Kantor describes as "a uniquely American art form with the Broadway musical".  As composer Maury Yeston says, "You cannot simply say there is one monolithic style or element to Jewish music that affects Broadway.  There are numerous incredibly important musical streams."
Whatever it was that gave rise to this phenomenon, the film is an entertainment in itself – as captivating as any of the shows which it features – productions such as Showboat, Porgy and Bess, On Your Toes, Oklahoma, Carousel, South Pacific, Annie, Cabaret, West Side Story, Gypsy, Fiddler on the Roof, Funny Girl, On the Town – some of which are a reminder that the Jewish contribution to Broadway came not only from composers and lyricists.  West Side Story, Gypsy, Fiddler on the Roof, Funny Girl, and On the Town, for example, owe their existence to the creative genius of choreographer and director, Jerome Robbins, the son of  Jewish immigrants.
This two-disc DVD set from Athena includes a bonus disc with three hours of additional interview clips and performances, and a 16-page viewer's guide featuring reflections on Jewish Broadway, with an introduction by Barbara Brilliant, and a biography of narrator, Joel Grey.  It's available in North America only at present, and we're awaiting information on an international release.  At present it can be ordered from Acorn Online  as of today, May 7th.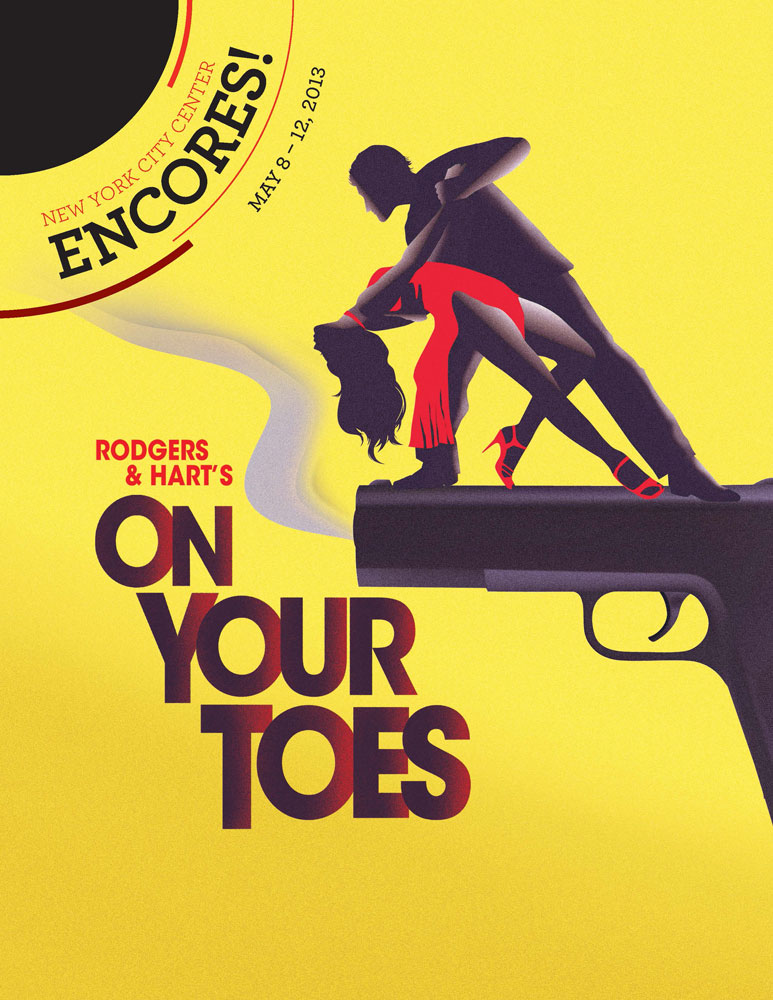 And, right on cue, the New York City Center opens a production of Richard Rodgers and Lorenz Hart's On Your Toes tomorrow, May 8th.  This show, featuring an unlikely combination of gangsters, vaudeville and classical ballet, first appeared on the stage of the Imperial Theatre on April 11th, 1936, and ran for 315 performances.  It was the first musical to successfully integrate classical ballet into the Broadway musical format, and the first show to credit a "choreographer"- George Balanchine in this case – as opposed to "dance maker".
This latest production is directed and choreographed by Warren Carlyle, and included in the cast are principal dancers Irina Dvorovenko (American Ballet Theater) and Joaquin De Luz (New York City Ballet).  Songs include Glad to be Unhappy, There's A Small Hotel and Balanchine's legendary ballet Slaughter on Tenth Avenue.
New York City Center Encores!  has presented 57 musical productions since its founding in 1994, for an audience of more than half a million people. This series celebrates the rarely heard works of America's most important composers and lyricists. Each season, Encores! gives three wonderful scores the chance to be heard as their creators originally intended. Each production is a whirlwind, put together with just eight days of rehearsals, one day of dress rehearsal and seven performances. The cast is backed by the Encores! Orchestra, often more than 30 players strong.
For more information on this production of On Your Toes, visit the New York City Center website.