June is the month for impressive productions in San Francisco, and this week sees Michael Tilson Thomas and the San Francisco Symphony mount a concert version of Modest Mussorgsky's dramatic opera, Boris Godunov. With a host of international stars – including soloists from both the Mariinsky and Bolshoi theatre operas – MTT and the Symphony present, for the first time in San Francisco, a semi-staged interpretation of Mussorgsky's depiction of the reign of 16th century Tsar, Boris Godunov.
The original version of Mussorgsky's opera was completed in 1869, and a revised version in appeared in 1872. This costumed version – with original video projections and lighting designs – is largely based on the 1869 edition of the opera, which was inspired by Alexander Pushkin's 1825 play, Boris Godunov. The opera premiered at the Mariinsky Theatre in St Petersburg on February 8, 1874, conducted by Eduard Nápravník, with stage direction by Gennadiy Kondratyev, and starred Ivan Melnikov in the title role.
The actual story on which Pushkin's play was based takes place in Russia following the death of the Tsar known as Ivan the Terrible who had killed his eldest son and heir in 1581, during an argument. The only legitimate surviving heir was Ivan's second son, Fyodor, who was mentally unfit to rule. Godunov – who had been an adviser to Ivan – became the factual head of the country within a year of Fyodor acceding to the throne, and following Fyodor's death some 13 years later, Godunov was duly proclaimed Tsar in 1598.
His reign coincided with what became known as the Time of Troubles in Russia – a period marked by foreign invasion, famine and plague – but Godunov's worst problem arrived in 1601, in the form of a defrocked monk, a Pretender to the throne, who declared himself to be Dmitry, a third son of Ivan who had actually died some years previously. This Pretender had acquired a disparate band of supporters on his march to Moscow, but although Godunov's forces managed to defeat them, he himself died in 1605, and following a coup against his family by a group of influential boyars (next in rank to a prince), the False Dmitry did indeed become Tsar.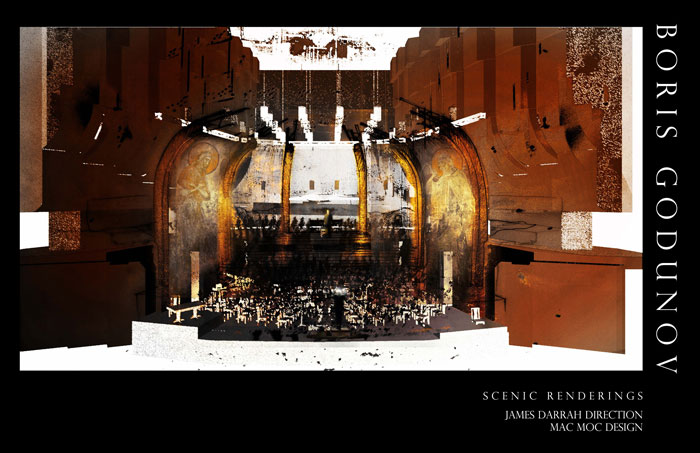 Pushkin's play, however, tells a different story. Although it revolves around the reign of Boris Godunov as Tsar, he – according to Pushkin – takes on the role reluctanctly, because he had been implicated in the death of Dmitry.  Godunov is, however, feted by the people who want to see him become Tsar, so in the year 1598, he accedes to their wishes.
Pimen, an aging monk and former soldier, relates the story of Dmitry's death to a young novice named Grigory, telling him how Dmitry would have become Tsar had he lived. Grigory condemns Boris for his role in Dmitry's death, and decides to see justice done by taking on the role of the Pretender to the throne. Prince Shuisky, a powerful boyar, tells Boris that Dmitry has appeared in Poland, and that he has the support of the Pope, the king and the nobles of that country. Shuisky is perplexed at how a supposedly dead child could become Tsar, but Boris knows the truth and is overcome by terror. Seeing visions of Dmitry's ghost in his hallucinations, he begs God's forgiveness for his crime.
Two years later, a special Council of Boyars in The Granovitaya Hall in the Kremlin is drawing up an edict against the Pretender. Shuisky arrives with an account of how he had seen Godunov in a state of anguish over his imagined vision of the death of Dmitry, but Boris insists that the boy is still alive, and threatens Shuisky with punishment for saying otherwise. Shuisky tells Godunov that the old monk, Pimen, is waiting outside for an audience with him, and when Godunov goes out to see what Pimen wants, he hears Pimen's story about a shepherd, who had been blind from childhood, but who had regained his sight whilst praying at the grave of Dmitry.
At this news, Godunov collapses, and calls for his son Fyodor. Sensing that his life is coming to an end, he bids Fyodor farewell, instructing him to rule wisely, and to uphold the Orthodox faith. He prays for forgiveness as a bell solemnly tolls, and having appointed his son as the new Tsar, Boris Godunov dies.
The role of Boris Godunov in this production is taken by bass Stanislav Trofimov, a soloist of the Mariinsky Theatre Opera since 2016, and also a guest soloist of the Moscow Theatre Opera. Mr Trofimov has recently made a role debut as Procida in the Mariinsky's new production of Verdi's I Vespri Siciliani, and also as Zaccharia in Verdi's Nabucco at the opening of the Arena Di Verona Summer Festival. He toured with the Bolshoi Theatre as the Archbishop in Tchaikovsky's Maid of Orléans in France, and performed at the Salzburg Festival as the Priest in Shostakovich's Lady Macbeth of Mtsensk with the Vienna Philharmonic under the baton of Mariss Jansons. Mr Trofimov returns to the Salzburg Festival this summer in Tchaikovsk's Pique Dame and Bizet's Les Pecheurs des Perles. Among performances lined up for next year are an appearance as Dosifey in a new production of Mussorgsky's Chowanschina at Teatro alla Scala, in the title role in Glinka's Ivan Susanin, and in Boris Godunov at the Mariinsky Theatre.
Cuban-American mezzo-soprano Eliza Bonet sings the role of Godunov's son, Fyodor, in her debut with the San Francisco Symphony. As a member of the Merola Program at San Francisco Opera, Ms Bonet performed the role of Eunice in the company's production of Previn's A Streetcar Named Desire, and covered the role of Zerlina in Mozart's Don Giovanni. Recent role debuts include Bradamante in Handel's Alcina as a member of Washington National Opera's Domingo-Cafritz Young Artist Program, and Paquette in Bernstein's Candide with Washington National Opera, both performances at the Kennedy Center. In the 2018-19 season, Ms Bonet takes the role of Reba in the World Premiere of Taking Up Serpents by Kamala Sankaram and Jerre Dye.
Soprano Jennifer Zetlan sings the role of Xenia, Godunov's daughter, a role she has sung on the stage of the Metropolitan Opera, as well as in the Met in HD series. Other roles include appearances in Verdi's Macbeth, Prokofiev's War and Peace, Gilda in Verdi's Rigoletto, Musetta in Puccini's La bohème and Woglinde in Das Rheingold and Götterdämmerung, and The Forest Bird in Siegfried, in Seattle Opera's 2013 production of Wagner's Ring Cycle.
The role of the Nurse is taken by mezzo-soprano Silvie Jensen, a versatile artist who has appeared in Wagner's Die Meistersinger von Nünberg for Lyric Opera of Chicago and San Francisco Opera. In addition to her operatic roles, which include Carmen with American Chamber Opera in Chicago, Kashcheyevna in Rimsky-Korsakov's Kashchey the Immortal, and Maddalena in Rigoletto with Island City Opera, and Olga in Tchaikovsky's Eugene Onegin with One World Symphony, Ms Jensen has also created and performed new works at London's Barbican Centre with Ornette Coleman, at Teatro Comunale di Ferrara with Meredith Monk, and at Carnegie Hall with Philip Glass.
The role of Prince Shuisky is taken by Russian tenor Yevgeny Akimov. An Honoured Artist of Russia, Mr Akimov was a recipient of Russia's prestigious Golden Mask theatre prize in both 1997 and 2002, and twice received a Diploma of the Golden Sofit, St Petersburg's most prestigious theatre prize, in 2001 and 2004. As a member of the Mariinsky Opera Company, Mr Akimov has appeared in a wide range of productions in the company's vast repertoire, and has sung the tenor roles in concert performances of Mozart's Requiem, Beethoven's Ninth Symphony, Mahler's Eighth Symphony and Rachmaninoff's vocal-symphonic poem The Bells. He has appeared in co-productions between the Mariinsky Theatre and San Francisco Opera (Prokofiev's Betrothal in a Monastery), and also with La Scala (Boris Godunov), and internationally he has sung at the Metropolitan Opera, the Royal Opera House, Covent Garden, the Opéra de Paris, the Teatro Regio in Turin and the National Grand Theatre of China in Beijing.
Russian-American baritone Aleksey Bogdanov – who reflects ""star quality in every way" says Opera News – takes the role of Andrei Shchelkalov, a boyar who is Secretary to the Duma. Apart from this first appearance with the San Francisco Symphony, Mr Bogdanov has this season also debuted with Arizona Opera as Scarpia in Puccini's Tosca, and with Sarasota Opera as Sebastiano in d'Albert's rarely-heard Tiefland. Other appearances include Lionel in Tchaikovsky's The Maid of Orléans with Odyssey Opera, Four Villains in Les Contes d'Hoffmann with Opera North, and he covered the title role in Rubinstein's The Demon with Gran Teatre del Liceu in Barcelona.
Russian bass Maxim Kuzmin-Karavaev appears as the monk Pimen in this performance of Boris Godunov – a role he has also sung in Budapest, Debrecen and Liège. Other international appearances include those of Figaro at the Ischia Opera Festival in Italy, as Gianni Schicchi at the Opéra National de Lyon, Alfonso d'Este in Donizetti's Lucrezia Borgia in Santiago de Chile, and Agamemnon in Tanayev's Orestie in New York. A soloist at Novaya Opera Theatre in Moscow since 2007, Mr Kuzmin-Karavaev is also a regular guest soloist at the Bolshoi Theatre and the Galina Vishnevakaya Opera Centre. His concert performances include roles in Haydn's Stabat Mater, the requiems of Schumann, Verdi, Mozart and Fauré, and in Rossini's Petite messe solennelle.
Russian tenor Sergei Skorokhodov takes the role of the novice monk Grigory, which he has also sung at the Bayerische Staatsoper, München. A soloist with the Mariinsky Academy of Young Singers since 1999, he has appeared with the Mariinsky Opera at the Concertgebouw in Amsterdam, at Opéra National de Paris, at London's Coliseum and Barbican Hall, the Royal Opera Stockholm, Mikkeli Music Festival in Finland and at the Red Sea Festival, Eilat, in Israel. For the Metropolitan Opera, Mr Skorokhodov has appeared as Ivan in Shostakovich's The Nose, and has since sung the role of Vaudemont in Tchaikovsky's Iolanta at the Bolshoi Theatre in Moscow, and at the Maggio Musicale Fiorentino Festival.
Michael Tilson Thomas leads the San Francisco Symphony, San Francisco Symphony Chorus (Director Ragnar Bohlin), the Pacific Boychoir (Director Andrew Brown), and guest artists in a semi-staged version of Mussorgsky's Boris Godunov at Davies Symphony Hall from June 14th to 17th. For more information and tickets, visit the San Francisco Symphony website.
Information sourced from:
San Francisco Symphony program notes
and artists' websites: