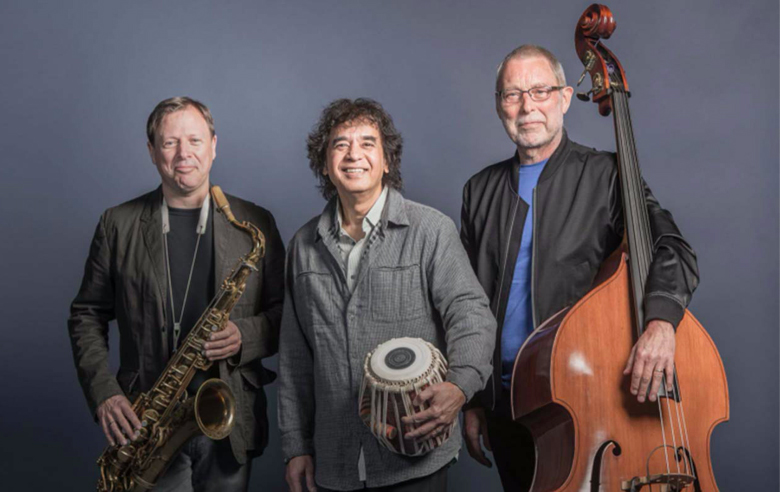 SFJAZZ has launched a series of online performances called Fridays at Five in which you can watch exclusive footage from some of the finest concerts staged at the SFJAZZ Center over the past few years. Enjoy this series from the comfort of your own home, and you don't even have to be in San Francisco or the Bay Area to do so – although in some parts of the world you might need to be a night owl to catch the transmissions!
This week's concert – on April 24th – features tabla virtuoso Zakir Hussain, bassist Dave Holland and saxophonist Chris Potter – described as "three of the most influential musicians of the last five decades" (SFJAZZ). This performance was recorded at the JAZZ Center in June 2018.
Hussain – a former Resident Artistic Director of SFJAZZ, and the 2017 recipient of the SFJAZZ Lifetime Achievement Award – is described by the New York Times as "a living genius". According to the Boston Globe, Holland is a "master bassist and bandleader", and the Chicago Tribune refers to Potter as "one of the most dynamic young players in jazz".
Collectively known as Crosscurrents Trio, the group released their debut album, Good Hope, on Edition Records last October. Three of the eight compositions on the album were written by Dave Holland, three by Chris Potter, and two by Zakir Hussain. Each of these pieces is individual, but – says JazzTrail – "they perfectly integrate here as a whole, to the point of making us think it could have been composed by only one person".
Fridays at Five is transmitted every Friday afternoon at 5.00 pm (Pacific Time) and a $5 subscription to the SFJAZZ Digital Membership will enable you to watch four consecutive Friday concerts – the proceeds of which will directly support SFJAZZ and the artists featured in these performances. Visit the SFJAZZ website for more details.
Here's the Fridays at Five schedule for May:

May 1: Snarky Puppy – three-times GRAMMY Award-winning group, described by SFJAZZ as "the most explosively funky megaband in the land".
May 8: Joe Lovano: Trioism – GRAMMY Award-winning saxophonist – with Bill Frisell, Tyshawn Sorey, Marilyn Cirspell & Carmen Castoldi.
May 15: Monsieur Periné, 2015 Latin GRAMMY winner, described by LA Weekly as "One of the most exciting emerging artists in Latin music".
May 22: Wayne Shorter Celebration – legendary 11-time GRAMMY Award-winning saxophonist is honoured by Kamasi Washington, Terrace Martin, Danilo Pérez, John Patitucci and Brian Blade.
May 29: Chucho Valdés & Irakere 45 – "The greatest living Cuban pianist and a singular force in Cuban music for more than half a century" with "the new iteration of the legendary band that changed the course of Latin music in the 1970s and 80s". (SFJAZZ)
Information sourced from:

SFJAZZ program notes
See also: